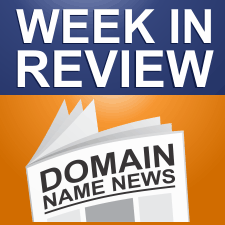 Every Friday, DomainSherpa.com provides you with a hand-selected, editorially-based review of the weekly news. In this summary, you will find the latest articles and videos produced by DomainSherpa staff and contributors. You will also find links to the best news articles in the domain name industry – so you don't have to spend your time searching for news or reading something that was not worth your time.
---
This Week's DomainSherpa Interview
---
VIDEO: Developing the Ultimate Geo-domain for the Rich and Famous – With Toby Hardy

Most developers build a site, increase readership and then sell advertising space. Unless you own an ultra-premium geographic domain name like FrenchRiviera.com, in which case the brand alone is enough to set up meetings with some of the most exclusive potential advertisers in the region.

Toby Hardy bought FrenchRiviera.com in 2009 and, in partnership with Fred Mercaldo at CitiesPlanet.com, is turning it into the ultimate online destination for the rich and famous who visit cities such as Monte Carlo, Cannes and the like.
---
This Week's News in Review
---
You Really Need to Get On The Fixed Price Domain Bandwagon
– 02-May-12
SedoMLS and AfternicDLS are changing the game. Sedo released its first quarter domain name market study today (pdf). For the first time ever, fixed price "buy now" listings were the company's most common type of sale. 39% of sales were buy now purchases and 34% were offer-counter offer purchases. There's a simple reason for this: […]
ECJ Advisor Says Trade Marks Registered for Domain Names at '.eu' Only
– 02-May-12
Only businesses established in the EU can register trade marks as web addresses in the '.eu' domain, a legal advisor to the European Court of Justice (ECJ) has said.
Should ICANN Can Digital Archery?
– 02-May-12
Given the latest data, ICANN should consider changing how it batches new TLDs. With 1,268 registered users for ICANN's new top level domain application system, it's clear there will be over 1,000 unique top level domains going through the new TLD process. That means we'll have "batching", where approximately 500 domains at a time go […]
Sedo Analysis Reveals Booming Start to The New Year for The Domain Name Market
– 02-May-12
Sedo today announced the results of its Q1 2012 Domain Market Study, which reveals domain industry trends and changes based on transactions in its marketplace. During the first quarter, Sedo powered more than 10,000 domain transactions accounting for $19.6 Million in sales. Displaying a significant shift in market dynamics, the number of Buy Now sales surpassed offer-counter offer sales for the first time, becoming the most popular type of transaction.
The Numbers Game – Trade Marks and Domain Names
– 02-May-12
On the internet there is only one thing that really matters – prominence. It is the nexus of all factors that drive the ever-expanding cyberspace. In this world, the attention span of every visitor is measured in seconds and the amount of traffic to a specific website measured with scientific precision.
ICANN: 105 New TLD Applicants May Have Had Data Exposed
– 02-May-12
ICANN releases data about new top level domain application system bug. 105 applicants for new top level domains might have had the filenames of some of their application documents and their username exposed, ICANN revealed today. The non-profit also revealed that 50 applicants might have been able to view these details. Of course, just because […]
New Domain Registrar Fights Pornography With Purity Names
– 02-May-12
Christians in need of a new domain yet do not want to financially contribute to sites that profit from pornography have a new domain registrar to choose from: P
TAS Interruption – Update (2 May 2012)
– 02-May-12
ICANN is in the process of notifying applicants whether they were affected by the software glitch that caused us to take the TLD Application System, or TAS, offline. As we announced earlier this week, we plan to complete this notification process on or before 8 May.
Afterthoughts About Ammar Kubba's New Blog
– 02-May-12
Ammar Kubba pens a new blog.
Here's How Much Each TLD Generates for ICANN
– 02-May-12
A look at registry fees and transaction fees. ICANN's contracts with registry operators for existing top level domains represent a hodgepodge of one off arrangements. In its recently released draft budget, ICANN included a table showing how it forecasts its revenue from each of these contracts for FY 2013. Seeing the data side-by-side is very […]
Mastercard Loses Another Priceless Case
– 02-May-12
Mastercard is devaluing its "Priceless" mark. Last Friday I wrote about how Mastercard lost UDRP cases for pricelessistanbul.com and pricelessamsterdam.com. It just lost another case (pdf), this one involving pricelesslondon.com, pricelessparis.com, pricelessnewyork.com, pricelesslosangeles.com and pricelessmexico.com. Why is Mastercard suddenly going after PricelessCity domain names? It appears to be related to its move to associate its […]
How ICANN Will Spend $12 Million More of Your Money Next Year
– 01-May-12
…and that doesn't include new TLD costs. ICANN's latest proposed budget segments out the core ICANN functions and the new top level domain program. But even its core functions budget are slated to grow by nearly $12 million next financial year compared to what it expects to spend in the current year (FY 12). Here's […]
Why is ICANN Still Only Budgeting for 500 New TLD Applications?
– 01-May-12
Main ICANN budget still assumes 500 applications. In January ICANN released its framework for the FY 2013 budget (which begins in July). Its framework for new TLD revenue was based on 500 applications for new top level domains. ICANN just published its draft budget and now it's budgeting for… only 500 applications. I realize these […]
Ripoff Reports Files Its Own Ripoff Report
– 01-May-12
Site files complaint over .info domain name.
The World's First Family-friendly Domain Registrar Opens for Business
– 01-May-12
Afternic, the world's leading marketplace for premium domain names, announced today that it has added Domainbox.com, a top ICANN-accredited registrar based in the UK, to its rapidly growing Premium Reseller Network.
Afternic Adds Domainbox.com to Its Growing Partner Network
– 01-May-12
Afternic announced today that it has added Domainbox.com, a top ICANN-accredited registrar based in the UK, to its rapidly growing Premium Reseller Network.
Spring Clean at '.no' Registry
– 30-Apr-12
Under the Norwegian domain name policy, only companies registered in the Register of Legal Entities may register '.no' domain names. For foreign companies, the most common solution for fulfilling the local presence requirement is to register a Norwegian branch office.
Owner of Sma.de Files UDRP Against Sma.com
– 30-Apr-12
Spinning the wheel in UDRP roulette. SMA Solar Technology AG has filed a UDRP case with World Intellectual Property Organization for the domain name SMA.com. SMA.com belongs to Specialized Micro Architects. It was originally registered in 1995 and currently has an expiration date of 2017. The oldest whois record at Domain Tools shows that Specialized […]
Ten-year .co.uk Domain Names Now Available
– 30-Apr-12
From today it is possible to register or renew .co.uk domain names in annual blocks of up to 10 years at a time, following policy changes at .uk registry manager Nominet.
.biz Celebrates First Quarter 'Best of .biz' Winner
– 30-Apr-12
Neustar, Inc., a trusted, neutral provider of real-time information and analysis to the Internet, telecommunications, entertainment, advertising and marketing industries, announced today that Austin SEO company, ArteWorks SEO, is the winner of the first quarter "Best of .Biz" award.
Domain.com Sponsors University of Portland's $100k Business Plan Challenge for … – Virtual
– 30-Apr-12
Top domain registrar and web hosting company supports young entrepreneurs. | Virtual Strategy Magazine is an online publication devoted entirely to virtualization technologies.
Which Domains The Top 10 Domain Registrars Promote
– 30-Apr-12
.co is a favorite among non-VeriSign domains. Registrars have many options when it comes to which top level domains to promote to customers. Sometimes this is based purely on demand calculations. In other instances domain registries strike deals with domain registrars to give them premium shelf space or promotion on their home pages. I just […]
ICANN to Notify Domain Applicants of Data Breaches
– 29-Apr-12
Organizations taking part in the most ambitious expansion of the Internet so far will find out next week whether their applications for new domain names could have been viewed by competitors as a result of a software bug.
Mastercard's 'Priceless' Mark Isn't Priceless, Panel Rules
– 26-Apr-12
WIPO arbitration panel finds against Mastercard on "Priceless" claims. A World Intellectual Property Organization panelist has ruled against Mastercard in a dispute over domain names related to its "Priceless" trademark. The credit card company filed complaints against pricelessistanbul.com and pricelessamsterdam.com, saying they violated their trademark rights. In both cases the owner of the domains didn't […]
FIBA to Apply for The .basketball Top Level Domain
– 26-Apr-12
Organization taps Minds + Machines to assist with registry services. FIBA, is an independent association formed by 213 National Basketball Federations, has applied for the .basketball top level domain, the organization announced this wee. FIBA partnered with ROAR Domains, LLC and Top Level Domain Holdings (AIM:TLDH) for the application. TLDH subsidiary Minds + Machines will […]
3 Top Domain Registrars Offering .com Domains for Under $3
– 26-Apr-12
Major registrars offering special discounts right now. I've written before about how Go Daddy, Network Solutions, and Register.com offer discounted registrations in Google ads for the term "domain name". Both are pushing out special deals via other channels, too. Go Daddy just posted this link to its Twitter account. It's good for a one domain […]
Verisign is Backend for 220 New TLD Applicants and Applies for 14 Itself
– 26-Apr-12
VeriSign releases numbers related to its new TLD plans. VeriSign released earnings today along with numbers related to its new top level domain aspirations. The company said it applied for 14 new top level domain names including 12 transliterations of .com and .net. Although not mentioned in the release, you can expect some of those […]
Aremi Group Applies for .art (And Claims Trademarks)
– 26-Apr-12
Company announces plans for .art and says it has trademarks for it as well. Aremi Group is the latest to announce a formal application for a top level domain, announcing (pdf) that it has applied for .art. The Luxembourg company says the mission of .art is to "provide a unique online space in which creatively-inclined […]
WIPO Panel Steals Four Letter Domain From BuyDomains
– 26-Apr-12
Panel hands down the wrong decision in FACI.com case. A three member World Intellectual Property Organization panel has found that BuyDomains (NameMedia) registered FACI.com in bad faith. The case makes no sense. It seems that the panel's judgement hinges on the fact that BuyDomains knew about the complainant's trademark for FACI upon acquisition of the […]
If you enjoyed this article, subscribe for updates (it's free)