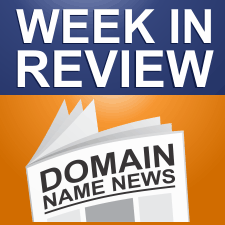 Every Friday, DomainSherpa.com provides you with a hand-selected, editorially-based review of the weekly news. In this summary, you will find the latest articles and videos produced by DomainSherpa staff and contributors. You will also find links to the best news articles in the domain name industry – so you don't have to spend your time searching for news or reading something that was not worth your time.
---
This Week's DomainSherpa Interview
---
VIDEO: Share a Vision to Sell Your Domain Name – With Michael "Zappy" Zapolin

Do you have a domain name that defines a product, service or industry – one that a company should want and buy from you if you could only reach the right person at that company with the right pitch?

Mike "Zappy" Zapolin is back to help you accomplish that task.

After walking through his methodology and the tactics he used to sell Diamond.com and Beer.com for $6 million and $8 million, respectively, we discuss three domains that are not as valuable, but are more representative of the domain names many of us have in our portfolios: Weights.com, QuantitativeResearch.com and NoFlat.com.
---
This Week's News in Review
---
Marchex: $36.2 Million Revenue in Q1 2013, Archeo: $5.1 Million Revenue ($1.4 From Domain Sales) – 02-May-13
Marchex, Inc. (NASDAQ:MCHX), a leader in mobile performance advertising, today announced its financial results for the first quarter ended March 31, 2013. Archeo announced a couple of days back Q1 2013 domain sales of $1.4 million from 50 domains sold for an …
Neustar Reports: Revenue Up 8%; Sets $250 Million Repurchase Plan – 02-May-13
Neustar, Inc. (NSR), announced results for the quarter ended March 31, 2013 and affirmed its guidance for 2013. Neustar is the backend provider for several TLD's including .Us and .Co and hundreds of new gTLD's and is going to operate the .NYC extension on behalf of the city of New York…
The 20 ccTLDs That Google Treats As Generic TLDs – 02-May-13
According to the Seroundtable.com, Google has been updating their indexing systems to treat more ccTLDs, country-level top level domains, as generic TLDs. As we already know some of the favorite ccTLD's of domainers like .Co, .Me and .Tv made the list…
A Look at .tel's 14 Year, £25 Million Journey – 02-May-13
Telnic has lost £25 million since it was founded — and much of that was before .tel even launched. It's been a long and winding road for many new top level domain applicants. But most of the delays and challenges new TLD applicants have faced pale in comparison to the very long, very expensive road […]
YouPorn Owner Settles Lawsuit With .xxx Registry Over Pricey Domain Costs – 02-May-13
Two internet porn giants have settled a lawsuit with an agreement that will make .xxx domain names more affordable. The domain names currently retail for around $100 annually, but under the…
.org Project 94 Combined Results: 50 Domains Sold for $143,661, Not a Single 1 Character .org Sold – 02-May-13
In a terrible PR move PIR, the .org registry, managed to not sell a single 1 character .org domain from the 31 domains that were auctioned off in the 2 auctions run by Namejet/Enom and Go Daddy. In total 50 …
ICM: Over 1,000 .xxx Domains Registered in 1st 24 Hours of Price Reduction – 02-May-13
The ICM registry says they have sold over 1,000 new .XXX registrations in first 24 hrs since they announced yesterday the temporary price decrease. Of the domain registered in the last 24 hours the average domain years was 2.3. The best news for the .XXX string is that "well over 90% of the domain names registered in the last 24 hours were clearly "adult themed names" rather than non-adult or brand protection registrations…
Nigeria Registers 30000 .ng Domain Names – 01-May-13
As NiRA crashes domain registration cost to N15,000. The total number of registered Nigeria's country code Top Level Domain Names, .ng, which is the nat…
Verisign Blasts ICANN Over Proposed Registry Agreement – 01-May-13
Verisign says unilateral right to amend is alive and well in proposed contract. Verisign senior vice presidents Pat Kane and Richard Goshorn have sent a letter to ICANN blasting the inclusion of amendment right clauses in the proposed new registry agreement. In the sometimes snarky letter, Verisign claims that ICANN's unilateral right to amend the […]
Fakebook: Misspelled Domain Squatters Must Pay Facebook Nearly $2.8 Million – 01-May-13
Misspelling domain names is easy enough that the government doesn't let companies take advantage of it — and Facebook has just been awarded nearly $2.8 million in a case against several people…
Should a Startup Spend BC Funding On a Domain Name? (Forbes) – 01-May-13
Domain bench, engraved with country domain names such as .uk, .us, .nz, etc.; 'Domain' created by Langlands and Bell, and installed on Cathedral Lawn. (Photo credit: Wikipedia) This is part one of a two-part series on domain names and startups; part 2 will be "Build Your Startup on Premium Real Estate: […]
Sex-settlement: Manwin and ICM Registry come to Terms – 01-May-13
Deal settles antitrust lawsuit and countersuit between adult site operator and .xxx domain registry. .XXX domain name registry ICM Registry and adult site operator Manwin have settled their legal battle, the companies announced today. As part of the deal, ICM will offer significantly discounted .xxx domain registrations in May and will offer similar promotions in […]
Law Firm Sues Company for Sending Deceptive Trademark Renewal Notices – 01-May-13
Law firm sues to stop company that it alleges sends misleading trademark notices. Domain name owners often receive official looking notices by snail mail warning them that their domains are about to expire and asking them to renew. Often times these notices look like invoices and ask recipients to pay very high prices to keep […]
Slow Learners: The Snugg is About to Lose Its 2nd UDRP – 30-Apr-13
Company files case against Roy Messer's Snug.com. Some people just don't get it. Consider Charon International Trading Limited, makers of The Snugg iPad cases. The company owns TheSnugg.com, and desperately wants a shorter domain. So in February it filed a UDRP against the owner of Snugg.com. The UDRP was dead on arrival since the company […]
YouPorn Spanks ICM As .xxx Prices Slashed – 30-Apr-13
YouPorn owner Manwin Licensing scored a PR coup in its lawsuit against ICM Registry today, when the .xxx registry agreed to steep financial concessions in order to settle the case.
ICANN Issues New gTLD Dispute RFPs – 30-Apr-13
ICANN has issued two requests for proposals for providers to administer dispute resolution services for the new gTLD program. It's looking for outfits to manage the Registry Restrictions Dispute Resolution Procedure (RRDRP) and Trademark Post-Delegation Dispute Resolution Procedure (Trademark PDDRP). The former is for people who think a Community gTLD registry is mishandling its registration […]
Donuts Not Pursuing New gTLD Joint Ventures – 30-Apr-13
Following the news that Uniregistry and Top Level Domain Holdings are to work together on the .country new gTLD, larger portfolio applicant Donuts has said it's not interested in similar arrangements. While not entirely ruling out joint ventures along the lines of the .country tie-up, company VP of communications Mason Cole told DI that Donuts' […]
.love Dies As Applicants Pull Five More New gTLD Bids – 30-Apr-13
Jewelry maker Richemont is the latest new gTLD applicant to withdraw one of its bids, yanking its application for .love. The proposed gTLD was one of 14 single-registrant namespaces applied for by the company, and also the most heavily contested, with six other applicants competing. Google, Donuts, TLDH and Uniregistry are also bidding. The string […]
Top Level Domain Holdings (Minds+Machines) Announces Joint Venture With Uniregistry to Operate .country gTLD – 30-Apr-13
The Board of Directors of Top Level Domain Holdings (AIM:TLDH) are pleased to announce that it has signed a term sheet with Uniregistry to operate the .country top-level domain for which both companies had applied. Under the contemplated arrangement, both …
Verisign Gets Patent for Triggering Web Crawling Based On Registry Data – 30-Apr-13
.Com registry awarded patent for using registry data to trigger web crawling. With Verisign analyzing how to profit from its patent portfolio, competitors should pay close attention to the company's new patents. Today Verisign was awarded U.S. Patent 8,433,700 (pdf) for "Method and system for triggering web crawling based on registry data". The patent describes […]
Pair Networks Sues Pairshare for Trademark Infringement – 30-Apr-13
pair Networks takes issue with music app called PairShare. Web hosting company pair Networks has sued Pairshare, LLC for trademark infringement. PairShare offers an app that lets people share music between iPhones, iPods, and iPads via bluetooth. In the lawsuit (pdf), pair Networks argues that PairShare violates its trademarks, including for the term "Pair". Although […]
Top Level Domain Holdings Releases Financials Through December – 29-Apr-13
TLDH releases annual report and earnings. Top Level Domain Holdings, the only publicly traded pure-play top level domain applicant, today released its annual report and audited financials for the fourteen month period ending December 2012 (pdf). The company ended 2012 with £2.418 million in cash and cash equivalents on its books. That's down from £7.074 […]
Afternic BIN Domains to Appear On Namejet.com – 29-Apr-13
Afternic, today announced that NameJet will join the Afternic reseller network as a Premium Partner. NameJet, a leading domain name aftermarket auction company co-owned by eNom and Web.com, will now offer Afternic's portfolio of high quality premium domains with "Buy it Now" prices to its rapidly-growing customer base.
Rv.com Bought By Good Sam – 29-Apr-13
RV.com was purchased by Good Sam according to a press release out this morning.
According to the release Good Sam is "the world's leading provider of products and services for the RV and outdoor recreation consumer". The domain name was purchased from Dometic Group who according to domaintools.com has owned the domain name since at least 2001.
Unrest Remains Despite New New gTLD Contract – 29-Apr-13
ICANN has proposed big changes to how it will handle premium domain names, dot-brands, mergers and acquisitions and mandatory fees in new gTLDs. It published a new version of the proposed Registry Agreement for new gTLD operators this morning, saying that it is the product of months of "negotiations" with applicants and registries. But some […]
After being found guilty of RDNH, Procter & Gamble pays up for Swash.com – 29-Apr-13
P&G buys Swash.com after embarrassing legal approach. Last month Procter & Gamble became one of the largest companies to be found guilty of reverse domain name hijacking after losing a domain dispute for Swash.com.
Uniregistry, TLDH strike deal to run .country – 29-Apr-13
Two companies will take equal equity in joint venture to run .country top level domain name. The two applicants for the top level domain name .country have entered into an agreement to partner, rather than fight, over .country.
Philadelphia 76ers buy Sevens.com from Warren Royal for new D-League franchise – 29-Apr-13
Yesterday the Philadelphia 76ers NBA team announced that it acquired the operating rights for a team in the National Basketball Association Development League. The team will play in Delaware and be called the Delaware 87ers. Their nickname will be the "Sevens".
Moffitt Company Owns House, Senate Domain Names – 29-Apr-13
Say what you will about Rep. Tim Moffitt, R-Buncombe — and detractors say plenty — but he is a savvy businessman. Moffitt says he simply employed some of that business acumen in his latest venture: securing the domain names for all 170 state House and Senate districts and selling website, Twitter and Facebook services to his fellow lawmakers. Moffitt said about 40 legislators, all Republicans, have signed up with InTouchNC.
6 New gTLDs Applications Withdrawn for .online, .llp, .ltd, .inc, .llc, and .corp (Total at 51) – 29-Apr-13
This past week 6 more new gTLDs applications were withdrawn and their status was updated at the ICANN New gTLD website. These 6 withdrawn applications bring the total of withdrawn gTLD applications to 51. Fairwinds Partners's customers from the US …
Houston HSI Seizes 10 Domain Names Selling Counterfeit Cycling Products – 29-Apr-13
Special agents with U.S. Immigration and Customs Enforcement's (ICE) Homeland Security Investigations (HSI) seized 10 Internet domain names that were illegally selling trademarked cycling equipment and apparel globally.
Venturebeat Covers & Interviews Godaddy's CEO Blake Irving – 29-Apr-13
VentureBeat.com just published a story on the CEO of Godaddy.com Blake Irving.
Here are some of the more interesting quotes: "I see a very clear path of how to make GoDaddy the most valued, largest platform for small businesses in the world. It is quite clear that no one is doing it right yet." "What I like to do is make a significant change in the world for good."
Study: Average Auction Price of .co.uk Declines for Third Year in a Row – 29-Apr-13
A study conducted by Cyber Compare (www.cybercompare.net) found that the average auction price paid for a Premium .UK domain has been falling for the last three years in a row.
GoDaddy's New CEO Wants to Change The World, One Domain Name at a Time – 29-Apr-13
With new leadership, new branding, and a new vision, GoDaddy stands poised to transform the opportunities for small businesses If the team can shake off years of controversy and build a world-class platform, that is.
Amazon vs. The Actual Amazon in Domain Name Smackdown – 27-Apr-13
Everyone who has used the internet is familiar with the ubiquitous .com, .org and .net URL extensions. But a little-known planned expansion of generic top level domains (gTLDs), as they are called, is pitting online giant Amazon against Brazil and Peru who want to preserve a .amazon domain for informational sites for the Amazon rainforest and Amazon river.
NCSG challenges ICANN decision to extend Trademark Clearinghouse rights – 26-Apr-13
Formal Request for Reconsideration challenges trademark owners ability to add 50 derivatives of trademarks to clearinghouse.
Verisign Earnings: Adds 1.99 Million Domains in Q1 – 25-Apr-13
.Com registry Verisign reports first quarter earnings. Verisign reported its first quarter earnings after the bell today. In the first quarter it added a…
South American Countries Battling Amazon Over Domain Name – 25-Apr-13
The governments of South American countries, including Brazil and Peru, are in a tussle with Amazon.com to see who will become the digital king of the jungle.
South American Countries Battling Amazon Over Domain Name – 25-Apr-13
The governments of South American countries, including Brazil and Peru, are in a tussle with Amazon.com to see who will become the digital king of the jungle.
Moms.com Sells for $252,000 in Sedo Auction – 25-Apr-13
Moms.com domain name sells for $252,000 in monthly Great Domains auction. The headline domain name in this month's Great Domains auction at Sedo hit its reserve in extended bidding. Bidding for Moms.com jumped from $175,000 to $249,000 when a bidder placed the latter bid, which was the reserve. It looked like the auction was going […]
Avaya Inc. Found Guilty of Reverse Domain Name Hijacking and Harassing The Domain Name Owner – 25-Apr-13
Avaya Inc., a multinational company with over 17,500 employees worldwide, was found guilty of Reverse Domain Name Hijacking by a 3-member Panel at the National Arbitration Forum. I represented the Respondent, Avayo Electronics, in these proceedings. Avaya Inc. tried to steal the …

If you enjoyed this article, subscribe for updates (it's free)