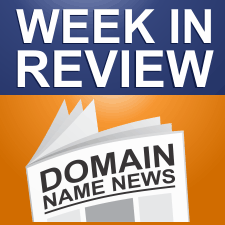 Every Friday, DomainSherpa.com provides you with a hand-selected, editorially-based review of the weekly news. In this summary, you will find the latest articles and videos produced by DomainSherpa staff and contributors. You will also find links to the best news articles in the domain name industry – so you don't have to spend your time searching for news or reading something that was not worth your time.
---
This Week's DomainSherpa Interview
---
VIDEO: Make a Wish.co.uk and Build a $1MM+ Business in Less Than 12 Months – With Richard Kershaw and Stephen Pavlovich

When Richard Kershaw and Stephen Pavlovich bought the Wish.co.uk domain name in a Sedo auction for around $12,000, they knew it would be critical to the growth of their "day experience" e-commerce business (think Groupon without the expiration issue). In a mere 12 weeks, they had purchased the domain, developed a website, signed their first supplier and sold their first product.

Little did they know the domain name would allow them to "punch above their weight" and take on the big-box e-tailers, while still being small, nimble and flexible via a part-time contract staff. Press coverage of Wish.co.uk belies its size too, thanks in part to the company's domain name and the PR agency it hired.
---
This Week's News in Review
---
June .nxt Conference Canceled, Likely to be Rescheduled Late 2012 – 24-May-12
The .nxt conference on new generic top-level domains, planned for London next month, has been postponed until later this year, the organizers have announced.
Warner Bros Buys Injustice.com for $7500 – a New Online Game? – 23-May-12
Movie studio buys domain Injustice.com — for a new online game or movie? Movie studio Warner Bros. has purchased the domain name Injustice.com for $7,500 through Afternic. This is one of those domains with many uses, but that the owner must have known could end up being the title of a movie or game. It's […]
Could The .secure Domain Make The Internet Safer? – 23-May-12
Security firm argues that by imposing meaningful standards, websites will gravitate to validated domain — not everyone agrees.
The Mobile Web May Be Growing, But How "Mobile" is It? – 23-May-12
Tablet traffic is very different from mobile phone traffic. I recently looked through the my Google Analytics account to understand how visitors access Domain Name Wire. 96% of visits come from a traditional computer such as a laptop or desktop. That leaves a relatively small number coming from mobile platforms. But more shocking to me […]
Republicans Create Cory Booker Web Sites – 22-May-12
Republican National Committee registers Cory Booker domains and creates petition sites. Ever since Newark, New Jersey mayor and super-hero Cory Booker kinda-sorta-maybe got on the Obama campaign's case for attacking Mitt Romney on his Bain record, Republicans everywhere have been rejoicing. That includes the Republican National Committee, which just registered the domain names IStandWithCory.com and […]
Internet Domain Name Project Relaunches After Software Bug – 22-May-12
A project to allow companies to set up a website with almost any address has relaunched after a software glitch exposed sensitive details of applications last month, forcing it to shut
How Big is The New TLD Opportunity? TLDH Valued at $60 Million – 22-May-12
Publicly traded new TLD company has a solid market value. Top Level Domain Holdings, a pure play company focused on new top level domains, has a market cap of around £ 39 million. That's over $60 million USD. We're talking about a company that basically has no revenue. So far it has just been spending […]
After 6 Weeks Offline, ICANN Reopens TLD Application System – 22-May-12
Applicants have an eight-day window to review and finalize applications for new generic top-level domain names.
Domain Registrar Offers UDRP Insurance – 21-May-12
Registration service offers free insurance against expensive but unfounded UDRP filings. Francois Carrillo, the guy behind Domaining.com, has launched a new domain registrar (an eNom reseller) with an innovative twist: "UDRP insurance". Basically, if you're hit with a UDRP on one of your domains registered at DONA.com then you'll get assistance with finding a domain UDRP.
.ME Registry Partners With Sedo for Upcoming Premium Domain Auction – 21-May-12
.ME Registry, the provider of the personalized domain name extensions and ccTLD for Montenegro is partnering with Sedo, the leading online domain marketplace and monetization provider for an upcoming auction of premium .ME domain names.
Viacom Company Buys Film.com – 21-May-12
NextMovie picks up Film.com. MTV Networks site NextMovie has acquired Film.com, the company announced last week. MTV Networks is part of publicly traded Viacom. This was not a domain name purchase; it was a full fledged web business. Film.com has a U.S. Quantcast rank of about 15,000. Still, it's always noteworthy to see web sites […]
TLDH Adds .budapest to Its Location Top Level Domains – 20-May-12
TLDH adds to its stable of geo top level domains with .budapest. Top Level Domain Holdings Limited (AIM:TLDH.L), parent company of Minds + Machines, announced today that it has applied for the .budapest domain name with the blessing of the city of Budapest. The city will earn a revenue share from the deal. TLDH is […]
Africa to Get Its Own Web Domain – 20-May-12
A project to establish a continental top-level domain for Africa is gaining momentum, with UniForum South Africa set to know by July whether its application has been successful. UniForum, South Africa's .za central registry, was appointed to establish and operate the domain on behalf of Africa, said director Neil Dundas.
Ballot.com Sale Shows Politics Online is "Big Business" – 20-May-12
With only 6 months to go before the 2012 presidential election, candidates, organizations and investors hoping to capture the public's attention are buying up political-flavored domain names while established media companies are enjoying increased advertising revenue to their political websites. The upcoming sale of Ballot.com is catching a lot of attention due to these and additional factors.
FCCN announces the registration of 28,984 .pt domains in the first week of liberalization – 19-May-12
After the Sunrise period, the Foundation for National Scientific Computing (FCCN), announced today a total of 28,984 new .pt domains, registered in the first week in which in the liberalization came into force, and in which any person or company can register a .pt domain without the need to have a registered trademark.
ICANN Posts July 2012 – June 2015 Approved Strategic Plan – 18-May-12
During the Special Meeting of the Board of Directors held in Amsterdam the Board approved the July 2012-June 2015 Strategic Plan, and directed the President and CEO to move forward with the Internationalization survey and community-based operational planning process based on the strategic objectives as set forth in the plan. The aspects of the 2012-2015 Strategic Plan that cover the expansion of ICANN's international presence and engagement efforts are deferred pending further direction from the Board.
Domain.com Issues "Next Great Idea" Techcrunch Disrupt NYC Challenge – 18-May-12
TechCrunch Disrupt NYC, which kicks off this weekend with a 24-hour Hackathon, has solidified itself as the tech industry's hottest event for launching new cutting edge startups. […] celebrating the launches of companies participating in the Disrupt Battlefield startup competition, Domain.com will be giving away free and discounted domain names, fresh Domain.com t-shirts for weary coders, and pounds of candy for sustenance. Helping businesses become successful online since 2000, Domain.com delivers high quality, reliable web hosting and domain name registration services at the most affordable prices in the industry. Domain.com, an ICANN-accredited registrar, offers a full range of solutions to create and market websites includes web hosting, VPS hosting, Email, SSL certificates, website design, and email marketing.
ICANN and The Dot Anything: Do We Care About Domain Names? – 17-May-12
Do we still care about .com and .co.uk? Does anyone even bother with www.? Well thanks to ICANN, a body in charge of licensing new top-level domain names,
Moniker Spring Auction Results Net's $20k – 17-May-12
Moniker auction nets close to $20,000 in sales. The Moniker Premium Spring Auction at SnapNames just concluded. Here are the (unofficial) results: drivinggloves.com 6450 – this is a recently developed site. Auction included Facebook page (with 2,000+ likes) and Twitter handle. florists.info 3050 – good keyword, but not a bad price given how marketplace for […]
Dotster Moves Domains to Domain.com Credentials – 17-May-12
Company transfers domains between registrar accreditations. If you start to see domain name registrar Domain.com growing in registrar ranking reports, there's a good explanation for that. Dotster, which owns Domain.com, has transferred the domain names from its Dotster accreditation to the Domain.com one. I was alerted to this change when I received a DomainTools whois […]
Hexonet Announces More Than 1 Million Domains Under Management – 17-May-12
German based HEXONET, a domain technology solutions provider, recently announced that they are now managing over a million domains for clients, resellers and…
Apple Wins Iphone5.com Domain Name – 17-May-12
Apple's attempt to wrest control the iPhone5.com domain name from the hands of a cybersquatter has been a success, TheNextWeb reports.
Oversee.net Hires GM for $40M+ Travel Vertical – 17-May-12
Oversee.net hires GM from online travel industry to run its travel network. Oversee.net has hired Raj Beri as General Manager of its travel vertical, the company announced today. Beri was previously Director and COO of IgoUgo, a travel site owned by Travelocity. The travel vertical is part of Oversee.net's "vertical markets" business that includes fully […]

If you enjoyed this article, subscribe for updates (it's free)