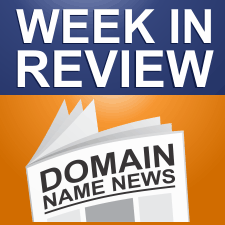 Every Friday, DomainSherpa.com provides you with a hand-selected, editorially-based review of the weekly news. In this summary, you will find the latest articles and videos produced by DomainSherpa staff and contributors. You will also find links to the best news articles in the domain name industry – so you don't have to spend your time searching for news or reading something that was not worth your time.
---
This Week's DomainSherpa Interview
---
VIDEO: What Startups Need to Know About Acquiring a Killer Domain Name – With Andrew Rosener

Worldwide, there are about 150 million new businesses being started up each year.

With some startups being funded to grow as quickly as possible, many are interested in purchasing killer domain names so they can create a memorable brand. Noted venture capitalist Fred Wilson of Union Square Ventures suggests to start-ups he invests in that they allocate $50,000 to buy a good domain name.

Is spending tens of thousands of dollars a smart investment for startups? That's the question we're going to answer on today's show.
---
This Week's News in Review
---
Ron Paul Found Guilty of Reverse Domain Name Hijacking
– 23-May-13
Former congressman guilty of reverse domain name hijacking, says WIPO panel. Earlier today I wrote about how Ron Paul lost both of his domain disputes brought before the World Intellectual Property Organization. The disputes were filed against RonPaul.com and RonPaul.org and were both heard by the same arbitration panel under the Uniform Domain Name Dispute […]
Afternic & Directi Partner Up
– 23-May-13
Afternic, announced their partnership with Directi, the largest domain registrar in Asia and seventh-largest registrar in the world. Directi will join the Afternic reseller network as a Premium Partner, incorporating Afternic's vast inventory of premium domains for sale through their BigRock brand. This exclusive relationship brings premium domains to India for the first time, opening up new domain options for small to medium size business owners and domain investors across the globe. The entire Afternic portfolio of six million premium domain names will be available to BigRock customers, many of which are eligible for immediate ownership through Afternic's Fast Transfer network…
H2.co Launched By Linkedin Co-founder & Ex
– 23-May-13
Another .Co is in the news today as H2.co announced its holding its inaugural meeting at LinkedIn's global headquarters in Silicon Valley in October 2013. Talk about name dropping. Lets start with Reid Hoffman who is a Partner at Greylock and Co-Founder and Executive Chairman at LinkedIn. Then we move over to Nayan Patel and Jeff Merkel who between them are ex-Google, Verisign and Apple exec's….
.home and .corp are Not The Only Invalid Tlds That Currently Get Queried
– 23-May-13
They're not as big, but several applied-for TLD strings get invalid queries. ICANN is investigating internal names used by corporations and how they might conflict with applied-for top level domains. .Home and .Corp are frequently among the top 10 queried invalid top level domains, but they aren't the only ones. ICANN hosts a page that […]
Ron Paul Loses Disputes Over Ronpaul.com and Ronpaul.org Domain Names
– 22-May-13
Former politician denied relief in dispute over two Ron Paul domain names. [Update: Paul found guilty of reverse domain name hijacking in RonPaul.org case.] Ron Paul has lost two separate domain name disputes filed with the World Intellectual Property Organization. The two cases covered RonPaul.com and RonPaul.org, and were part of a public spat between […]
Warren Buffet's Berkshire Hathaway Now Owns Over 5% of Verisign
– 22-May-13
Back In February we told you that Warren Buffets's Berkshire Hathaway purchased 3,685,700 shares of Verisign (VRSN) which at the time of acquisition represented an investment of around $165 Million dollars. Today according to Cnbc.com, Berkshire Hathaway added another 4.49 million shares last quarter and now owns 5.35% of VeriSign….
Bargain.com Domain Name Sells for $150,000
– 22-May-13
After many times on the auction block, Bargain.com finally sells. Bargain.com sold for $150,000 during the Hilco Streambank auction yesterday. There was only one bidder for the domain. Bargain.com had been offered for sale previously through both Sedo and Moniker, but with a much higher asking price. The last time it was offered at a […]
Who's This New GoDaddy Girl?
– 22-May-13
GoDaddy.com has replaced Danica Patrick with a real small business customer. For most of last five years, GoDaddy girl Danica Patrick has graced the GoDaddy.com home page. Over the past few months GoDaddy has tried a couple different approaches, as you can see at Screenshots.com. Today there's a new home page design with another "girl", […]
Bill Sweetman Unveils Name Ninja
– 22-May-13
Name Ninja to provide wide variety of domain name services including domain portfolio management, domain acquisition, and new TLD strategy. Former Tucows executive Bill Sweetman formally unveiled his domain name consulting shop today. Name Ninja will offer services to three core groups: startups, entrepreneurs and marketers; individual and corporate domain name owners; and new gTLD […]
.eu 2012 Annual Report: 3.7 Million Registered Domain Names and 5.4% Annual Growth
– 22-May-13
General Manager of the .eu registry EURid, Marc Van Wesemael, shares his views on changes in the domain market in the .eu 2012 annual report. "2012 was a very productive year for Europe's top-level domain, despite the challenges faced by…
Over 1,000 Xbox One Domains Registered Yesterday
– 22-May-13
Microsoft's big product launch followed by a flurry of domain registration activity. Yesterday Microsoft announced its latest video game console called XBox One. Immediately, cybersquatters went to work. Over 1,000 XBox One related domain names were registered in .com alone yesterday. To be sure, some of those registrations were by Microsoft itself. But the vast […]
Dotster, MyDomain.com & Domain.com Hiking Up .com Renewal Prices to Earn $300k More Per Year
– 22-May-13
Dotster, MyDomain.com & Domain.com which are basically one company are hiking up .com domain name prices by $0.50 based on the .net, .org, .info and .biz price increases that are coming up in the next months. They are trying to …
Marchex Report: Corporations With Local Branches Likely to Lose Billions Each Year in Digital Ads
– 21-May-13
A report released today by Marchex, Inc. (NASDAQ: MCHX) found that billions in ad dollars likely go to waste when corporations with local branches invest in separate digital marketing campaigns with no centrally-controlled brand message. The report, titled "National Brands, …
What ICANN's Board Decided On Saturday
– 21-May-13
Board passes resolution that might delay certain new TLDs and approves a new UDRP provider. While most of us were hanging with our families or on the golf course this weekend, ICANN's board was approving a number of resolutions that could have a big affect on some parts of the domain name industry…
Half of Small Business Owners Not Satisfied With Their Domain Name
– 21-May-13
…and half believe they've lost business as a result. .Co released some new research this morning regarding small businesses and domain names. The research was carried out by Wakefield Research and asked questions about domain names to companies with 100 or fewer employees. Here are some of the interesting take-aways: – 45% of small business […]
Google Loses UDRP On Play
– 21-May-13
In a case that is sure to drive the trademark holders crazy, Google Inc. just lost a UDRP on the domain name play-gogles.com which was registered in February 2013. Google claimed it had rights to the domain name play-gogles.com based off its trademarks for Google and Google Play. However the one member panel denied Google's claim even though the domain holder didn't even bother responding the the UDRP, finding
"Panel is not persuaded by Complainant's submissions that the terms are confusingly similar."…
Porn.com Owner Buys Porn.xxx
– 21-May-13
PimpRoll, a pornography publisher and owner of porn.com, has bought the domain name porn.xxx from registry manager ICM Registry, it has just been announced. The domain is already live. The site appears to be distinct from porn.com, but PimpRoll said it plans to build another "tube" site there. The price of the domain was not […]
Is The .home New gTLD Doomed? ICANN Poses Study of Security Risks
– 21-May-13
ICANN has set up a study into whether certain applied-for new gTLD strings pose a security risk to the internet, admitting that some gTLDs may be rejected as a result. Its board of directors on Saturday approved new research into the risk of new gTLD clashes with "internal name certificates", saying that the results could […]
Blow to Domainers As Arab Center Approved to Settle Cybersquatting Disputes
– 21-May-13
ICANN has approved a new UDRP resolution provider, the first to be based in the Arab region, despite the objections of domainers. The Arab Center for Dispute Resolution will now be able to service UDRP complaints. But it won't be bound to an ICANN contract, as had been demanded by the Internet Commerce Association and […]
No Las Vegas, Alas. ICANN Picks LA for 2014 Meeting
– 21-May-13
ICANN has picked Los Angeles for the third of its three 2014 public meetings. The decision was approved by its board of directors at its retreat in Amsterdam last week. As you may know, ICANN's meeting schedule cycles through its five geographic regions, and North America's next turn comes next year, picking up hopes that […]
The Arab Center for Dispute Resolution (Acdr) Approved By ICANN to Become The 5th UDRP Provider
– 21-May-13
The Arab Center for Dispute Resolution (ACDR) was approved by ICANN on the 18th of May to become the 5th UDRP provider. ICANN just published the agenda of the Regular Meeting of the ICANN Board that was held last Saturday. …
UDRP Roundup: DomainTools; Bed Bath & Beyond; Home Depot
– 21-May-13
A few cases either filed or decided today in UDRP world, DomainTools.com filed a UDRP on 10 typo domain names. The UDRP from Domaintools.com is on the following domain names: doaintools.com, doimaintools.com…
GoDaddy Gets Two Patents for Domain Appraisal
– 21-May-13
Paul Nicks' inventions related to name spinning and appraisals get patent protection. The United States Patent and Trademark Office today issued two patents to GoDaddy related to name spinning and appraisal. U.S. Patent number 8,447,701 is titled "Appraising domain names using comparative data" and 8,447,702 (pdf) is "Domain appraisal algorithm". The patents have lots of […]
Directi Gets Into The Subdomain Game
– 20-May-13
Directi, fresh from relaunching .pw, will shortly start selling third-level domain names under .in.net, mimicking the pseudo-TLD business model most often associated with CentralNic. The sub-domains will be targeted at the Indian market, with prices expected to be in the sub-$10 range. Directi is set to launch June 17 with a 42 day "landrush & […]
K.im Domain Name Gets $20,000 Bid at Sedo
– 20-May-13
One letter Isle of Man domain may sell for $20,000 at Sedo. The domain name K.im has a $20,000 offer at Sedo, and an "auction" for the domain name ends tomorrow. .IM is the country code top level domain for Isle of Man. According to DNSalePrice, a handful of .im domain names have sold over […]
Did Google Just Kill Off Selling Subdomains?
– 20-May-13
On Friday Matt Cutts announced that Google would soon be imposing a change in the search algorithm that would limit the number of search results coming from one domain. The news was broke by SearchEngineLand.com, which said it will make it less "likely to see results from the same domain name, if you already have been shown that domain name in previous results three or four times before"…
New gTLD Program Posts 50 New Initial Evaluation Results: 41 Applications Get a Pass (Total is 341)
– 20-May-13
The next set of Initial Evaluation (IE) Results was released by ICANN. The total number of passing applications is now 341. ICANN released Initial Evaluation (IE) results for the next set of applications with priority numbers 350-400. There are 41 …
Google Protects WithGoogle.com Third Level Domains With Second Level Domains
– 19-May-13
Subdomains are great, but beware the typos. Have you ever come across a Google information page that's a subdomain of WithGoogle.com? If you just go to Withgoogle.com you'll be forwarded to Google.com. But type in certain third level domains, often referred to as subdomains, of WithGoogle.com and you'll find specialized product pages. brasilfreewifi.withgoogle.com shows you […]
Did GMO Flunk Evaluation On 27 Gtlds? Centralnic Takes Over The Whole Lot
– 19-May-13
Did would-be new gTLD registry services provider GMO Registry fail its ICANN technical evaluations? The Japanese company has made a deal that will see CentralNic take over the back-end operations for all 27 of the applications it was signed up to service, it has emerged. In a letter, provided by GMO to ICANN last week […]
Fly9 Offers Services to Simplify New gTLD Sales
– 19-May-13
Portland-based developer Fly9 launched last week, offering new gTLD registries a broad range of software designed to make it easier to sell domain names. The company, founded by SnapNames and Afilias alum Ravi Surya, hopes its platform will help new gTLD operators tap into registrars' customer bases in a soon-to-be-flooded market. "The problem with new […]
ANA: "ICANN Fails to Address Key Concerns About New gTLDs"
– 17-May-13
On a post on its blog, The Association of National Advertisers (ANA) rips ICANN for failing to "address Key COncerns About New gTLD's. "ICANN (the Internet Corporation for Assigned Names and Numbers) in late April announced that it would push back the date of the rollout of as many as 1,400 new Top Level Domain (gTLD) web site suffixes. It did so to address the numerous concerns raised by many organizations, including law enforcement agencies and its own Governmental Advisory Committee (GAC), which have called attention to the significant threat these new general top level domain names (TLDs) could pose to brands and consumer protections without adequate protective mechanisms being put in place…
Two Failures Among Latest 44 New gTLD Results
– 17-May-13
ICANN has released its weekly batch of new gTLD Initial Evaluation results and it includes the program's second and third failures. Two dot-brand applications — .olayangroup and .mckinsey, filed by Olayan Investments and McKinsey Holdings — didn't get passing scores and are now categorized as "Eligible for Extended Evaluation". Both — like the only other […]
40 New Gtld's Apps Pass IE: .chrome; .bbc; .americanexpress; .bmw; .ads
– 17-May-13
ICANN just released 40 more new gTLD's that passed Initial Evaluation today. Some of the highlights of those applications passing IE are Google's applications for .Chrome, .Soy, .How, and .Ads; The British Broadcasting Corporation application for .BBC; Top Level Domain Holdings first new gTLD application that was not an IDN passed today with the passage of its application for .Blog….
ICANN Still Has Virtually No Revenue Coming in From Last Resort Auctions
– 17-May-13
If two or more applicants applied for the same new gTLD unless the parties can resolve their contention between themselves the parties go to an ICANN last resort auction. We have chatted before that we expect some of the new gTLD string auctions to go into the $xx,xxx,xxx range.
ICANN is Planning On New gTLD to Generating Less Than 10% of Existing TLD in 2014
– 16-May-13
According to ICANN 2014 budget it is expecting revenue coming in from New gTLD' to be less than 10% of existing TLD"s. The 2014 revised budget has $81,115,000 in revenue coming in from registries and registrars from incumbent TLD's but only $7,043,000 in revenue coming in from new gTLD's…
ICANN Headcount Exploding 50% This Fiscal Year
– 16-May-13
Non-profit plans to continue hiring in all departments. ICANN expects to end FY 2013 this June with nearly 50% more employees than it began the year with. That's according to the non-profit's FY 2014 draft operating plan, which shows an expected 233 employees by the end of June. It ended June 2012 with 158 employees. […]
Donuts Puts 63 New gTLDs to Private Auction, But at Least 17 are Dead On Arrival
– 16-May-13
Donuts has committed 63 of its 307 new gTLD applications to a private auction next month, but at least 17 of them are doomed already because rival Uniregistry won't take part. Donuts, which does not want to enter into joint ventures with competing gTLD applicants, has decided to use a private auction managed by Cramton […]
ICANN Expects 646 New TLD Applications to Be Withdrawn
– 16-May-13
ICANN forecasts 646 applications will be withdrawn, mostly after the initial evaluation period. 66 applications for new top level domain names have been withdrawn as of today. For budgeting purposes, ICANN projects that number will explode to 646 before everything is said and done. The number was disclosed in ICANN's proposed operating plan and budget […]
Donuts Offers to Participate in Private Auction for 63 New Tlds
– 16-May-13
Largest new TLD applicant commits to resolve up to 63 new TLD contention sets through first private auction. Donuts, the company that applied for the most top level domain names, announced today that it will commit to private auctions for 63 of the 307 strings that it applied for in the first auction to be […]
'Whistleblower' Claims Cronyism and Fear at ICANN
– 16-May-13
An anonymous individual claiming to be an ICANN staffer has warned the organization's board of directors about senior-level cronyism and a "climate of fear" among employees. However, DI's private conversations with other ICANN staffers suggest that the concerns may not be widely shared, at least not to the same extreme. DI received a lengthy email […]
Donuts Hires The Face of The New gTLD Program
– 16-May-13
Portfolio gTLD applicant Donuts has hired Michele Jourdan, who until last week was head of new gTLD communications at ICANN. She has joined the company as director of sales and marketing, according to her LinkedIn profile. Applicants and others following the program closely will remember her from the regular update videos published by ICANN. She […]
Straat Withdraws Application for .book in Favor of Deal With Another Applicant
– 16-May-13
NU DOTCO LLC, a wholly owned subsidiary of STRAAT Investments, has withdrawn its application for the new gTLD .Book which had a prioritization number of 357.
The withdrawal is not yet reflected on ICANN's site. .Book is one of 13 new gTLD applications filed by STRAAT, which is affiliated with .CO Internet…
GoDaddy.com Bowl Drops .com for 2014 Game
– 16-May-13
In another sign of rebranding, The GoDaddy.com Bowl is now the GoDaddy Bowl. GoDaddy is in the process of rebranding from GoDaddy.com to simply GoDaddy. With the change, the football game formerly known as the GoDaddy.com Bowl will be called merely the GoDaddy Bowl next year, reports AL.com. GoDaddy announced plans to change its brand […]
If you enjoyed this article, subscribe for updates (it's free)