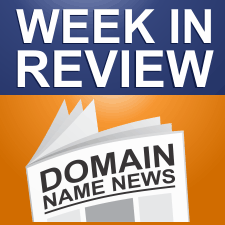 Every Friday, DomainSherpa.com provides you with a hand-selected, editorially-based review of the weekly news. In this summary, you will find the latest articles and videos produced by DomainSherpa staff and contributors. You will also find links to the best news articles in the domain name industry – so you don't have to spend your time searching for news or reading something that was not worth your time.
---
This Week's DomainSherpa Interview
---
VIDEO: AirportParking.com: Building the Travelocity of Airport Parking – With Raj Beri

Oversee.net already had a profitable online ecommerce business with AboutAirportParking.com. So why did they buy AirportParking.com?

Learn how Oversee is diversifying their parking aggregator offering, how one site helped jump-start the content of the second, and how a differentiated website offering can be custom tailored to a different demographic group of customers.
---
This Week's News in Review
---
Straat Withdraws Application for .book in Favor of Deal With Another Applicant
– 16-May-13
NU DOTCO LLC, a wholly owned subsidiary of STRAAT Investments, has withdrawn its application for the new gTLD .Book which had a prioritization number of 357.
The withdrawal is not yet reflected on ICANN's site. .Book is one of 13 new gTLD applications filed by STRAAT, which is affiliated with .CO Internet…
GoDaddy.com Bowl Drops .com for 2014 Game
– 16-May-13
In another sign of rebranding, The GoDaddy.com Bowl is now the GoDaddy Bowl. GoDaddy is in the process of rebranding from GoDaddy.com to simply GoDaddy. With the change, the football game formerly known as the GoDaddy.com Bowl will be called merely the GoDaddy Bowl next year, reports AL.com. GoDaddy announced plans to change its brand […]
Ombudsman Probing "Late" New gTLD Objections
– 15-May-13
ICANN's Ombudsman Chris LaHatte has received complaints about some new gTLD objections that were apparently filed after the submission deadline but are being processed anyway. Two companies have officially called on LaHatte to tell ICANN that "late complaints should not be received on the basis that the deadlines were well advertised and achievable". The issue […]
Healthcare Dot
– 15-May-13
WellPoint, a major North American health insurance provider, has dropped its application for .anthem, a proposed dot-brand gTLD. It's the fifth application to be withdrawn this week and the 64th to be withdrawn overall. The pull-out rate from the original 1,930 applications now stands at roughly 3.3%. It's also the second bid to be yanked […]
Fiji Moves It Offical Tourism Site to Fiji.travel
– 15-May-13
Tourism Fiji, the official travel and tourism agency of the government of Fiji, has registered the name Fiji.travel and has now launched www.Fiji.travel as its official tourism website. According to the Registry other country governments have made the same move to .travel.
Germany.travel, Colombia.travel, Egypt.travel, Ecuador.travel, and Canada.travel are all now using the .travel extension for their official tourism sites…
UDRP Filed On The Domain Name Quirk.com
– 15-May-13
The domain name Quirk.com just got his with a UDRP. The domain name is registered to TobyClements.com, LLC however according to the company they don't own the domain name but changed the ownership to market the domain name….
Tucows Reports: Revenue Increases 9% But Domain Sales Slow to $1.1m
– 15-May-13
Tucows Inc. (NYSE AMEX:TCX, TSX:TC), reported its financial results for the first quarter ended March 31, 2013 after the market closed today. According to reports Tucows missed expectations as to both earnings and revenue. Net revenue for the first quarter of 2013 increased 9% to a record $30.0 million from $27.5 million for the first quarter of 2012….
Tucows Reports Earnings, Says Domain Investors are Assessing The Impact of New TLDs
– 15-May-13
Tucows reports earnings, says domain investors are proceeding cautiously on domain buys as they assess the impact of new TLDs. Tucows reported earnings this afternoon, recording its twelfth consecutive quarter of record revenue (year over year). The company generated $30.0 million in revenue during the first quarter of 2013 and reported a slight profit of […]
BuyDomains Relaunches Site
– 15-May-13
NameMedia refreshes end user sales web site. BuyDomains, the end user domain name sales site owned by NameMedia, relaunched with a completely new look and feel today. The site places a greater focus than the previous one on explaining why a business should spend money on a domain name. It also emphasizes the ease and […]
Afilias Dumps .mail Bid, and Three Other New gTLD Withdrawals
– 15-May-13
Four new gTLD applications have been withdrawn so far this week, including the first to come from .info operator Afilias. Afilias has pulled its bid for .mail — the second applicant to do so — due to the number of competitors for the string. A spokesperson said in an email: The company felt there were […]
Google Top $900 for 1st Time & Market Cap Breaks $300 Billion
– 14-May-13
Shares of Google (GOOG) are currently trading above $900 a share an all time high for the company. It was only 3 months ago that shares of Google hit $800 a share. Its was just a few months earlier when shares of Apple and Google were trading at the same $600 level.
Shares at time of publication are trading at $905 up over $18 a share….
ICANN Publishes 2012 Tax Return
– 14-May-13
Tax return unveils compensation, legal costs. ICANN just published its FY 2012 tax return online (pdf). The form tax return covers the year ending June 30, 2012. Much of the information, including financials, had previously been published by ICANN on its web site, so there's not much new there. What may be most interesting is […]
NetNames: 33% Have No Idea What a New gTLD Is; 62% Have No Plans to Register One
– 14-May-13
NetNames, a online brand protection and domain name management specialist, released the results of a poll of 100 business directors in UK enterprises (minimum turnover of £5 million) on domain names and the new gTLD's. In its research, NetNames found 99% of respondents feel domain names are important to their brand's internet presence, reflecting the significance of maintaining a company's visibility on the web."
6 New gTLDs Applications Withdrawn for .online (Namecheap), .mail (Afilias), .movie, .tld, .inc (Total at 63)
– 14-May-13
This past week 6 more new gTLDs applications were withdrawn and their status was updated at the ICANN New gTLD website. These 6 withdrawn applications bring the total of withdrawn gTLD applications to 63. Following the .ONLINE new gTLD alliance …
Icann Tax Return: Ends With $440 Million in Cash & Securities
– 14-May-13
ICANN has published it's Federal tax return form 990 for the tax year ending on June 30, 2012 all 68 pages of it. According to the filing, ICANN ended its fiscal year with $466 Million in Assets and $388 Million in Liabilities therefore showing a net asset balance of over $83 Million up $3 Million from the year before….
United Press UDRP for UPIphoto.com Denied Based On Laches
– 14-May-13
United Press International, Inc. attempt to grab the domain name upiphoto.com from the United Photographers Internationals of Greece was just denied by a one member UDRP panel to which the domain holder didn't even respond. It seems the panel on its own found the domain name which has been used by the domain holder to sell photos since 2008 was barred by the doctrine of Laches.
Marchex & Berryhill Beat Back UDRP Challenge On WebAnywhere.com
– 14-May-13
Marchex Sales, LLC ("Respondent"), represented by John Berryhill just beat back a UDRP on the domain name WebAnywhere.com that was brought by Webanywhere Ltd of the UK. At the end of the day this was a slam dunk case decided by a three member panel with the only remaining question is why the panel didn't find Reverse Domain Name Hijacking.
Now We Know Why Levi's Registered Stadium Names As It Inks Deal With 49ers' Stadium
– 14-May-13
Company registered domains for new stadium in April. Back in March Domain Name Wire's crystal ball picked up on Levi Strauss' plans to buy naming rights to a stadium. But which stadium? Domain Name Wire's crystal ball couldn't figure that out, but reader Page Howe did. Howe suggested that the San Francisco company would buy […]
.lu (Luxembourg) Domain Names Subject to a 1 Year Freeze Upon Complaint
– 14-May-13
According to Lexology.com, starting on June 11, 2013, the .Lu registry will "freeze" a .lu domain name, preventing it from being transferred, sold or traded to another party for an initial period of 1 year upon receipt of a dispute from a party claiming to have rights to the domain. Lu is the country code top-level domain (ccTLD) for Luxembourg.
According to Estibot.com Traffic Auction List is Valued at $1,850,000
– 14-May-13
Today the organizers of TRAFFIC released the list of domain names to be auctioned off during the TRAFFIC Vegas conference which is being held from May 28th-June 1 at the Bellagio Hotel. The auction will be held on May 30th from 2PM-4PM Local time, in Las Vegas.
Sedo's Q1 2013 Report: Parked Domains Up 8%, Parking Revenue Down 14.1%, Domains at Sedo Up 11.4%
– 13-May-13
Sedo Holding AG published its first quarter 2013 report today that reveals that overall revenue is up by 7.3% but parking revenue is down 14.1%. The number of domains tradable on the platform rose to 16.6 million as of March …
Radix Withdraws New gTLD Application for .movie
– 13-May-13
Radix which had applied for 31 new gTLD's has withdrawn its application for the new gTLD .Movie. Radix application for .Movie had a prioritization number of 592.
Angry Birds Maker Files Its First UDRP
– 13-May-13
Company goes after site selling Angry Birds merchandise. Rovio Entertainment, the company behind the wildly popular Angry Birds franchise, has filed its first ever domain dispute under the Uniform Domain Name Dispute Resolution Policy (UDRP). The company is targeting the owner of AngryBirdSite.com and AngryBirdsmart.com. As of right now, AngryBirdSite.com resolves to a web site […]
Armani Loses Domain Dispute for EA7.com
– 13-May-13
Respondent argued EA was short for Education Assistance. Fashion brand Giorgio Armani has lost a domain name dispute with a South Korean group over the domain name EA7.com. Armani sells a line of sports clothing under the EA7 name. It appears that the EA7 brand was around prior to the domain registrant acquiring the domain […]
Massive Internet Policy Database Planned in Europe
– 13-May-13
The European Commission plans to build a massive web site and database of information related to global internet policy-making. The Global Internet Policy Observatory, which is still in the planning stages, would be a "clearinghouse for monitoring Internet policy, regulatory and technological developments across the world". The idea appears to be to make it easier […]
URS Providers to Get Contracts
– 12-May-13
The companies handling Uniform Rapid Suspension domain name disputes will be bound to a contract, ICANN has said. In a follow-up Q&A document (pdf) from the public forum session at the ICANN meeting in Beijing last month, posted Friday, ICANN said: As regards Uniform Rapid Suspension (URS) providers, will there be a contract developed that […]
New gTLD Program Posts 50 New Initial Evaluation Results: 56 Applications Get a Pass (Total is 300)
– 12-May-13
The next set of Initial Evaluation Results was released by ICANN. The total number of passing applications is now 300. ICANN released Initial Evaluation (IE) results for the next set of applications with priority numbers 300-350. There are 56 applications …
Icann Looking for Locations for 2015 Meetings in Africa, Latin America/Caribbean Islands, Europe
– 11-May-13
ICANN is actively seeking locations for its three public meetings to be held 8-12 February 2015 in Africa, 21-25 June 2015 in Latin America/Caribbean Islands, and 18-22 October 2015 in Europe. Those in the geographic regions are invited to submit recommendations …
An SEC Filing Explanation of Demand Media's Deal With Donuts
– 10-May-13
SEC filing sheds (some) light on relationship for new top level domains. A lot of fuss has been made about the connection between Demand Media and Donuts and the new TLD program. What exactly is the relationship between the two companies? Demand Media's latest 10-Q, filed today, explains the terms of the agreement: As part […]
Waternight Becomes Official Traffic Party
– 10-May-13
Party moved back one night and becomes official sponsored event. The WaterNight event to take place in Las Vegas during this month's TRAFFIC show is now the conference's official Thursday night party. The event was going to be held on Wednesday night and open to everyone. The event was pushed back one evening and is […]
56 More New gTLDs Pass Evaluation Including .cpa, .dell, .esurance and .film
– 10-May-13
ICANN's evaluators have passed 56 more new gTLD applications through Initial Evaluation. The latest weekly batch of published results cover bids for the following strings: .aig, .airforce, .art, .axa, .baby, .basketball, .bid, .business, .bzh, .cal, .center, .ceo, .cisco, .cloud, .coach, .codes, .contractors, .cpa, .dell, .diet, .docomo, .duns, .durban, .esurance, .film, .forex, .goo, .got, .guide, .hgtv, […]
Will You Be Too Sexy for .sexy?
– 10-May-13
Uniregistry is planning to implement strict sexiness restrictions in its forthcoming .sexy gTLD, according to a fake press release we've just received. Uniregistry, the portfolio gTLD applicant run by domainer Frank Schilling, is the only applicant for .sexy. The company lied in the press release: Upon applying to register for a .sexy domain, registrants will […]
Pinky Brand Predicts 408.5 Million Domains By The End of 2016, 73.6m New gTLDs
– 10-May-13
Pinky Brand just published some bold predictions for the number of domain names that will exist in 2016 including registrations from new gTLD's. For those that don't know, Pinky is one of the founders of .mobi, which is "today ranked in the top 30 off the roughly 268 existing TLDs worldwide with nearly 1.1 million active domains in the zone."
This is How Stupid The GAC's New gTLDs Advice is
– 09-May-13
For the last few weeks I've been attempting to write a sensible analysis of the Governmental Advisory Committee's advice on new gTLDs without resorting to incredulity, hyperbole or sarcasm. I failed, so you'll have to read this instead. I'm sorry, but the GAC's Beijing communique (pdf) just has too much stupid in it to take […]
887,000 .vn IDN Domains Registered
– 09-May-13
Vietnam sees rapid IDN registration growth. There were 887,000 .vn internationalized domain names registered as of the end of March, Dot VN, Inc. disclosed this month. Dot VN, Inc. markets Vietnam's .vn namespace in an agreement with Vietnamese Internet Network Information Center. Some (or perhaps most) of the success with IDNs is because Dot VN […]
If you enjoyed this article, subscribe for updates (it's free)