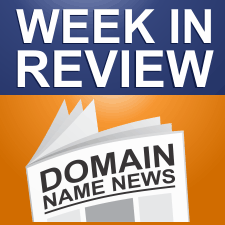 Every Friday, DomainSherpa.com provides you with a hand-selected, editorially-based review of the weekly news. In this summary, you will find the latest articles and videos produced by DomainSherpa staff and contributors. You will also find links to the best news articles in the domain name industry – so you don't have to spend your time searching for news or reading something that was not worth your time.
---
This Week's DomainSherpa Interview
---
VIDEO: Investing in China's New Domain Names – With Simon Cousins

The Chinese government evaluated all the new Chinese character TLDs and decided that dot Chinese online (.在线) and dot Chinese website (.中文网) would earn their support and investment. So they registered 10,226 domain names in each TLD.

With this type of government support, might these two IDNs be attractive to non-Chinese investors?

In this interview we delve into the details of why these IDNs might be worthy of investment, how it all works, and how an investor would get started.
---
Additional Resources
---
DomainSherpa Discussion: 50 Cent + .Club; DropCatch.com; .NYC; Numeric Domains; .Kiwi…

This is the show where we discuss domain name industry news with a panel of veterans and thought leaders.

In this DomainSherpa Discussion:
* Rapper 50 Cent Uses 50InDa.Club, Rocks Launch Party in NY Next Week
* HugeDomains.com's DropCatch.com Enters the Expired Domain Business
* .NYC Will Require 4th Contact as Resident in New York City
* Reader Question: Is DrugSideEffects.info Better Than MostCommonSideEffects.com?
* Are Numeric Domains a Bubble or is the Valuation Appropriate?
* European Courts of Justice Require Google to Delete Certain Results, Why?
* One of the Sherpas is Having a Birthday, Find out Who
* Surprising .Kiwi Sales Data
* And much more!
---
This Week's News in Review
---
FCC Proposes New 'Net Neutrality' Rules – 15-May-14
FCC in 3 to 2 vote agrees to advance proposal for new Net Neutrality. So now the FCC is proposing new Internet rules that would make it illegal for broadband providers to block or slow down websites but allow them to strike deals with content companies for preferential treatment. (Reuters) – U.S. telecommunications regulators on…
See Tucows' New Sales-focused Parked Page Landers – 15-May-14
Tucows pushes the envelope on sales-focused domain name landing pages. Yesterday domain name registrar and portfolio holder Tucows told analysts it was trying something new to generate more aftermarket domain name sales. CEO Elliot Noss said the company is undertaking an "aggressive program of experimentation" on landing pages for its domain names in an effort…
Booking.com Launches Villas.com to Compete in Vacation Rental Market – 15-May-14
Site launches after company goes on domain name buying spree. Travel booking company Booking.com has launched Villas.com to offer vacation rental properties. This answers the question I've been asking for almost a year: who has been registering dozens of country code domain names for villa and villas? I first noticed the "villa" registrations in July…
4 Interesting Things Tucows Said On Its Conference Call Yesterday – 15-May-14
Selling domains, letting some expire, and the impact of new top level domain names. Domain name registrar Tucows released its first quarter 2014 earnings yesterday. The investor conference call included four interesting comments/facts about the domain name side of the business. 1. Tucows is testing ways to sell more domains through parked pages. The company…
.club Misses First Target But Hopes to Be #1 New gTLD "Within Days" – 15-May-14
.CLUB Domains failed to overtake .guru in its first week of general availability as promised, but the company is nevertheless upbeat about taking the number one spot "within days". The last zone file available for .club shows 41,203 names, but that's the May 14 file. The company, or its back-end, has been having trouble keeping…
OpenDNS Raises $35 Million – 15-May-14
DNS service provider OpenDNS has raised $35 million in Series C funding, doubling its total raised capital to date, according to the company. The laundry list of participating venture capitalists comprised Sequoia Capital, Greylock Partners, Sutter Hill Ventures, Glynn Capital, Cisco, Evolution Equity, Lumia Capital, Mohr Davidow Ventures, and Northgate Capital. The company offers DNS-based…
Tucows Reports Earnings & New gTLD's Accounted for 6.5% of Total New Sales – 14-May-14
Tucows Inc. (NASDAQ:TCX, TSX:TC), a global provider of domain names and other Internet services, today reported its financial results for the first quarter ended March 31, 2014 Beginning in the first quarter of 2014, Tucows has reclassified its revenue streams into Domain Services and Network Access Services. Domain Services includes Wholesale OpenSRS (Domain Service and…
Domain Name Association Has New Plan for gTLD Auctions: Give US Your Money! – 14-May-14
The Domain Name Association is hoping to raise funds for marketing by hosting private new gTLD auctions, according to executive director Kurt Pritz. Pritz made the pitch at a meeting of the New TLD Applicants Group today. The DNA is hoping to tempt applicants that are reluctant to participate in existing private auction schemes because…
Company Sues to Overturn UDRP Decision – 14-May-14
Company turns to courts (again) to try to overturn adverse UDRP ruling. Technology Online, LLC has filed a lawsuit in U.S. District Court in Nevada to overturn a UDRP against the domain name Jeffers.com. Veterinarian supply company Jeffers, Inc. filed a UDRP with World Intellectual Property Organization earlier this year and won the case. Technology…
".nyc is The Best Real Estate Opportunity Since The Dutch Bought Manhattan" – 14-May-14
BetaBeat did a story today on an early video done by former Mayor of New York City, the late Ed Koch. The headline for our story here was a quote that Mr.Koch used when doing his .NYC pitch. You can watch the video below. From the article: "Back in 2008, city officials were leaning against…
Recruiter Harry Joiner Buys CMOJobs.com From IDG – 14-May-14
Joiner adds to his collection of valuable job domain names. Harry Joiner, who has acquired a number of job related domain names to help his recruiting business, has acquired CMOJobs.com from media giant IDG for a five figure pricetag. Joiner told Domain Name Wire he used a few brokers to try to acquire the domain…
New gTLD's Take 1st Toll On Existing String? .mobi Falls Below 1 Million Registrations – 14-May-14
According to RegistrarStats.com the Top Level Domain (TLD) .Mobi fell below 1 Million domain name registrations. .Mobi hit a high of 1.2 Million registrations in January 2014 before the new gTLD were released. .Mobi increased registration from late 2011, from below 1 Million hitting 1.2 Million on January. We can't peg the losses of…
Was Panel Wrong to Put .africa On Ice or Does ICANN Have an Accountability Problem? – 13-May-14
Did an Independent Review Process panel get it wrong when it accused ICANN of failing to implement proper accountability mechanisms, or did it actually highlight a more serious problem? As we reported yesterday, an IRP panel has ordered ICANN to not delegate ZA Central Registry's .africa gTLD until it's heard an appeal by failed rival…
Logicboxes Delivers Vertical Integration Solution for .WIEN Retail Operation, Netzadresse.at – 13-May-14
According to a press release we just received "LogicBoxes, the Vertical Integration solutions provider for New gTLD Registries today announced that it has successfully executed a comprehensive Vertical Integration project in the .WIEN namespace. .WIEN is a new gTLD extension that caters to businesses, organizations, individuals and any other entities associated with Vienna, the Austrian…
KnujOn Scores a Win As BizCN Gets First Breach Notice – 13-May-14
The Chinese registrar BizCN has received its first breach notice from ICANN's compliance department, following a sustained campaign by anti-abuse activist KnujOn. The notice concerns Whois accuracy, specifically for the domain names rapetube.org and onlinepharmacy4.org, and a bunch of other peripheral breaches of the Registrar Accreditation Agreement. The "porn" site rapetube.org was the subject of…
50 Cent Goes .club With New Site, Will Be at Launch Party – 13-May-14
50InDa.Club to launch during invite-only party later this month. Rapper 50 Cent is starting a new website on a .club domain and will help kick off the site and .club at a launch event later this month. Mr. Cent will launch 50inDa.Club later this month. He will launch the site at an invitation-only launch party…
GNSO Says Dot-brand Rules "Inconsistent" With Policy – 13-May-14
The ability of dot-brand gTLDs to limit how many registrars they work with is "inconsistent" with the GNSO's longstanding policy on new gTLDs, ICANN's GNSO Council has found. At the end of March, ICANN approved a set of Registry Agreement opt-outs, such as the ability to avoid sunrise periods and approve just three hand-picked registrars,…
Wales set to get own domain name – 13-May-14
Businesses and consumers in Wales will now be able to acquire a .cymru or .wales domain name starting September this year, Nominet has announced.
Best Anchor Tenant Ever? 50 Cent to Use a .club – 13-May-14
The American rapper Curtis '50 Cent' Jackson has become the first big-name celebrity to get in on the new gTLD game, announcing today that he's launching a fan site on a .club domain. He'll launch 50inda.club at a .CLUB Domains launch event in New York on May 22, the registry has just announced. 'In Da…
Dropcatch.com Enters The Expired Domain Business With a Bang – 12-May-14
As it expands its private beta, DropCatch.com is off to a fast start: it caught and auctioned off Bespoke.com for $18,805 today. When the team behind HugeDomains launched its domain name registrar NameBright last year, it quickly became clear that a lot of people felt animosity toward the company's expired domain business. Here's just one…
People Care About One Thing When Picking a Domain Name Escrow Company: Reputation – 12-May-14
Reputation first. Everything else is just details. What matters to domain name investors when they select a domain name escrow company? The biggest factor by far is reputation, according to participants in this year's Domain Name Wire survey. Survey-takers were asked to select the "primary reason" they use the escrow service they use most often…
Congress May Block Funding for IANA Transition – 11-May-14
A US House of Representatives committee has voted to de-fund the IANA transition process. On Thursday, the House Appropriations Committee approved the fiscal year 2015 Commerce, Justice, Science Appropriations bill, which includes the $36.7 million budget for the NTIA's running costs. The National Telecommunications and Information Administration is the part of the Department of Commerce…
Demand Media, Inc. Closes at All Time Low of $3.70 a Share – 09-May-14
Shares of Demand Media, Inc. took a beating today closing at what we believe is an all time low of $3.70 a share. The company which reported earnings last night after the closed finished down almost 10% on the day. Shares hit an intra-day low in trading of $3.62. Shares of Demand Media have a…
Sunrise .expert Registrations Include Mac.expert & Bowling.expert – 09-May-14
I just went through the .Expert Zone file which contains Sunrise registrations which are available to those having valid trademark which filed with the Trademark Clearinghouse (TMCH). I picked out some of the more interesting Sunrise registration and some day 1 and day 2 registrations which cost as much as $12,500 depending on the registrar…
Six Ways ICANN is Ballsing Up The IANA Transition – 09-May-14
ICANN has been subjected to its first wave of criticism over its handling to date of the IANA transition process, which will see oversight of the DNS root leave US government hands. Yesterday was the deadline for comments to be submitted on ICANN's proposal for a way to handle what some are calling the "sunsetting"…
How Many Registrations Can GoDaddy's Home Page Drive to a New TLD? Here's The Answer. – 09-May-14
.Club picks up 2,500 registrations with prominent promotion on GoDaddy.com. How many domain name registrations can GoDaddy generate by placing a TLD on top of its website for a day? Here's one case study. All day yesterday (and still today) GoDaddy has featured .Club at the top of its website: If you click the "Find…
Only One New TLD "Auction of Last Resort" to Take Place in June – 09-May-14
Other auctions deferred until later months. ICANN's first official auction to resolve a new top level domain name contention set will take place on June 4…but with only one TLD. Participants in at least six TLD contention sets eligible for the first auction have postponed them. These auctions can be postponed for two reasons: First,…
.club On Track to Topple .guru? – 09-May-14
.CLUB Domains sold an additional 4,904 domain names on its second day — its first full day — of general availability, taking it into the top five new gTLD registries by volume. The zone started today with 30,680 names, compared to sixth-place .email's 28,127. I noted yesterday that in order for .club to hit its…
Demand Reports: Registrar Revenue Up 11% But Ehow & Content Continues to Decline – 08-May-14
Demand Media, Inc. (DMD reported financial results for the first quarter ended March 31, 2014 today after the market closed Its our personal opinion that the sooner Demand can spin off Rightside from the rest of the mess the better. Rightside operates the back end of all Donuts new gTLD extensions, owns 107 new gTLD's…
Did Two Domain Sherpa's Change The New gTLD Registrar Market? – 08-May-14
  As most domain investors know myself, Adam Dicker, Rick Schwartz and Page Howe have had a weekly show on DomainSherpa.com for many months were we discuss news and other things going on in the domain industry. On last Thursday's DomainSherpa.com show, Adam Dicker said that he had just a few days before found the…
Maccabim.com Partners With DomainTools to "Identify Serial Cybersquatters" – 08-May-14
According to a press release out today, Maccabim.com, a "researcher and developer of cybercrime solutions to protect brands and IP assets, today announced the launch of its Serial Cybersquatter Detector (SCD) Network powered by DomainTools® The SCD Network "instantaneously identifies both the serial cybersquatters exploiting its members' trademarks, as well as the opportunities to either…
.wiki Landrush Starts Today; Here are Domains Suggested By The Registry That are Available – 08-May-14
The new top-level domain (TLD) .wiki has Landrush today. The Landrush phase is a brief 2 week period when the you can register a .wiki domain on an early access basis. Of course any domain taking in landrush will not be available during general availability. The only .Wiki domain names not available during landrush will…
After 15 Years of Trying, Company Uses UDRP to Get Holdon.com Domain Name – 08-May-14
Hold on just a minute… Amicus Trade AB has been trying to get the domain name Holdon.com for its Holdon brand of fasteners since at least 1999. That's when the company sent a letter to the (then) owner of the domain with an offer to buy it. Ownership of the domain has changed multiple times…
.club Domain Name Debuts at #6, Here are The Top 10 – 08-May-14
.Club goes clubbing with over 25,000 registrations.
CentralNic Reports: Almost £4m in Revenue; £1m in Earnings & Has £4.93 in The Bank – 08-May-14
CentralNic (AIM: CNIC), today announces its audited results for the year ended 31 December 2013. Share of the company are down slightly trading at 62.5P. The company has a 52 week high of 115.5 P and has a low of 58,5 P. For 2013 billings were £3.89 million, representing a 15% increase on 2012, and…
.club Tops 25,000 Names On Day One – 08-May-14
The new gTLD .club got to 25,776 domains in its first 10 hours of general availability yesterday. According to today's zone file data, that makes it the sixth-largest new gTLD by volume. It's the third-best launch day after .berlin and .在线, I believe. The count does not include any substantial amount of premium or registry-reserved…

If you enjoyed this article, subscribe for updates (it's free)