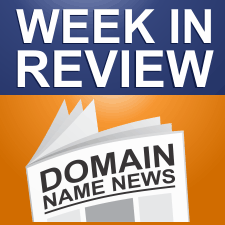 Every Friday, DomainSherpa.com provides you with a hand-selected, editorially-based review of the weekly news. In this summary, you will find the latest articles and videos produced by DomainSherpa staff and contributors. You will also find links to the best news articles in the domain name industry – so you don't have to spend your time searching for news or reading something that was not worth your time.
---
This Week's DomainSherpa Interview
---
---
This Week's News in Review
---
Google Wants to Patent Making Online Ads Social – 10-May-12
Company files two patent applications for making online ads social. Google has filed two patent applications related to social interactions with online advertisements. The applications, 20120116871 and 20120116867 (pdf), were filed in November and just published today. Both are titled "Social Overlays On Ads". The patent applications describe systems in which social overlays are placed […]
ConnectedWorld.com UDRP Challenged in Court – 09-May-12
Case filed in Arizona to halt transfer of domain name. A Texas man has filed a suit for declaratory and injunctive relief to halt the transfer of ConnectedWorld.com, a domain name he lost in a recent UDRP decision. In the suit (pdf), Jeffrey Smith claims he has been working on a social network for eldercare […]
Jewelry.co Gets $24,000 Bid On Sedo – 09-May-12
.Co domain gets a big bid and other notable Sedo domain auctions. Here are some Sedo auctions worth checking out. The owner of Jewelry.co has sent the domain name to auction after receiving a $24,000 offer. The auction ends May 12. Crackon.com also has a strong bid of $11,500. The auction for Crackon.com ends May […]
ICANN Targets Reopening Generic Top-level Domain System – 09-May-12
Internet Corporation for Assigned Names and Numbers hopes to reopen on May 22 its system that will allow people to apply for a variety of new generic top-level domains.
General Counsel Christine Jones Leaving Go Daddy – 09-May-12
A long time fixture at Go Daddy is moving on. Christine Jones, General Counsel & Corporate Secretary for Go Daddy, will leave the company Friday after 10 years. Jones managed all legal affairs for the company and frequently represented the company as a witness at congressional hearings. She was a key player at the company […]
Go Daddy Applies for .godaddy and Two Other Tlds – 09-May-12
Warren Adelman discloses new TLD applications and discusses the challenges of offering more domain choices to customers. Go Daddy, the world's largest domain name registrar, has applied for three top level domains, CEO Warren Adelman told Domain Name Wire today. (News of the applications was first reported by Paul Sloan at CNET). The company has […]
Domain Holdings Group Lands Exclusive Brokerage Agreement for Attorney.com – 09-May-12
Domain Holdings announced Wednesday that it has reached an agreement with Reinvent's holding company, Vertical Axis Inc, to exclusively broker Attorney.com. The domain is listed at $2.25 million.
Read more: http://www.sfgate.com/cgi-bin/article.cgi?f=/g/a/2012/05/09/prweb9488705.DTL#ixzz1uPXmXMAl
If You Don't Sell Me Your Domain for $2,000, I'll File a UDRP – 09-May-12
Company that makes UDRP threat found guilty of reverse domain name hijacking. "If you don't sell me your domain for $2,000, I'll file a UDRP against the domain name." That's effectively what a United Kingdom company threatened against the owner of the domain name edgePOS.com, according to the findings of a recent UDRP decision. John […]
Internet Group Targets May 22 to Resume Taking Proposals for New Domain Names – 09-May-12
The organization overseeing a major expansion of Internet address suffixes hopes to resume taking proposals on May 22 following a technical glitch that shut down its computer system for weeks.
ICANN Refunds Idea Was a Dumb Move – 09-May-12
Offering an additional $5,000 refund just draws more attention to ICANN's top level domain system failure. ICANN's offer to refund 100% of applicant fees if new gTLD applicants pull their applications was a dumb move. First, this offer isn't a big deal. It's an offer of $5,000 more (just 3%) than the refund schedule previously […]
Jay-Z files domain dispute – 08-May-12
Entertainer files complaint about JayZGroup.com. Rapper and producer Shawn Carter, better known as Jay-Z, has filed a complaint with World Intellectual Property Organization (WIPO) over the domain name JayZGroup.com. The domain name is currently registered to someone in Hazel Park, Michigan. The current registration dates to 2009, but the domain was previously registered and then […]
TAS Interruption – Update (7 May 2012) – 08-May-12
In recognition of the inconvenience caused by the temporary suspension of the TLD application system, ICANN will provide a full refund of the application fees paid by any new gTLD applicant that wishes to withdraw its application prior to publication of the list of applied-for new top-level domain names.
Demand Media Invests $18 Million in New TLDs – 08-May-12
That's a whole lotta top level domains. [Updated with comment from Demand Media and from investor call] Demand Media, parent company of eNom, announced today that it has invested $18 million into new top level domain names. It's not clear if this is for application fees only: In April 2012, Demand Media invested $18 million […]
ICANN Offers Refunds to Domain Name Applicants – 08-May-12
The organization behind a major expansion of Internet address suffixes is offering full refunds to companies and organizations affected by a weeks-long delay in taking proposals. Each application costs $185,000. Applicants had been allowed to withdraw bids for a partial refund. Now, they can get all of their money back as long as they pull their bids before a deadline that hasn't yet been determined.
.us WHOIS Privacy is Alive and Well if You Use Mark Monitor – 07-May-12
Mark Monitor helps keep .us domain registration records private. It's been years since the average consumer could register a .us domain name using whois privacy, thanks to a decision by the National Telecommunications and Information Administration. But apparently if you're a big brand you can still do it. A company recently registered a slew of […]
Apple Files Complaint Over Iphone5.com Domain: Will It Name Next iPhone … – 07-May-12
How will the next Apple iPhone be named – "New iPhone", "iPhone 6" or "iPhone 5"? Nobody has enough clues to bet on any of them, until Apple makes an official announcement. But a recent complaint the Cupertino tech giant filed with the World Intellectual Property Organization (WIPO) hints that the company could be interested in the name "iPhone 5".
Why BuyDomains' Lawsuit Over FACI.com Make Sense – 07-May-12
Lawsuit over FACI.com is about more than just a single domain name. In April I wrote about how a WIPO panel "stole" FACI.com from BuyDomains (NameMedia) in a faulty UDRP decision. I also mentioned that I hoped BuyDomains would turn to the courts to over the issue. On Friday George Kirikos noticed that the company […]
Wall Street and Virtual Space Data: Internet Domain Name Index (IDNX) Listed – 07-May-12
The financial industry is all about pinstripe suits, excessive Excel sheets and boring data. Or is it? Financial markets are more colorful than their reputation: take a look at Bloomberg's or Reuters' sites, and you'll see that pork belly is as much an object of investment speculation as coffee, electricity, bananas, hides, or fishmeal. Recently, the universe of data available to financial analysts and investment bankers grew further, with the addition of the Internet Domain Name Index (IDNX) to leading financial data distributors Bloomberg (ticker symbol: IDNX ) and Reuters (ticker symbol: .IDNX).
Expansion of Domain Name Suffixes Delayed – 07-May-12
The organization in charge of expanding the number of Internet address suffixes — the ".com" part of domain names — is apologizing for delays but says it's favoring "quality, not speed."
Big Bad Apple Wants iPhone 5 Domain From Fans – 07-May-12
Apple files a copyright complaint to grab iphone5.com from fans of its products.
Another Three Letter .xxx Domain Name Lost in UDRP – 07-May-12
BGZ.xxx given to bank in Poland.
.xxx UDRP cases present some interesting scenarios that are …
Owner of Despair.net Sues to Block Transfer to Despair, Inc. – 06-May-12
Now that's demotivating. The owner of the domain name Despair.net has filed a lawsuit (pdf) against Despair, Inc., maker of "demotivational" products, to block a UDRP decision on the domain name. Despair, Inc. filed a UDRP against the despair.net domain name on March 20. The case was weak, but the registrant (Darren L. Dittrich) of […]
Donuts and Minds + Machines Updates On TAS and New Tlds – 06-May-12
Interesting posts from the perspective of new TLD applicants. The new TLD delay continues and ICANN just released the total number of applications received so far (over 2,000). So what does this mean for new TLD applicants? Two of the largest recently published blog posts that shed some light on it. First, eNom founder Paul […]
Escrow.com Formally Launches Broker Tool – 06-May-12
Broker tool released to all Escrow.com customers. I'm a bit behind because of a hosting change at the end of last week, but the latest news from Escrow.com is worth writing about even a couple days late. Escrow.com formally launched its broker tool last week. I wrote about this tool back in January when it […]
Ahead of Next Iphone's Imminent Release, Apple Attempts to Seize Iphone5.com … – 06-May-12
Apple is engaged in a dispute over a Web site that deals with the so-called iPhone 5.
TAS Interruption – Update (4 May 2012) – 05-May-12
The TLD Application System, or TAS, held 2091 applications – either submitted or in progress – when it was taken offline on 12 April 2012. In addition, there are 214 potential applications that were registered prior to the 29 March cut-off date, but whose payments have not yet been received or reconciled. ICANN has received approximately USD $350 million in fees for applications for new gTLDs.
ICANN's $350 Million Windfall – 04-May-12
ICANN has already collected $350 million in new TLD application fees. And that number will grow. One of the mysteries of ICANN's new top level domain process is why it's been so shy about releasing the total number of applications received so far. It released the number of application system registered users, but not the […]
Internet Group Says Quality Over Speed in Restoring Domain-name Expansion – 04-May-12
The organization in charge of expanding the number of Internet address suffixes — the ".com" part of domain names — is apologizing for delays but says it's favoring "quality, not speed."
RIAA Behind Us Government's Failed Domain Name Seizure – 03-May-12
In November 2010, Homeland Security's Immigration and Customs Enforcement (ICE) seized dozens of domain names allegedly connected to copyright infringement. One of them, hip-hop blog Dajaz1, lay in limbo for more than a year after its lawyer was stalled at every turn in his quest for information. Eventually the domain was given back, but why the delay? Unsealed court papers reveal that after effectively ordering the takedown, the RIAA failed to deliver any evidence of infringement.
EU Should Strip Domain Name From US Entity – 03-May-12
An American eyewear company cannot take a dot-eu Internet address since its trademark is not established in the European Union, a high court adviser said Thursday.

If you enjoyed this article, subscribe for updates (it's free)