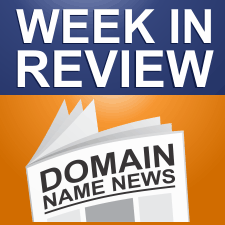 Every Friday, DomainSherpa.com provides you with a hand-selected, editorially-based review of the weekly news. In this summary, you will find the latest articles and videos produced by DomainSherpa staff and contributors. You will also find links to the best news articles in the domain name industry – so you don't have to spend your time searching for news or reading something that was not worth your time.
---
This Week's DomainSherpa Interview
---
VIDEO: How CheckingAccount.com Achieved a 300% Revenue Lift – With Sean Sullivan

A parked landing page oftentimes doesn't provide enough information to encourage users to click through on an advertisement. Instead, visitors back out and "bounce" off the site.

Enter Sean Sullivan, co-founder of BankAds.com, which develops full websites for one specific niche – banking and credit card domain names. With original content and a better user experience, the websites his company develops drive higher clickthroughs and create stronger relationships with advertisers. One example is CheckingAccount.com, which increased its revenue three-fold.
---
This Week's News in Review
---
Namemedia Promotes Bob Mountain to Senior Vice President
– 08-Mar-12
Bob Mountain promoted to Senior Vice President NameMedia. Bob's Promotion recognizes his contributions to our company and the entire domain industry.
Verisign Reports 2011 Closed With 225 Million Domain Registrations: .com/Net …
– 08-Mar-12
Verisign today announced its latest quarterly Domain Name Industry Brief report for the 4th Quarter of 2011.
The fourth quarter of 2011 closed with a base of more than 225 million domain name registrations across all Top Level Domains (TLDs), which …
How Anonymous Plans to Use DNS As a Weapon – 08-Mar-12
An Anonymous threat to take down the global Domain Name Service may have been a mere troll, but the group is looking to use the DNS itself as an offensive weapon.
Highly Coveted CO.com Domain Name for Sale via DomainAdvisors – 07-Mar-12
DomainAdvisors, a leading broker of ultra premium domain names, announced today that, after 15 years off the market, the highly coveted CO.com domain name is now available for acquisition. DomainAdvisors will broker the sale of CO.com, in a joint effort with SellDomains.com, for Paul Goldstone. "We're delighted to join forces with DomainAdvisors to maximize the outreach and awareness for the offering of CO.com. DomainAdvisors' strong background and experience in premium [domain brokering makes them a great fit for this unique opportunity," said Mr. Goldstone, owner of Co.com and founder of several successful domain related companies.
Winged Media Launches Game Changing Website Development Platform – 07-Mar-12
Winged Media, a market leader in domain technology and internet platforms, today launched Devname.com, the next generation domain development platform for domain name investors. The Devname platform has also been integrated into Winged Media's premier platform for domain trading platform, Protrada.com.
The Devname platform solves one of the biggest issues facing domainers; developing cost effective, dynamic, revenue generating websites at scale.
From a domainers point of view Devname does all the hard work behind the scenes to produce quality, socially activated, content rich and revenue generating websites.
Recent announcements by Google about underdeveloped domains no longer being indexed have delivered a timely warning to domain developers. Devname websites deliver increased traffic and are search engine friendly to ensure continual ranking and higher valuation when a domain name owner wants to sell the asset.
Developing on Devname also gives domain name owners 100% from their own revenue feeds and the opportunity to earn additional revenue from advertising, product and lead generation feeds.
Winged Media CEO and Founder, Troy Rushton, "When we were looking for a scalable development platform for our own portfolio we researched the industry and looked at every solution available. It soon became clear that we'd have to build our own. Devname is the result and it's way ahead of anything else out there. These websites are built using amazing technology in the backend to get clients' domains developed, ranking and producing revenue quickly."
Using a revolutionary semantic engine, developed in-house at Winged Media, the Devname platform looks beyond the simple keyword of a domain to the intrinsic meaning of the domain name. This degree of analysis means domains are developed with more relevant content and revenue streams.
Rushton continued, "This technology is a game changer for the domaining industry. We're very excited that Devname.com is now open for business both directly and via Protrada.com."
Examples of the websites the Devname platform can produce are accessible at www.devname.com/company/preview.
Porn Alarm for Internet Domains – 07-Mar-12
Within three months of the launch of the internet "pornography" domain ".xxx," 10 cases have been launched against Web pirates registering sites on it using the names of reputable companies
A New Generic Top-level Domain Can Be Free – 07-Mar-12
Most new gTLD applicant do not necessarily want to earn money from their domain name extension! .BRANDS, for example, will be using their domain names for themselves and they will not earn money from the sale of domain names. So, who are these new gTLD applicants who do not want to earn money from selling domain names and who do not want to spend money in an application?
UDRP Decision Could Mean Rush for Valuable Domains – 07-Mar-12
Brand owners should try to acquire attractive domains as soon as possible through the UDRP system, given a recent controversial ruling.
.CO Goes Big at SXSW – 06-Mar-12
.CO will be in your face at SXSW interactive. Say what you will about .co (and I know a lot of you will), but you have to give the TLD credit for doing more
US Gov't Claims Right to Seize Any .com Domain – 06-Mar-12
This troubling declaration of power comes after US authorities shutdown the online sports gambling site Bodog.com last week — even though the website was owned by a Canadian company, which many assumed put it outside of US jurisdiction. Not so, apparently. That's because the only company allowed to issue new .com domains is VeriSign, which is based — you guessed it — in the US.
O Canada! Domainpeople Sponsors Contest for .ca Domain Websites – 06-Mar-12
Domain name registrar DomainPeople today announced a 'Tell us About Your .CA Contest' for websites utilizing the .CA domain extension, in order to drive branding and awareness in the Canadian market. Winners will be selected based on the innovation and creativity of their website goals, and how their .CA domain is helping or will help them achieve those goals.
Security Firm ThirtySeven4 Fights Looming Internet Shutdown for Millions – 06-Mar-12
Security firm Thirtyseven4, LLC creates a solution for millions of users worldwide to avoid Internet loss when the virus DNSChanger takes effect on Thursday, March 8, 2012.  DNSChanger is a Trojan that targets Internet devices such as routers or home gateways.  DNSChanger spread to millions of users worldwide through a highly efficient botnet.  An estimated four million PC's in over one hundred countries have been compromised.
The Directi Group Launches Radix and Appoints ARI Registry Services for New … – 06-Mar-12
In an announcement set to shake up the domain name industry, Directi has appointed ARI Registry Services as the exclusive registry services provider for Radix, a new entity within the Directi Group, that will be focussed on obtaining and running new generic TLDs. The Directi Group runs multiple successful businesses in the web services space including ResellerClub, LogicBoxes, BigRock and WebHosting.info.
SedoMLS Premium Network Grows Further, with Italian Registrar Gidinet Becoming Newest… – 06-Mar-12
Today, leading online domain marketplace and monetization provider Sedo announced that Italian registrar Gidinet has become the newest SedoMLS Premium partner. By joining the SedoMLS Premium network, Gidinet can now offer their customers the ability to list domains for sale in the world's largest and only truly global domain distribution network.
Appraiso: First Intelligent Website Appraisal System – 05-Mar-12
Contact: Morgan Linton
Tel. 310.926.4423
Email. [email protected]
IF WEBSITES ARE THE FUTURE OF REAL ESTATE, APPRAISO IS THE FUTURE
OF REAL ESTATE APPRAISALS
Introducing the First Intelligent Website Appraisal System
For years domain owners have traditionally monetized their portfolios using
parking services. In 2007 parking revenues started to slide and investors began
to look for alternative forms of monetization. Last year, the leading website
marketplace on the Internet, Flippa, sold over 31 million dollars in developed
domain names compared to 21 million in 2010. Now in 2012 it's clear the virtual
real estate boom isn't declining, it's just getting started.
Unlike the physical real estate market, there is no standard for determining how
much a website is really worth, until now. A new company in Southern California's
ever-growing Silicon Beach has developed a software platform that will finally
allow domain investors to accurately assess the value of a developed domain based
on real business metrics. The software is aptly named – Appraiso, and along with
being available to end-users, the system will soon be integrated-into some of the top
domain name platforms on the Internet.
"We have already seen beta testers achieve great success using our system and
we're sure many more people will be using our software to more accurately gauge
the price of their online property," says Linton, owner of Linton Investments LLC,
a Los Angeles-based domain name investment firm. The company already has two
API deals in the works that will add Appraiso to two of the top platforms in the
Domaining world. While in beta, a user used the system to close a major deal on a
portfolio of web properties he had been trying to sell for year. "We are confident
this will change the way people buy and sell websites forever, and we're just getting
started!"
The algorithm is dynamic, reflecting current market value of web-property and it
continues to learn over-time. Along with estimating value, Appraiso can recognize
whether the metrics reported in a website sale are deceptive. This feature addresses
growing concerns amongst website buyers using platforms like Flippa and eBay
who have been hesitant to buy due to rampant scams that can be difficult to
identify. "We surveyed website buyers around the world and the #1 request they
made after a reliable appraisal system was a way to detect scams, so we built it!"
After a successful soft-launch of the software at the Southern California Domainer
Meet-up event held in Santa Monica this February, the company has officially
launched to the public this week. "Our goal is not only to create a standardized
system for evaluating the price of a website, we want to make the space safer
and more transparent than every before, and based on the early feedback we've
received, it is clear we are already making an impact!"
Uncle Sam: if It Ends in .com, It's .seizable – 05-Mar-12
The U.S. government says it has the right to seize any .com, .net and .org domain name because the companies that have the contracts to administer them are based on United States soil, according to Nicole Navas, an Immigration and Customs Enforcement spokeswoman.
New gTLD Applicants up to 207 – 05-Mar-12
With the registration deadline less than four weeks away, ICANN has revealed that it has received 207 sign-ups for generic top-level domain applications.
Some Porn Domain Names Try to Sound Familiar – 05-Mar-12
Within three months of the launch of the Internet "pornography" domain ".xxx," 10 cases have been launched against Web pirates registering sites on it using the names of reputable companies and people, insiders said on Monday.
Porn Domain On Internet Touches Alarm Buttons – 05-Mar-12
Within three months of the launch of the Internet "pornography" domain ".xxx," 10 cases have been launched against Web pirates registering sites on it using the names of reputable companies and people, insiders said on Monday.
Mike Mann's Domain Asset Holdings Sells Almost $300000 in Domain Names in February – 05-Mar-12
It looks like Mike Mann who founded then sold BuyDomains.com has done it all over again. He started Domain Asset Holdings from scratch at the time most thought all the good domains were gone, accumulated over 300,000 domain names again and has built …
Bankads.com Launches "Managed Solution for Banking and Credit Card Domains" – 04-Mar-12
I received an email from Sean Sullivan, announcing his company's launch of BankAds.com, a managed solution for banking and credit card domain names. According
Oversee.net Names Domeyer As CEO As Morrow Departs – 02-Mar-12
Los Angeles-based Oversee.net said Friday that it has named Debra Domeyer as its CEO. Domeyer, who was Co-CEO, takes over the position after fellow Co-CEO Scott Morrow leaves the firm. According to Oversee.
Domain Investor Featured in Crain's New York – 02-Mar-12
Publication profiles domain investor. Domain investor, entrepreneur, and Domain Name Wire reader Rick Singer was featured in Crain's New York Business
Typo Squatter About to Get $24k or More for 'tubmlr.com' – 02-Mar-12
This typo add up to about 8,000 hits a month, according to the sales listing on Sedo.com,. Now someone is about to pay 15,000 pounds sterling or $24,000 USD for the domain, as the sharp-eyed Domain Name Wire reported.
Edina Republican Snatches Likely DFL Domain Names – 01-Mar-12
Angela Berger registered several web addresses that local DFL officials were likely to use.
Google Offers California Small Businesses Free Websites – 01-Mar-12
Google launched a program called "California Get Your Business Online" that offers small businesses in the Golden State the opportunity to get a free customizable website, as well as access to in-person training on how to build a successful online business.

If you enjoyed this article, subscribe for updates (it's free)