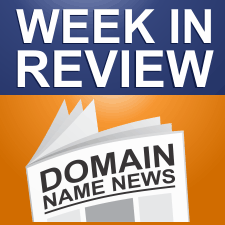 Every Friday, DomainSherpa.com provides you with a hand-selected, editorially-based review of the weekly news. In this summary, you will find the latest articles and videos produced by DomainSherpa staff and contributors. You will also find links to the best news articles in the domain name industry – so you don't have to spend your time searching for news or reading something that was not worth your time.
---
This Week's DomainSherpa Interview
---
VIDEO: How I Went from $50,000 to More Than $250,000 in Sales Per Year – With Shane Wells

It's relatively straightforward to build a geodomain into a directory or blog. But where most people fall short in making their venture a successful business is the sales process.

That's because many would-be entrepreneurs loathe the idea of selling advertising, directory listings and leads. Shane Wells, on the other hand, loves to sell. His enthusiasm for sales (and his success) speaks for itself – he went from $50,000 in sales to more than $250,000 per year in sales. To help others be successful, Wells shares the strategies, tactics and tips he uses for selling advertising and services at his geodomain-based Internet marketing company.
---
This Week's News in Review
---
European Broadcasters to Bid for .Radio Domain Name
– 29-Mar-12
The European Broadcasting Union said Thursday that it would apply to acquire the .radio domain name for the radio community.
Scrutiny Intensifies Over ICANN Domain Name Plan
– 28-Mar-12
While critics of this program may have failed in stopping or delaying the launch of the new domain name program, it is clear that they will be closely monitoring how the Internet Corporation for Assigned Names and Numbers implements the program and how it carries out its business generally. ICANN began accepting applications for its new domain name program in January and will reveal the list of applicants in May.
Domain Developers Fund Announces 16.37% Annual Net Performance Results for 2011
– 28-Mar-12
The Domain Developers Fund, a public open fund investing in internet domain names only, today announced an annual performance of 16.37 % in the NAV of the fund, compared to a projected target increase of 15% for FY 2011. Sales have increase 240% compared with 2010 and the AUM has doubled during 2011.
Is WIPO Advising Complainants?
– 27-Mar-12
This is a post written by contributor, Paul Raynor Keating. Paul is an attorney specializing in domain names and related matters. He lives and works in
Dotcom Hike Will Net Meeellions of Bucks for Verisign, ICANN
– 27-Mar-12
The cost of a .com domain name is expected to rise by at least 31 per cent over the next six years, due to new price-increasing powers granted to registry operator Verisign by industry overseer ICANN.
Number of Domain Names Ups By 4.5 Per Cent in Uzbekistan
– 27-Mar-12
The number of registered domains in Uzbekistan was 14,000 as of late March in the UZ national domain zone compared to 13,4000 as of early 2012, a 4.5-per cent increase.
Wholesale Price for .com Domains Could Hit $10.29 By 2016
– 27-Mar-12
Why should registry costs increase 7% a year? ICANN has published a proposed agreement to renew the .com contract with VeriSign. As expected, the agreement allows VeriSign to hike prices 7% in four of the next six years. This is similar to the current contract.
Silvio Berlusconi's Mediaset Loses Rights to Expired Internet Domain Name
– 27-Mar-12
Mediaset.com was purchased by a former Miss Universe contender for an undisclosed amount.
Go Daddy & .me Partner for 2nd Annual Scholarship Contest
– 27-Mar-12
.ME Registry is partnering with GoDaddy.com to offer 10 students $10,000 each for college tuition. This is the second annual .ME Scholarship Program a
Austin.com Domain Name Sold
– 27-Mar-12
Austin.com domain name sold and will be relaunched. I asked iEstates, LLC owner David Wieland for the scoop on why he bought the domain and what he plans to do with it.
.xxx Registrations Go On Sale for Two Weeks
– 26-Mar-12
It seems that the cost of registering a .XXX domain name is going on sale for a limited time at just a few registrars. Moniker.com just announced it was reducing the price of a .XXX registration from $98 to $69 from only Match 26th- April 9th.
Eu …
FCC, ISPs Join Forces to Fight Routing Hijacks, Botnets – 26-Mar-12
Coalition will also work to secure DNS servers.
Big Apple in .NYC State of Mind With Plans for Its Own TLD – 26-Mar-12
New York City is set to take advantage of ICANN's new rules allowing an expanded number of top-level domains.
Rikvin Launches Free Singapore Company Name and Web Domain Checking Service – 26-Mar-12
Singapore company registration specialists Rikvin has launched a free Singapore Company Name Check service today. The service, which is the first of its kind in Singapore, allows entrepreneurs to quickly check the availability of their desired Singapore company name and web domain in one swoop.
New York Promised at Least $3.6 Million for Sale of .nyc Domain Names – 26-Mar-12
The company says it will share at least $3.6 million of the revenue it collects from selling the domain names according to city spokesman Nicholas Sbordone.
UK.GOV Gives Nod to .SCOT – 25-Mar-12
While the Coalition government may oppose Scottish independence, it has nevertheless given the go-ahead to a Scottish move for independence on the internet. The UK government has reportedly granted Dot Scot Registry, a not-for-profit company, with approval to apply for .scot, a new internet top-level domain.
Dot Pharmacy: New Web Weapon in War On Duff Drug Peddlers – 25-Mar-12
An American trade group wants to create top-level domain name .pharmacy to stem the sale of bogus medicines online. The National Association of Boards of Pharmacy (NABP) will file the application with internet policymaker ICANN, according to FairWinds Partners, a domain name consulting firm.
Web Address Controversy Deepens After US Warning – 23-Mar-12
A controversial attempt to expand Internet addresses far beyond the likes of .com, .org or .net has provoked a rare threat from the U.S. government to withdraw a key licence from the body that runs the Internet's core functions.

If you enjoyed this article, subscribe for updates (it's free)