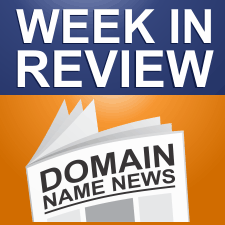 Every Friday, DomainSherpa.com provides you with a hand-selected, editorially-based review of the weekly news. In this summary, you will find the latest articles and videos produced by DomainSherpa staff and contributors. You will also find links to the best news articles in the domain name industry – so you don't have to spend your time searching for news or reading something that was not worth your time.
---
This Week's DomainSherpa Interview
---
VIDEO: How the Art of Shaving Led to a Six Figure Per Month Income – With Luke Webster

Procter & Gamble bought Gillette in 2005 for $57 billion, who sells replacement razor blades for more than $2 each but cost only 9 cents to produce.

Enter Luke Webster, who is disrupting this high profit margin industry by promoting the art of shaving with a straight razor. He is snatching up all the straight razor domain names and building operating websites with PPC marketing campaigns.
---
This Week's News in Review
---
Hundreds of new domain names registered through Go Daddy within an hour of Pope Francis election as he sends first tweet
– 14-Mar-13
The first tweet from the new Pope has been sent as 100's of new domain names were registered through Go Daddy within an hour of the election of Pope Francis. Minutes after the announcement that announcement that Cardinal Jorge Mario Bergoglio was to become Pope Francis I, the official twitter account of the Pope @pontifex tweeted 'Habemus Papam Franciscum', which translates as 'We have Pope Francis'.
New Hires at Donuts, Domaindiction and 101domain
– 14-Mar-13
It's been a busy week in the industry for executive switcheroos, with Donuts, DomainDiction and 101domain all announcing senior-level hires. Today it emerged that Elaine Pruis, a long-time key member of the Minds + Machines team, has jumped to rival new gTLD applicant Donuts, where she's now director of operations. That's quite a surprising move, […]
After a Decade of Creating Research Tools for Domain Investors Luc Lezon Paints His Masterpiece at Dropping.com
– 13-Mar-13
When I first got into the domain business over a decade ago, one of the first people I came across was Luc Lezon, a software wizard who, after initially starting out as a domain investor himself, switched his attention to creating tools that made it easier for other domain investors to find quality domain names. He is still at it today as the programmer behind Estibot,
PremiumDrops, Domain ResearchTool and a few other domain services and just a few weeks ago he rolled out his "masterpiece" – Dropping.com.
Pope Francis Spurs Hundreds of Domain Name Registrations – 13-Mar-13
Just hours after the world's new Roman Catholic leader is named, more than 600 domain names are registered at GoDaddy with keywords such as Pope, Bergoglio, and Habemus Papam. Read this article by Dara Kerr on CNET News.
Joe Alagna Joins 101domain.com – 13-Mar-13
Alagna will lead registrar's channel development efforts. A long time fixture in the domain name industry has joined 101Domain.com.
Amazon and Google Hit As Independent Objector Files 24 New gTLD Objections – 13-Mar-13
Alain Pellet, the new gTLD program's Independent Objector, has filed 24 official objections against new gTLD applications. Five of its 13 Community Objections are against dot-brands that have geographical meanings — Amazon's .amazon and three translations, an outdoor clothing maker's bid for .patagonia and a Mumbai cricket team's application for .indians. Other recipients are the […]
Publishers Oppose Amazon On Domain Names – 13-Mar-13
Book publishers say they oppose Amazon's application for top-level Internet domain names, including .book, .read and .author, calling it monopolistic.
Company That Owns Entertainment.com Files for Bankruptcy – 13-Mar-13
Company enters chapter 7 liquidation. Entertainment Publications LLC, the company that owns Entertainment.com, has filed for chapter 7 bankruptcy liquidation. You probably know the company for its coupon books, which offered buy-one-get-one (BOGO) offers before Groupon, Living Social, and everyone else got into the game. The catch is that you have to pay upfront for […]
Chicago Man Owns PopeFrancis.com – 13-Mar-13
He's owned it since 2010, but someone else quickly snapped up PopeFrancisI.com today. Last month I suggested several possible names for the next pope and…
CDN.net, Purchased for $185k Last Year, Launches – 13-Mar-13
$185,000 domain name goes live as a new service. About a year ago OnApp bought the domain name CDN.net for $185,000. For awhile it just forwarded the domain to its main web site. But now it has launched a new service at the domain. GigaOm reports that CDN.net has launched a pay-as-you-go content delivery network. […]
Note.com Domain Name for Sale Exclusively With DomainAdvisors – 12-Mar-13
BOSTON, March 13, 2013 /PRNewswire/ — DomainAdvisors, a leading broker of premium domains and websites, announced today that Note.com has been listed exclusively for sale with their firm. Whether it's a promissory note, mortgage note, musical note or new brand, Note.com offers a unique opportunity for a new or established company the opportunity to secure a rare asset and leverage it to launch their new business, product or campaign. "Domain names like Note.com have a strong and memorable branding association and offer significant advantages to online businesses," said Tessa Holcomb, CEO of DomainAdvisors. "Good branding will make your name memorable, but a memorable name will make your branding efforts much easier."
Defensive Registrations With Donuts Could Be 95% Cheaper Than Normal Domains – 12-Mar-13
Portfolio gTLD applicant Donuts plans to offer trademark owners defensive registrations at 5% to 10% of the cost of a normal domain name registration, co-founder Richard Tindal said today. Speaking at the Digital Marketing & gTLD Strategy Congress here in New York, Tindal also revealed some of Donuts' current thinking about the Domain Protected Marks […]
Two More gTLD Bids Kicked Out of The Program, But .kids Gets ICANN Funding – 12-Mar-13
Two more applications have been rejected from the new gTLD program, after they tried and failed to have their application fees subsidized by ICANN's Applicant Support Program. Three gTLDs were submitted for financial assistance, but ICANN's Support Application Review Panel, delivering its results (pdf) today, decided that only one of them qualified for a cheapo […]
Google-backed new gTLD industry group appears at WhatDomain.org – 12-Mar-13
The formative domain name industry trade association that DI has blogged about a few times recently has found itself a web site. The Google-backed initiative can be found now at WhatDomain.org, which currently carries a bit of brief information about the organization's rough plans and a call for potential members to get in touch.
Lawsuit Filed to Halt UrbanHome.com Transfer After UDRP Decision – 12-Mar-13
Suite claims WIPO panel was wrong in UrbanHome.com decision. Last week Michael Berkens wrote about a UDRP decision for UrbanHome.com. A WIPO panel ruled that the domain name should be transferred to Urban Home of Oxnard, California. Now the respondent, Technology Online, LLC, has filed a federal lawsuit (pdf) in Nevada to stop the transfer. […]
CSC Buys Melbourne IT DBS for A$152.5 Million – 11-Mar-13
A shocking price tag for Melbourne IT's brand protection business. There's money in online brand management. Melbourne IT (ASX: MLB) announced today that it has sold its Digital Brand Services (DBS) division to Corporation Services Company (CSC) for A$152.5 million – which was 95% of the entire company's market cap prior to the announcement. Melbourne […]
Amazon's Quest for Domain Names Raises Hackles – 11-Mar-13
Amazon's application for domain names such as .book has generated opposition from book publishing groups.
New Internet Domain Names Create Web of Confusion – 11-Mar-13
Move over ".com," because over the course of the next year the Internet is expected to be inundated with thousands of new, generic, domain-name extensions. Big businesses, including online retailer Amazon, have applied to purchase exclusive rights to several of these so-called generic top level domains (gTLD), including .read and .book, a move critics said could jeopardize the openness of the Internet.
Pepsi's Interesting $8,000 Domain Purchase – 11-Mar-13
Pepsi buys a hyphenated domain for $8,000 and it won't be easy to by the unhyphenated version. As I was going through Sedo's sales report from last week, one domain caught my eye — mostly because of the buyer. PepsiCo bought Green-Label.com for a solid $8,000. I can see a number of uses for this […]
Authors Want a Rewrite On Amazon's Domain Name Grab – 11-Mar-13
Both the Authors Guild and retailer Barnes & Noble claim that giving Amazon control over generic domain names like .book and .read would give the online company too much market power.
Procter & Gamble Guilty of Reverse Domain Name Hijacking – 11-Mar-13
Consumer products giant provided false sales numbers to WIPO panel. A World Intellectual Property Organization panel has found Procter & Gamble guilty of attempted reverse domain name hijacking over the domain swash.com. Marchex has owned the domain name since 2004. P&G launched a new brand called Swash several years later. In its complaint, P&G originally […]
So Much Opposition to a Closed .cloud, Yet None of These Companies Bought Cloud.com? – 11-Mar-13
Companies that are worried about competitive advantage should reexamine their own domain name strategies. An awful lot of big brands are speaking out against the prospect of "closed generic" top level domains, such as .cloud and .book. That may be good news for owners of high quality second level domains, if or when these complaining […]
Domain Name Wire is 8 Years Old – 11-Mar-13
Domain Name Wire turned 8 years old this past weekend. On March 8, 2005, I wrote the first post on Domain Name Wire. This post is number 6,250. I'd like to thank both my readers and advertisers for your continued support. Without both of you, this blog wouldn't exist. Here's to 8 more. © DomainNameWire.com […]
Demand Media Hit With First New gTLD Objection – 10-Mar-13
With the deadline for filing objections against new gTLD applications fast approaching, the first such objection has been revealed. Starting Dot, which has applied for .immo and other strings, has filed a String Confusion Objection against Demand Media's .immobilien bid, according to the International Center for Dispute Resolution.
Registrars Miffed About New Accreditation Agreement. Will It Delay New Tlds? – 08-Mar-13
Fighting over new agreement continues and threatens new TLD timeline. The team of registrars negotiating with ICANN for the new Registrar Accreditation Agreement (RAA) issued a stern statement today saying ICANN is making some unreasonable requests and is trying to hold new TLDs hostage to a new agreement. Last night ICANN published its proposed 2013 […]
Google Says It Will Make .app, .blog, .cloud, and .search Tlds "open" – 08-Mar-13
Company plans to change some new TLD applications after pressure over "closed generics". Google plans to update four of its new top level domain applications to make the domains more open to registration outside of Google. In comments submitted to ICANN regarding the concept of "closed generic" TLDs, the company said it will work to […]
Chehade Commits to Grow The Number of Domain Registrars in Africa – 07-Mar-13
ICANN CEO Fadi Chehade has told African policymakers that he wants to make it easier for companies on the continent to become accredited registrars, saying he wants to grow the number five-fold in a year. During a "Multistakeholder Internet Governance" meeting in Addis Ababa earlier this week, Chehade said he wants to see 20 more…
GotMilf.com Saved in UDRP By Ari Goldberger – 07-Mar-13
The California Milk Processor which has a trademark on the term "got milk" lost its bid to get the adult domain name GotMilf.com, as the majority of three member panel found that the domain is not confusingly similar to the trademark.
AAP Criticizes Amazon's Bid for .book Domain Name – 07-Mar-13
The Association of American Publishers criticized Amazon's bid for "closed generic Top-Level Domains" (gTLD), an attempt for "exclusive" control of the new .book domain name.
Go Daddy Cozies Up New gTLD Players, Drops Its Own .home and .casa Bids – 07-Mar-13
Go Daddy has changed tack in its new gTLD strategy, dropping its own applications and positioning itself strongly as a registry-neutral channel to market. The company spent yesterday wooing new gTLD applicants at a specially convened meeting in its native Arizona; there were representatives from about half of the applied-for gTLDs in attendance.

If you enjoyed this article, subscribe for updates (it's free)