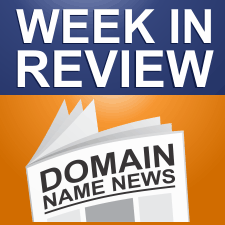 Every Friday, DomainSherpa.com provides you with a hand-selected, editorially-based review of the weekly news. In this summary, you will find the latest articles and videos produced by DomainSherpa staff and contributors. You will also find links to the best news articles in the domain name industry – so you don't have to spend your time searching for news or reading something that was not worth your time.
---
This Week's DomainSherpa Interview
---
VIDEO: Three Tips to Successfully Market Your New Top-Level Domain – With Jennie-Marie Larsen

Hundreds of new top-level domains (TLDs) will launch in the next few years, but not all will survive. Many will falter and remain obscure to the general public, like existing TLDs .tel or .pro.

Jennie-Marie Larsen wants to protect your new TLD from obscurity. In this interview, Larsen provides three tips to successfully market your new TLD:
1. Get up to speed quickly in the domain name industry.
2. Don't think locally, think globally.
3. Empower registrars to sell.
---
This Week's News in Review
---
.XXX Up to 137k Active Registrations, 220k Total, and New $630k Premium Sale
– 07-Jun-12
.XXX registry about to announce details of premium sale as registration count continues to grow. The .xxx domain name now has 137,000 active registrations, ICM Registry founder Stuart Lawley told Domain Name Wire today. The latest official ICANN numbers for the domain date to the end of February with 128,736 registrations. That means the TLD…
Moniker and SnapNames Announce Auction Catalog for Premium International and ccTLD Domain Names
– 07-Jun-12
Moniker and SnapNames, both KeyDrive S. A. companies, published the final catalog and opened bidding for their Premium International & ccTLD Auction. Bids can be placed online now through July 19, 2012, at 12:15 p.m. U.S. Pacific (3:15 p.m. U.S. Eastern).
Apple Wins Aplestore.com Domain, Still Seeks itunes.net & Others
– 07-Jun-12
Apple has won ownership over the domain name "aplestore.com" through arbitration, though the company still hopes to take control of many other domains, most prominently "itunes.net."
Experts Weigh In: What Do New Tlds Mean for Domainers?
– 07-Jun-12
What should domain investors think about as new TLDs come to market? Companies have submitted close to 2,000 applications to ICANN to run new top level domains covering everything from .app to .zippo. What will this mean for domainers as we watch a flood of top level domains hit the market in the coming years?
Fate of New TLD Order Determined By Click of a Button and Location
– 06-Jun-12
ICANN reveals more details about its digital archery game. The smart money would have set up their registry in Africa… ICANN has provided more details about its so-called digital archery solution that will determine in which batch a new TLD application will be evaluated. Digital archery involves setting a target time and then clicking a…
Apple Wins Aplestore.com, Its First UDRP Victory of The Year
– 06-Jun-12
Apple wins its first domain arbitration case of the year. Apple has won a dispute over the domain name aplestore.com as a World Intellectual Property Organization panel ordered the domain name transferred to the iPhone maker. The typo of AppleStore.com was registered to a man in Poland and forwarded to a parked page full of…
New Zealand Domain Names: Second Level Domains Proposed
– 06-Jun-12
The Domain Name Commission is calling for submissions to its proposal to extend the .nz domain name space by allowing anybody to register domain names at the "second level". This would mean that, for example, baldwins.nz would be a valid domain available to register. At present, .nz domains can only be registered at the "third level". For instance, baldwins.co.nz.
Chicago.com Applies for Dotchicago Trademark
– 06-Jun-12
Chicago.com, Inc., has filed a trademark application with the U.S. Patent and Trademark office for the DotChicago mark. But Chicago.com founder Josh Metnick says his company did not apply for the top level domain .Chicago with ICANN. The application, filed May 31, states that the mark is…
Set Your Alarm Clocks for The "Big Reveal"
– 05-Jun-12
Over 1,900 new TLD applications to be revealed June 13. ICANN today announced details about reveal day, when it reveals over 1,900 applied-for top level domain names. A reveal news conference is set for Kings Place in London at 1 p.m. local time (noon GMT). That's 8 a.m. EDT. West coaster new TLD watchers will…
Vint Cerf: I Think a Only a Few New Tlds Will Be Notably Successful
– 05-Jun-12
Cerf discusses new TLDs and Google's involvement. Vint Cerf, former chairman of ICANN's board and current Google Chief Internet Evangelist, has dished out a bit of opinion on new top level domains. CNET asked Cerf this question: Namespaces are a notorious problem in computer science. Is the GTLD expansion actually adding value, or is it…
Go Daddy Sold 35,094 Aftermarket Domains Last Month
– 05-Jun-12
Go Daddy releases monthly stats about aftermarket domain sales. The Go Daddy Auctions Domain Market Report for May is out. Last month the company sold 35,094 domain names through its aftermarket platform. That's down slightly from 36,103 in April. 54% of domains sold via auction while 45% were fixed price sales. 1% sold through negotiation.
A Tasty Conversation With Donuts, Which Just Applied for 307 Tlds
– 05-Jun-12
Donuts rolls in a lot of dough, but you'll have to wait another week to see which domains they applied for. This morning Donuts, a new TLD applicant founded by eNom founder Paul Stahura, announced the most ambitious public new TLD plans to date: a $100 investment and 307 applications. The company also hired Mason…
Domain Name .RW Soon to Be Held By Rwanda
– 04-Jun-12
If there's one thing that's giving intense headaches to Rwanda, a country that's determined to become the regional ICT hub by 2020, is the fact that its country-code top-level domain (ccTLD) name (.rw) is still in the hands of an individual — a foreign citizen to put it right. "It's shameful that our country's ccTLD is managed by a custodian," says Justin Rugondihene, Director of Internet, Media and Postal Affairs at RURA.
Donuts Raises $100 Million, Applies for 307 New Tlds
– 04-Jun-12
Flush with cash, new TLD applicant applies for 307 top level domains. Every week I check the SEC filings to see if Paul Stahura's new TLD startup, Donuts, has raised more money. But every time I check there's still just a filing about the $1 million it raised. And that number seemed just about right,…
Donuts Raises $100m-plus to Deliver 'Dot-anything-you-want' Domain Names
– 04-Jun-12
The company says businesses and bloggers alike should be able to secure memorable addresses more affordably.
Google Makes Domain Verification Easier With Enom and Go Daddy
– 04-Jun-12
eNom and Go Daddy customers can verify ownership from web based interface. Google has just introduced a speedier way to verify your domain ownership for use with certain Google tools. You have to verify that you own a particular domain name in order to use some Google services with the domain, e.g. seeing search queries…
Icann Releases New Top Level Domain Applicant Guidebook
– 04-Jun-12
Latest and greatest version of applicant guidebook just released. About 2,000 new top level domain applications have been submitted. But we're not done yet, folks. Today ICANN released another version of its gTLD Applicant Guidebook. With the application period closed, the latest version turns the focus to the objection period. Changes mostly related to the…
It's Craig Newmark Vs. Craig Solomon in This Funny Domain Dispute
– 04-Jun-12
CraigsList or CraigsLists? Craigslist has filed a domain name dispute against the owner of CraigsLists.com (notice the extra 's'), a site purportedly run by one Craig Solomon. Whereas Craig Newmark's Craigslist offers classified ads, Craig Solomon's CraigsLists.com says: "To see Craig Solomon's lists of the best online resources, just click on the links below.
Google Applies to Acquire .google, .youtube and Other Domain Names
– 04-Jun-12
Google Inc. says it has applied for control of what would be new top-level domain names associated with the search engine. Google has revealed four of the domains it has applied for, but declines to reveal others or say how many it applied for in total. In a blog post Google chief Internet evangelist Vint Cerf wrote that the company had applied for .Google, .docs, .YouTube and .lol.
Domain Attorney Doug Isenberg Explains What The Proposed $150 Fee Will Get You
– 04-Jun-12
As we reported earlier, ICANN has selected IBM & Deloitte as providers of trademark clearinghouse services for the new gTLD's. Today, Doug Isenberg, a veteran domain name attorney and founder of The GigaLaw Firm has decided to chime in on the matter. He explains in detail what the proposed TMCH service actually provides at his blog, Isenberg On Domains.
More Details About Changes to Go Daddy's 60 Day Lock
– 04-Jun-12
Why the new policy is in place and what it means for you. Last Friday I wrote about how Go Daddy had put into place a way to remove the dreaded 60 day transfer lock activated when you make a change to the registrant name on a domain name at the registrar. Over the weekend…
Flame Malware Network Based On Shadowy Domains, Fake Names
– 04-Jun-12
The espionage malware has already been updated on some infected machines — after command-and-control domains were shut down last week, researchers say. Read this blog post by Elinor Mills on Security & Privacy.
Obama Campaign Sues Web Site Over Barack Obama Merchandise
– 03-Jun-12
Obama campaign files lawsuit over Obama merchandise featuring "rising sun" logo. Obama for America has filed a second lawsuit against DemStore.com and Washington Promotions & Printing, Inc., which allegedly sell merchandise including the campaign's "rising sun" trademark. (A quick look at DemStore.com confirms this.) The suit (pdf) was filed in U.S. District Court, District of…
Angie's List Sues Servicemagic Over Google Ads
– 03-Jun-12
Company sues lead generation firm over competitive AdWords ads. Angie's List (NASDAQ: ANGI), the subscription based service to find contractors, has filed a lawsuit against lead generation company ServiceMagic over ads it purchased on Google Adwords. According to the complaint, ServiceMagic is buying Google AdWords ads for the term "Angie's List". Here's an ad I…
Australians Fall Behind Domain Rush
– 03-Jun-12
Australian companies and organisations have failed to take advantage of new top-level domain names, with foreign bodies likely to snap up the most lucrative names in the first round of global allocation.
New TLD Battle Already Hits UDRP
– 03-Jun-12
Complaint filed against a .med backer. Here's an interesting UDRP case that attacks an applicant for the .med top domain name. The domains in this dispute are aboutdotmed.com, supportdotmed.com, and thedotmed.com. The complaint was filed by DotMed.com, Inc. I wrote about DotMed.com back in January when I revealed 115 trademark applications for potential top level…
Go Daddy Creates Process to Eliminate 60 Day Transfer Lock
– 01-Jun-12
GoDaddy.com offers way to remove 60 day lock on domain transfers after certain registrant changes. Ah, the dreaded 60 day lock. Go Daddy has taken quite a bit of flack over the years for rejecting transfers to other registrars if you changed certain registrant information within the previous 60 days. But under a new policy…
Flippa Adds Verified Google Adsense Revenue
– 01-Jun-12
Web site buyers can gain more confidence in revenue numbers. Flippa, a marketplace for web sites and domain names, has added a tool to verify Google Adsense revenue numbers for web sites. We all see sites for sale that claim huge Adsense revenue numbers. But how do you know if the person is telling the…
Amercia.com Domain, Featured On Mashable, Up for Auction at Flippa
– 01-Jun-12
Amercia, land of the free. There's an amusing story over at Mashable about the Chinese owner of the domain name Amercia.com, a typo of America.com. His story of why he bought the domain is heartwarming, but it's worth noting that he owns at least 39 domain names. So think what you want. The owner bought…
New TLD Roundup: The Good, The Bad and The Funny
– 01-Jun-12
From brands to portfolio players, here's a look at what we know so far. The "big reveal" of who applied for what top level domains isn't until June 13. But that didn't stop a lot of companies from making their own announcements over the 36 hours since the application window closed. Here's my roundup and…
New TLD Battle: .eco Vs. .green
– 31-May-12
TLDH hedges its bets with .green bid. On May 7 I tweeted: The answer is "yes". Top Level Domain Holdings, one of the companies embroiled in a battle over .eco, has applied for .green. It could merely be a calculated bet by TLDH given the potential for a hold up on .eco. .Eco has long…
TLDH's 68 Top Level Domain Applications
– 31-May-12
TLDH applies for 68 top level domains on its own behalf. Top Level Domain Holdings has submitted 92 applications for top level domains. It submitted 68 applications on its own behalf and an additional 24 with partners or for others. TLDH is the company that picked up Peter Dengate Thrush after he left ICANN's board.
Google Applies for .google, .youtube, and .lol Domain Names
– 31-May-12
Google said it has applied for the Internet identifiers ".google," ".docs" and ".youtube," with the planned expansion of the Web's domain name system.
Directi Applies for 31 Top Level Domains
– 31-May-12
Radix, a Directi company, makes big investment in top level domains. Directi Group (see disclosure) announced today that is has applied for 31 top level domain names through its new company Radix. I believe this makes it one of the biggest "portfolio" applicants for new TLDs. The company has committed over $30 million to the…
College Hunks and Strong Students Fight in Court After UDRP
– 31-May-12
A muscular lawsuit. This lawsuit creates and amusing visual. Strong Students Moving, Inc. has sued (pdf) College Hunks Hauling Junk after the former lost a domain to the latter through a UDRP case. Shaun Robinson of Strong Students Moving, Inc. alleges that he registered the domain name collegehunksmoving.com while he was negotiating with College Hunks…
If you enjoyed this article, subscribe for updates (it's free)