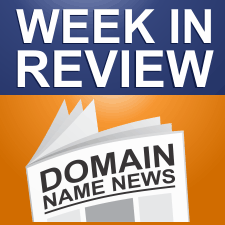 Every Friday, DomainSherpa.com provides you with a hand-selected, editorially-based review of the weekly news. In this summary, you will find the latest articles and videos produced by DomainSherpa staff and contributors. You will also find links to the best news articles in the domain name industry – so you don't have to spend your time searching for news or reading something that was not worth your time.
---
This Week's Featured DomainSherpa Show
---
DomainSherpa Review – Jun 23, 2014: ExecutiveGifts.com, Revisit.com, Partes.com…

Get into the minds of the Sherpas with the DomainSherpa Review!

* An investor's portfolio is reviewed and appraised
* 20 domain names going to auction at NameJet are valued
* Adam Dicker takes the crown in this week's "Name That Price" game

For each domain name portfolio, the Sherpas answer:
* Which domains are valuable, and in what way?
* What is the market value (both wholesale and retail) of the best domain names?
* Which domains are worthless and should be dropped?
* Which domain names may invite legal issues, such as a UDRP case or cybersquatting lawsuit?
* Which domains do our Sherpas want to make an offer on?

We're joined by three Domain Sherpas: Adam Dicker, Andrew Rosener and Page Howe.
---
This Week's News in Review
---
Israeli and U.S. terror victims move to seize Iran's domain names
– 26-Jun-14
Court papers served to the organization administrating the World Wide Web, would have the plaintiffs control the domains of Iranian, Syrian and North Korean websites.
France Slams ICANN After GAC Rejects Special Treatment for .wine
– 26-Jun-14
France says that "ICANN is no longer the appropriate forum to discuss Internet governance" after it failed to win support from other governments for special protections in .wine and .vin gTLDs. The government came to ICANN 50 in London this week apparently determined to secure a Governmental Advisory Committee consensus that .wine should have protection…
GAC Rejects Multistakeholderism, Tells ICANN to Ignore The GNSO
– 26-Jun-14
The Governmental Advisory Committee has advised ICANN to do as it's told and stop listening to the views of other stakeholders, on the issue of protection mechanisms for the Red Cross. In a barely believable piece of formal advice to the ICANN board this morning, part of its London communique (pdf), the GAC said: the…
As ICANN Meeting Ends "China Launches Campaign to Control The Internet"
– 26-Jun-14
Talk about a disturbing headline Chinatopix.com just published a post entitled "China Launches Campaign To Control The Internet" According to the story, China's communist government intends to impose on the Internet the same "guiding principles" it currently uses to stifle online dissent within China." The decision of the U.S. to relinquish its oversight of ICANN,…
IPOfinancial: "No Way GoDaddy's Ipo Can Move Forward As is With Google Entering The Market"
– 26-Jun-14
I chatted with David Menlow, who is the founder IPOfinancial.com yesterday about Godaddy's planned IPO and Google's announcement this week that they were entering the domain name registrar business "I don't see how GoDaddy's IPO could "move forward." "If it does, the valuations of this deal has to be radically" "Whatever valuation models were being…
Radix Launches .website, .press and .host With 50+ Registrars Onboard
– 26-Jun-14
Radix, the largest new gTLD applicant from Asia, announced the launch of .website, .press and .host with over 50 registrars on board including GoDaddy, Tucows, 1and1 and others. Sunrise for .website, .press and .host is running concurrently and will end…
Governmental Advisory Committee (GAC) Communiqué From ICANN 50 in London
– 26-Jun-14
The Governmental Advisory Committee (GAC) of the Internet Corporation for Assigned Names and Numbers (ICANN) met in London, United Kingdom during the week of 21 of June 2014. Sixty one (61) GAC Members attended the meetings and eight (8) Observers. The GAC expresses warm thanks to the local host for their support. High Level Governmental Meeting The GAC expressed its sincere appreciation to the United Kingdom for hosting the High Level Governmental Meeting on 23 June 2014. The meeting provided a valuable forum for Ministers and senior officials to emphasise to ICANN a range of important public policy concerns…
Survey Finds 76% of Australians Prefer .au Domain Names
– 26-Jun-14
A survey of more than 3,000 Australians has found .au domain name registrations are on the rise, with 76% of all domain name holders choosing .au, an increase of 2% on last year. The survey is the second annual report…
Wix Partners With Google On Domain Registrar
– 25-Jun-14
Wix.com Ltd. (Nasdaq: WIX), a leading global web development platform, announced today that it is partnering with Google on the open beta launch of its new domain registration service, Google Domains. The product enables businesses to search, find, purchase and…
Sci.technology Suspended in URS "Sci" is Not a Generic Term But Rather a Trademark
– 25-Jun-14
The new gTLD domain name sci.technology was ordered suspended by a Uniform Rapid Suspension (URS) examiner. The Complainant SANMINA CORPORATION of San Jose, California filed the URS complaint based on its U.S. Trademark Registration issued June 2, 1992, on the term "SCI" (the "Trademark"). The Trademark is for "manufacturing of electrical, electronic, electromechanical and mechanical…
Victim's of Terrorists Holding a Billion Dollars+ in Judgements Seeks Seizure of .ir Registry By ICANN
– 24-Jun-14
According to a press release, A lawyer representing a "group of American victims of terror and family members of those who have been injured or killed in attacks sponsored by the Islamic Republic of Iran (Iran) have moved to attach and seize the ccTLD domain registry of Iran, .Ir "The families, who hold unsatisfied American…
Endurance Issues a Statement Claiming Google Domains Will Be Good for Their Business
– 24-Jun-14
    Endurance International (EIGI) issued a statement on Google (GOOG) announcement yesterday that it is testing a new domain service. Shares of Endurance recovered nicely today, as shares wound up being down only a little of 5%, closing at $15 a share. Endurance had traded as low as $13.38 during the day. Endurance said…
Infoworld: "Privacy Concerns Loom Over 'new' Google Domain Registration Service"
– 24-Jun-14
InfoWorld has concerns about Google and their new domain registration service. Google's invitation-only Domains name registration service works a lot like the old one but raises new questions about privacy and ad scraping The big unanswered question: What about privacy of data stored on the domain? If Google is your registrar, can Google reach in…
TheMarijuanaCompanies.com Launches With 7,500 Domains: Jointlovers.com; Weedmedia.com
– 24-Jun-14
According to a press release out today, Northsight Capital, Inc. (OTCBB: NCAP) announced today that it has launched its corporate website, www.TheMarijuanaCompanies.com According to the press release the company owns over 7,500 related domains. "According to its site "The Marijuana Companies will be comprised of a group of marijuana related websites that are being developed by the…
Uniregistry Inks Distribution Deal With GoDaddy
– 24-Jun-14
Frank Schilling's registry finally comes to agreement with GoDaddy. Frank Schilling's registry Uniregistry has signed a registry-registrar agreement with GoDaddy, paving the way for its top level domains to show up on the world's largest domain name registrar. The ink on the agreement is barely dry, so you won't find Uniregstry's names on GoDaddy just…
Matomy Media Group Increases Ownership of Team Internet Ag From 20% to 70%
– 24-Jun-14
According to a press release, "Global digital performance-based marketing company Matomy Media Group today announced that it has acquired a majority ownership position in the Munich-based direct navigation search company Team Internet AG. As part of the deal, Matomy will increase its ownership stake in Team Internet from 20% to 70% and will integrate the…
Whose Afraid of Google Domains? Shareholders of Web.com & Endurance
– 24-Jun-14
Shares of Web.com are sinking in trading today, following on With Google's announcement yesterday of its Google Domains registrar. As of publication, Shares of Web.com are trading down $7.35 or over 21% at $27.25 Shares of Web.com closed yesterday at $34.60. Web.com has a 52 week high of $37.72 and a low of $22.72 Shares…
Matomy Media Group Acquires Team Internet (Parking Crew and Dntx)
– 24-Jun-14
Global digital performance-based marketing company Matomy Media Group today announced that it has acquired a majority ownership position in the Munich-based direct navigation search company Team Internet AG. As part of the deal, Matomy will increase its ownership stake in…
A Million Domains Taken Down By Email Checks
– 24-Jun-14
Over 800,000 domain names have been suspended since the beginning of the year as a result of Whois email verification rules in the new ICANN Registrar Accreditation Agreement. That's according to the Registrars Stakeholder Group, which collected suspension data from registrars representing about 75% of all registered gTLD domain names. The actual number of suspended…
Web.com and Endurance Shares Pummeled in Wake of Google's Registrar Play
– 24-Jun-14
Web.com and Endurance get hit in wake of Google registrar announcement. Some publicly traded domain name registrars have seen their stock prices hammered this morning after Google announced its entry into the retail registrar market yesterday. Shares of Web.com (WWWW) are down about 18% with at least one analyst lowering its outlook for the stock…
Over 800,000 Domain Names Suspended Due to 2013 RAA
– 24-Jun-14
Verification requirement ensnares hundreds of thousands of domain names. One of the requirements for domain name registrars under the 2013 Registrar Accreditation Agreement is that they must verify the contact details of registrants. Most registrars are fulfilling this requirement by sending an email to registrants asking them to click a link to confirm. Registrars must…
Pictures From The Biggest Domain Name Event Ever
– 24-Jun-14
Scenes from the first day of ICANN 50 in London. Close to 3,500 people registered for the ICANN 50 meeting in London this week, making it the biggest domain-name related event ever. The surge in attendance has to do with a confluence of events, especially the U.S. government's recent plans to eventually no longer be…
Google's CIO to Discuss New TLDs at Google I/O
– 24-Jun-14
Session will help progress toward universal acceptance of new TLDs. Google's developer-focused conference Google I/O kicks off tomorrow, and one of the sessions will focus on new TLDs. CIO Ben Fried will lead a presentation about new top level domain names at 1PM CDT on June 25. The presentation will be streamed live on the…
Four Reasons Google Domains Isn't a Go Daddy Killer
– 24-Jun-14
Judging by DI's traffic spike last night, there's a lot of interest in Google Domains, Google's forthcoming entry into the domain name registrar market. And judging by some of the early commentary, it seems that many people are already assuming that the service will be an overnight success. Some people already seem to be willing…
Why Google is Becoming a Domain Name Registrar & What It Means for The Business
– 24-Jun-14
Google is becoming a public domain name registrar. Here's why. A few months ago a prominent figure in the domain name industry told me a prediction: in a short time, GoDaddy will no longer be the top domain name registrar. It will be Google. That was quite a bold prediction given that, at the time,…
Google Gets Into Domain Sales
– 23-Jun-14
So, you want to buy a domain name. Who do you go to first? GoDaddy? NameCheap? Whoever happens to have a sale going on right now? How about Google? For the past few years, anyone looking to Google to buy a domain has been met with this support page, which proclaims that "Google itself doesn't register or host domain names," before recommending up a few partners who do. That changes today.
Stolen Three Letter .com, IDA.com Awarded Back to Owner in UDRP After GoDaddy Acct Hacked
– 23-Jun-14
The Asian Domain Name Dispute Resolution Centre ("the Centre") one of the "new" UDRP providers returned the allegedly stolen domain name IDA.com to World Hair Cosmetics Co Ltd, of Hong Kong which owned the domain since 2005. The panel writes: "In April, 2014, the Complainant discovered that its account with GoDaddy.com had been…
MM.com Domain Name Sells for $1.2 Million
– 23-Jun-14
Two letter domain name sells for $1.2 million. No, it wasn't bought by a candy company. Sedo domain name broker Dave Evanson just posted on Facebook that he has brokered the sale of MM.com for $1.2 million. The whois record recently updated to show Hangzhou Duomai E-Commerce Co., Ltd as the new owner. I believe…
Shakeup Coming As Google Becomes a Registrar, Sells Names at $12 With Free Privacy and Email
– 23-Jun-14
Google has announced its first foray into the domain name registrar business with Google Domains. The company tells me that the upcoming service will allow customers to buy or transfer domains for $12 a year. Privacy protection, up to 100 email addresses and up to 100 subdomains — things existing leading registrars charge extra for…
In a Very Long Opinion The UDRP On Dune.com is Denied, Did Domainsponsor Save The Day?
– 23-Jun-14
Dune Holdings Limited of London, United Kingdom just lost its attempt to grab the domain Dune.com The domain holder Jeffrey Greenberg was represented by John Berryhill, Esq. who also represents my company has owned the domain since 2004. The opinion is unusually long and contains not only the majority opinion but two separate Concurring opinions…
The United States Federal Government Now Owns Escorts.com
– 23-Jun-14
It was back in November 2011 that we reported that National A-1 Advertising Inc. and R.S. Duffy Inc. agreed to plead guilty to money laundering and will forfeit $4.9 million in revenue, pay a $1.5 million fine and serve 1 1/2 years of probation for its activities in operating Escorts.com as well as forfeiting the…
Rightside to Switch to EAP in Lieu of Traditional Landush
– 23-Jun-14
Domain name registry to switch up the phase between sunrise and general availability. Rightside, applicant for dozens of top level domain names, is replacing its traditional landrush phase with an Early Access Program (EAP). The switch will occur later this summer when the company releases .attorney and .lawyer. Prior domains launches will still have a…
No Mention of .london at ICANN London
– 23-Jun-14
The forthcoming .london gTLD didn't get a look in during the opening ceremony of ICANN 50, held this morning in London. The host city gTLD's complete absence from the two-hour event — it wasn't mentioned once — would have escaped notice had it not been for the abundance of plugs for .wales and .cymru attendees…
.global Online Auction Signup is Live; You Must Sign Up Even if You Pre-bid With Namejet
– 23-Jun-14
The signup for the .Global online Live Domain Name is now active. If you want to participate remotely in the .Global Live domain name Auction which is being held during ICANN London, you need to go and sign up here. The auction will be held starting…
Centr Reports Total Worldwide Domain Registrations of 278.8 Million
– 23-Jun-14
CENTR's the not for profit organization dedicated to supporting the interest of country code TLD managers which represent around 80% of the total number of ccTLD domain name registrations worldwide, released its quarterly publication covering basic domain name statistics with a focus on European ccTLDs (country code Top Level Domains). As at May 2014 the…
Cleveland Clinic's .med Domain Name Application is Back On The Table
– 23-Jun-14
Medistry's application for .Med is alive and well following a decision Friday by ICANN. ICANN ruled that the Independent Objector should not have been able to file a community objection against Medistry's application because there were no informal objections to the application. Medistry is backed by Cleveland Clinic. I described Medistry's appeal in detail in…
Netnames: .new gTLD's Will Overtake .com/.net Registrations By 2020
– 23-Jun-14
According to NetNames' Internet 2020 report, 92% of large companies in the US, Britain, France and Germany are planning to invest in new domain names (new gTLD's) over the next three years, and 46% say they already have begun to invest in this area. The telegraph.co.uk, wrote about the NetNanes' report and chatted with CEO…
Only 20% of Vietnames Businesses Have Registered a Domain Name
– 23-Jun-14
Only 20% of Vietnamese businesses have registered domain names. There is an article out on how domain names are traded in Vietnam without any actual legal guidelines for the domain trading business. Domain names are traded in Vietnam, even though there is no legal framework for the business. The involved parties go ahead with sales…
ICANN Overturns New gTLD Objection Decision!
– 22-Jun-14
ICANN has overturned a Community Objection decision, allowing a .med new gTLD applicant back into the game, after a Request for Reconsideration from the applicant. It's the first time ICANN has overruled an objection panel during the new gTLD program and the first time in over a decade any RfR of substance has been accepted…
Euro Govs Livid As ICANN Takes .wine Off Ice
– 22-Jun-14
The new gTLD applications for .wine and .vin are now live again, raising the ire of European governments. ICANN chair Steve Crocker has written to the European Commission, along with the governments of France, Spain and the US that the three applications are once again being processed. That's after a 60-day temporary freeze, ostensibly in…
Fallout From CentralNic's Acquisition of Internet.bs, European Clients Getting Hit With VAT
– 20-Jun-14
It shouldn't be news to any domain name holders that live in the Europe but if you do and use a European domain name registrar they are required to collect Value Added Tax (VAT) for each transaction. The VAT is like a sales tax in the United States but higher than any state's sales tax…
.trust Makes .rich Look Cheap
– 20-Jun-14
Kate Vinton from Forbes is out with an article today on the .Trust extension and can it make the Internet safer ? From the article: Describing the internet as the new Wild West, NCC Group hopes to create a secure "gated community" though a new generic top-level domain (gTLD), aptly named .trust. The British security…
Michael Berkens Wins UDRP Case Involving Two Colorful Lawyers
– 20-Jun-14
Randazza and Berryhill square off over X-Videos.com. Two of the most colorful lawyers in the trademark/UDRP business squared off in a UDRP over one of Michael Berkens' domain names. Marc Randazza's law firm represented WGCZ S.R.O., which filed a UDRP over Berkens' domain name X-Videos.com. John Berryhill represented Berkens. Anyone familiar with the work of…
Vistaprint May Have Just Delayed .web By Filing an Independent Review
– 20-Jun-14
Vistaprint challenges (again) string similarity between .web and .webs. What does this man for the .web timeline? Vistaprint is the latest new top level domain name applicant to invoke the Independent Review process regarding an application. The company is upset that a domain it applied for, .webs, has been placed in a contention set with…
Almost 4,000 .berlin Domains Deleted
– 20-Jun-14
I was just reviewing RegistrarStats.com and noticed at 3,933 we deleted yesterday at the registry. Like .com domain names new gTLD domain names have a five day grace period in which they can be deleted. Not sure whether these are "free" domain names that were deleted or paid for .Berlin domains that were deleted once…
Frank Schiilling's Name Adminstration Hit With UDRP On Puket.com From Puket.com.br
– 20-Jun-14
Frank Schilling's Name Administration Inc., Hit been hit with UDRP on the domain name Puket.com The complainant is IMB Textil S.A. which seems to be a fairly large textile comapny in Brazil. The company's website is at puket.com.br According to its Linkedin Page (translated by Google Translate from Portuguese): "The company was formed in 1988, the…
UDRPsearch Owner Sues After Being Threatened With UDRP
– 20-Jun-14
Virtual Point sues after person threatens UDRP if it doesn't sell a domain for $1,000. The owner of UDRP database site UDRPSearch.com has filed a federal lawsuit (pdf) after being threatened with a UDRP. Virtual Point Inc filed the lawsuit after an individual tried to buy the domain name ALFinancial.com and allegedly threatened to file…
Canadian Court Rules Google Must Remove Websites Worldwide
– 20-Jun-14
We wrote previously about a ruling by the European Union with regards to the "right to be forgotten". Now a Canadian court has ordered Google to remove sites worldwide. Amy Gesenhues covered the story on Search Engine Land, from the article: On the heels of Europe's "Right to Be Forgotten" ruling, a British Columbia court…
If you enjoyed this article, subscribe for updates (it's free)