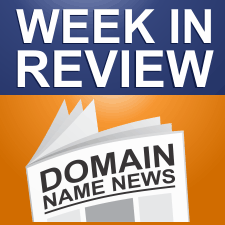 Every Friday, DomainSherpa.com provides you with a hand-selected, editorially-based review of the weekly news. In this summary, you will find the latest articles and videos produced by DomainSherpa staff and contributors. You will also find links to the best news articles in the domain name industry – so you don't have to spend your time searching for news or reading something that was not worth your time.
---
This Week's DomainSherpa Interview
---
VIDEO: Candid Advice for All New gTLDS – With Xavier Buck

Some of the new generic top level domains (gTLDs) will succeed, but most will fail if they don't follow the advice Xavier Buck recommends in this interview.

Learn how Buck became the "king of ccTLDs" by offering customers the most comprehensive collection of country code top level domains, and how his developing ecosystem affords insights not many others have access to.
---
This Week's News in Review
---
Religious Groups Bid for New Web Domain Names
– 21-Jun-12
For the first time in its history, the international nonprofit that doles out generic Internet domain names such as ".com" and ".edu" will allow more specific Web address extensions like ".church."
Online Land Grab: Groups Taking New Domain Names
– 21-Jun-12
ICANN called the expansion "a new era of online innovation" that will bring "new businesses, new marketing tools, new jobs, and new ways to link communities and share information." At a time when answers to life's questions seem just a mouse click away, the online land grab could become a lucrative investment for savvy spiritual leaders, said Heidi Campbell, an associate professor at Texas A&M University. "Religious groups clearly see the importance and potential profitability – in ideological or financial terms – to defining the Internet or web space in this way," said Campbell, an expert on how religious groups interact online. The domain name .BIBLE would open vast tracts of Internet real estate for churches and companies that want to associate themselves with Scripture.
Verisign Working to Fix Hebrew IDN Error
– 21-Jun-12
Company wants to fix error in one of its new top level domain applications. Verisign has responded to Domain Name Wire's inquiry regarding an error in its application for a Hebrew internationalized domain name (IDN) for a transliteration of .com: Verisign is aware of the administrative error that resulted in the inclusion of a variant…
Sorry, But This Round of New TLDs Isn't Revolutionary
– 20-Jun-12
Rules of engagement make this round of new TLDs less than satisfactory. Last week ICANN released the names of the 1,400 some odd top level domains that might be headed to the web in the next year or two. Despite every cliche ICANN CEO Rod Beckstrom made about how the web will be changed forever…
Codecademy Beats Code Academy in Domain Dispute
– 20-Jun-12
They may know how to code, but they could work on domain name strategy. Here's an interesting domain name dispute involving hot startup Codecademy. Codecademy, true to its name, helps people learn how to program. The company made quite a splash earlier this year when it got hundreds of thousands of people to "pledge" to…
Afternic Inks Deal With China's Largest Domain Registrar
– 20-Jun-12
Afternic offers domain names through HiChina. Afternic announced a deal today with HiChina, China's largest domain name registrar. HiChina is the company's fourth partner in China for AfternicDLS. This means that customers searching for domain names at HiChina will also be able to purchase domain names from the Afternic platform. Sales occur in real time…
Donuts Applies for Way More Than a Dozen Domain Names
– 20-Jun-12
Of the 1,930 new domain names submitted to ICANN recently, who had the most applications?
Afternic Announces Partnership With Hichina, The Largest Registrar …
– 20-Jun-12
Afternic, the world's leading marketplace for premium domain names, announced today that it has partnered with China's largest registrar, HiChina. HiChina will join the Afternic DLS Reseller Network, listing Afternic's premium domains for sale on its website, www.net.cn . This will add millions of high-quality premium domains to the http://www.net.cn domain offering.
Go Daddy launches operations in India
– 20-Jun-12
Go Daddy, the world's largest provider of web hosting services, domain name registrations and new secure socket layer certificates today, launched operations in India. The company has appointed Rajiv Sodhi as managing director, Go Daddy India.
Information.com For Sale Exclusively with DomainAdvisors
– 20-Jun-12
DomainAdvisors, a leading broker of ultra premium domain names, announced today that Information.com has been listed exclusively for sale with their firm. Highly marketable and easy to remember, Information.com offers a unique branding opportunity for a new or established company to capitalize on a universally recognized word included in over 68 million Google searches each month. "A domain name like Information.com offers limitless subdomain possibilities and has a strong and memorable branding association," said Tessa Holcomb, CEO of DomainAdvisors.
Read more: http://www.timesunion.com/business/press-releases/article/Information-com-For-Sale-Exclusively-with-3648283.php#ixzz1yNEZdBkw
A Thousand New Domain Names? Isn't That a Bit .dotty? – 20-Jun-12
The .ketchup domain would seem to have few uses, as would .eurovision. And .earth might need interplanetary colonisation, writes
KARLIN LILLINGTON
Early .green Backer Fights Three Other Applicants for Domain Name – 20-Jun-12
The green domain space gets crowded. Competition to run the top level domain .green is heating up (and heating up is not a word revered by the green community). Four companies have submitted applications to ICANN to run the domain name: DotGreen Community, Inc., Demand Media, Top Level Domain Holdings, and Afilias. DotGreen Community was…
Microsoft Gets Dotbing.com, But What About Other Dot Domains? – 19-Jun-12
Company gets control of dotBing.com domain name, but doesn't have dot domains related to most other TLD bids. This week Microsoft took control of dotBing.com, a domain that was registered back in 2009. Its interest in the domain is clearly related to the company's bid for a .bing top level domain name. The company applied…
Snapnames Throws Hat Into Domain Sunrise and Landrush Auction Ring – 19-Jun-12
KeyDrive companies want to play a role in new TLD rollout. SnapNames and Moniker have announced they will support sunrise and landrush auctions for new top level domain registries. The company will, of course, also offer premium generic sales and auctions for registry withheld domain names. I've been told by a newish TLD registry…
Religious groups vie for Internet space in domain name grab – 19-Jun-12
For the first time in its history, the international nonprofit that doles out generic Internet domain names such as ".com" and ".edu" will allow more specific web address extensions like ".church."
Cancer Foundation Applies for Exclusive Internet Domain Name – 19-Jun-12
The Australian Cancer Research Foundation said it is embracing the next generation of online communication with an application for an exclusive Internet Domain name "dot cancerresearch".
ICANN Announces More Than Domain Names During its Reveal Day Last Week – 19-Jun-12
The Internet Corporation for Assigned Names and Numbers last week released a new list of proposed generic top-level domain names. A gTLD is the part of the Internet address that comes after the dot. Currently there are only twenty-two gTLDs in use. But there soon could be as many as a thousand or more.
Right Of The Dot Launches Contention Resolution Service For Conflicting gTLD Applicants – 19-Jun-12
According to a press release, going out tomorrow, Right Of The Dot™, LLC is launching a Contention Resolution Service for new gTLD applicants who have applied for the same or confusingly similar domain name extension as other applicants.
Alt Text: Stupid New Domain Names and What They Really Mean for the Web – 19-Jun-12
The Internet Corporation for Assigned Names and Numbers announced hundreds of possible new top-level domain names last week, which is great because clearly we need more unqualified successes along the lines of .mobi, .xxx and .travel.
ICANN May Let New TLD Applicants Modify Their Applications – 19-Jun-12
Plan may allow new TLD applicants to fix errors. ICANN is considering allowing applicants for new top level domains to make changes to their applications, the organization confirmed to Domain Name Wire today. The group is working on a process that could allow applicants to fix errors in their final applications. Officially: ICANN has received […]
3 Member UDRP Panel Affirms Parking As A Legitimate Use Of A Domain Against TM Holder: ERAM.com – 19-Jun-12
A three member UDRP panel just denied a complaint on the domain name ERAM.com brought by ERAM SA.
GM, Ford, Chrysler apply for new Internet domain names – 19-Jun-12
The major automakers are preparing for life after .com and spending $185,000 apiece on multiple applications for new Internet addresses that are meant to clarify their brands.
Amazon.com's Quidsi Acquires Afterschool.com – 19-Jun-12
A new Quidsi store in the works? Amazon.com's Quidsi, the company behind stores with great domains such as Diapers.com, Soap.com (cleaning and personal care), YoYo.com (toy), and Wag.com (pet stuff), has purchased the domain name Afterschool.com. The domain name was acquired from WebQuest Inc. with the help of brand protection company Mark Monitor.
Another Digital Archery Service Launches. Here's How You Should Pay for One of These Services. – 18-Jun-12
Digital archery services are a no lose proposition — for the service provider. I just got a press release from an outfit called Digital Archery Hotshots, the latest company to offer digital archery solutions for ICANN's batching process. I don't recall how many digital archery pitches I've received now, but I think I might no…
Mediaset.com Decision Reversed, Owner Can Keep Domain – 18-Jun-12
MediaSet.com can remain with domain registrant. In April I wrote about how a court had apparently ruled that Italy's largest broadcaster, MediaSet, had rights to the domain name MediaSet.com. MediaSet is controlled by former Italian Prime Minister Silvio Berlusconi. MediaSet had lost a UDRP for the domain name back in February. That case was defended…
Study of New Domain Extensions Ranks Highest Potential Value and Chances of Success – 18-Jun-12
On June 13, 2012, the Internet Corporation for Assigned Names and Numbers (ICANN) revealed a list of nearly 2,000 applications it had received from organizations seeking to manage new domain extensions that will join .com, .net, .org and 18 other suffixes that currently exist. According to statistical analysis by Sedo, the top 10 most valuable domains being sought are…
EJEE Becomes First Chinese Registrar to Join SedoMLS – 18-Jun-12
Sedo announced a new partnership with Chinese registrar EJEE. As the newest SedoMLS partner, EJEE joins more than 60 other registrars offering their customers access to Sedo's inventory of over 16 million domains.
A Few Tips to ICANN's New CEO – 18-Jun-12
Check yourself before you wreck yourself. Congratulations! On Friday, ICANN will announce you as its new Chief Executive Officer. This is a pretty good gig. You'll earn about a million bucks a year, which isn't bad for a non-profit CEO. (That's what the outgoing CEO earned. I assume you negotiated well.) But you have your…
Domain Horse Trading Event in Prague Next Week – 18-Jun-12
You can have .app if I can have .cloud. I talked to Top Level Domain Holdings (TLDH) Chairman Peter Dengate Thrush about 15 minutes after ICANN's "big reveal" news conference ended last week. He told me he had already received an email from another applicant for a TLD that TLDH had applied for, saying basically…
Paul Keating Somehow Wins Taget.com UDRP – 18-Jun-12
Shoddy work by Target's lawyers may have let domain owner off the hook. Domain attorney Paul Keating has successfully defended Quinv S.A. against Target Brands and a UDRP it filed over Taget.com. Now, first things first: Taget.com isn't necessarily a typo of Target.com. There are plenty of legitimate reasons to own this domain and ways…
Microsoft's Generation App: F' It, It Blows (So Say Domain Names) – 16-Jun-12
Microsoft registers dirty names related to its new Generation App. Microsoft is releasing its Generation App (Or Gen App), which is a suite of tools to help you build an app for Microsoft platforms within 30 days. The web sites for the initiative are 30tolaunch.com and GenerationApp.com. The company isn't taking any chances, snatching up […]
Religion-themed Domain Addresses Bid Out By ICANN – 15-Jun-12
Mashable said .catholic was part of nearly 2,000 new generic TLDs the Internet Corporation for Assigned Names and Numbers released on Wednesday. Mashable also noted IRI Domain Management, LLC applied for .mormon and .lds referring to the Church of Latter Day Saints.Should they be approved, the new gTLDs can be used at the end of web addresses like the present-day .com, .org, .edu, .gov, and .net.
Internet Shake-up? Because .com Was Just Too Easy! – 15-Jun-12
Good news, JB Nation — .belieber is still available!! ICANN — or the Internet Corporation for Assigned Names and Numbers, for the six of you who were wondering — released their new list of…
Rick Schwartz Wins The UDRP On Saveme.com & Get a Finding of … – 15-Jun-12
A three member panel not only ruled in favor of Rick Schwartz's company  eRealEstate.com on the UDRP on the domain name SaveMe.com, but the panel found the complainant engaged in abuse of process amounting to Reverse Domain Name Hijacking.
Honey, I Screwed Up On My $185,000 New TLD Application – 15-Jun-12
Several new top level domain applicants make errors in their applications — including a misspelling of the word "logistics". I've found three instances of typo's or errors in new top level domain applicants' strings. I've reached out to ICANN to find out if the applicants will be afforded an opportunity to fix these errors as […]
Icann Reveals .tmi When Posting Details of Domain Name … – 15-Jun-12
Too bad ICANN didn't register .D'oh or .TMI itself.
'Digital Archery' to Settle Which Domain Submissions ICANN … – 15-Jun-12
Some of the next steps as .com makes room for a flurry of new generic domains such as .baby, .Lexus, .AARP will make you scratch your head.
Go Daddy Eyes One Month Registrations for .home and .casa Domains – 15-Jun-12
Company may offer short term registrations if awarded domain names. Go Daddy is proposing a couple twists in its plan to offer .home and .casa domain names to the public. A big one: registrations as short as one month. "Why pay for a year if the domain name will not be needed for a year?", […]
Go Daddy Eyes One Month Registrations for .home and .casa Domains – 15-Jun-12
Company may offer short term registrations if awarded domain names. Go Daddy is proposing a couple twists in its plan to offer .home and .casa domain names to the public. A big one: registrations as short as one month. "Why pay for a year if the domain name will not be needed for a year?"…
New Internet Domain Ideas for Boston Businesses – 15-Jun-12
There were more than 2,000 applications submitted for new domain names in the biggest-ever expansion of the Internet. Those applications cover brand names and commercial industries. They touch on topics as broad as .love and as narrow as .ketchup. But none of them would capture stories about local business developments. Here are a few additional ideas.
Catholics Won't Be Able to Register .catholic Domain Names – 15-Jun-12
No personal second level domains will be allowed for .catholic. If you're a follower of the Catholic faith and can't wait to get your hands on yourname.catholic, I've got disappointing news for you: it's not going to happen. The Pontifical Council for Social Communications (PCCS), the applicant for .catholic, plans to run the domain name […]
Catholics Won't Be Able to Register .catholic Domain Names – 15-Jun-12
No personal second level domains will be allowed for .catholic. If you're a follower of the Catholic faith and can't wait to get your hands on yourname.catholic, I've got disappointing news for you: it's not going to happen. The Pontifical Council for Social Communications (PCCS), the applicant for .catholic, plans to run the domain name…
Guy Files Cybersquatting Complaint Against a Page On Blogger – 15-Jun-12
Apparently blogger.com followed by a bunch of numbers infringes this guy's trademarks. From the WTF category… Nevada resident Steven Barket has filed a federal lawsuit against Google and a John Doe, claiming violations of the Anticybersquatting Consumer Protection Act and Lanham Act. The offending domain name that violates Barket's trademarks? blogger.com/profile/10034500688963114971 Yes, that's a single…
About 100 ANA Members Apply for New Top Level Domains – 14-Jun-12
Around 20% of Association of National Advertisers members applied for new TLDs, but many may have been defensive. One of the most outspoken — and tardy — groups to lobby against ICANN's expansion of the internet namespace was Association of National Advertisers (ANA). The group lists close to 500 members on its web site, and…
ICANN: .WeScrewedUpAgain – 14-Jun-12
Group publishes private details of new top level domain applicants. During the ICANN press conference on Wednesday a reporter stood up and asked if ICANN had told applicants that their email addresses and phone numbers would be published. Yes, was the response. Something to the tune of "we told everyone this would be an open…
.WTF? — 20 New Top-level Domain Names That Should Exist, But … – 14-Jun-12
On Tuesday, the list of new proposed top-level domains, and the companies seeking to control them, was published by ICANN. The new contenders
GOP Congressional Candidate Admits Buying Sex-themed Domain Names – 14-Jun-12
On Thursday morning, Mother Jones reported that GOP congressional candidate Trey Radel, a former Fox radio talk show host in southwest Florida, had once owned a company that registered a number of smutty Internet domain names. Many of the sex-related web addresses were in Spanish. The list included such sites as www.casadelasputas (whore house), and www.sexguideonline.com. Radel did not respond to repeated requests for comment from Mother Jones. But after our story broke, Florida news outlets started hounding Radel for an explanation. This afternoon, he finally addressed the matter.
Rush is On to Snap Up Domain Names – 14-Jun-12
Banks, sports codes, universities and a handful of opportunists are among the first 40 Australian applications to go after a generic domain name.
Amazon.com Won't Offer Domain Names to The Public – 14-Jun-12
Amazon.com intends to only offer domain registrations to itself. Amazon.com has applied for 7 …
Amazon.com Won't Offer Domain Names to The Public – 14-Jun-12
Amazon.com intends to only offer domain registrations to itself. Amazon.com has applied for 76 top level domain names. But don't expect to be able to register any second level domains underneath them. I just reviewed eight of the company's applications, and each one has similar language explaining who can register a second level domain under…
ICANN's Call for New Domain Names Brings Criticism, and $357 Million – 14-Jun-12
The corporation that regulates the Internet plans to increase the number of "top level" domains from the current 22 to 1,000 domains starting in early 2013. The proposed domains offer a cross-section of the Internet — what we use it for, and where the money is.
Over 40% of Fortune 100 Apply for Top Level Domain Names – 14-Jun-12
Tech, pharma, consumer and financial companies more likely to apply. At least 42 of the top 100 companies in the Fortune 500 applied for one or more top level domains. I've embedded the spreadsheet showing the companies below. This is actually a bit harder to sort out than I expected; some companies applied under unusual…

If you enjoyed this article, subscribe for updates (it's free)