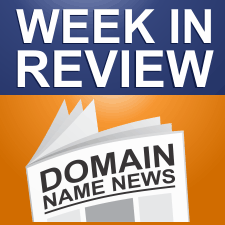 Every Friday, DomainSherpa.com provides you with a hand-selected, editorially-based review of the weekly news. In this summary, you will find the latest articles and videos produced by DomainSherpa staff and contributors. You will also find links to the best news articles in the domain name industry – so you don't have to spend your time searching for news or reading something that was not worth your time.
---
This Week's DomainSherpa Review
---
DomainSherpa Review – Jun 16 , 2014: Apples.com, RaceBookWagering.com, MusicStudio.com, Tasers.com…

Get into the minds of the Sherpas with the DomainSherpa Review!

* An investor's gambling portfolio is reviewed and appraised
* 20 domain names going to auction at NameJet are valued
* Adam Dicker takes the crown in this week's "Name That Price" game

For each domain name portfolio, the Sherpas answer:
* Which domains are valuable, and in what way?
* What is the market value (both wholesale and retail) of the best domain names?
* Which domains are worthless and should be dropped?
* Which domain names may invite legal issues, such as a UDRP case or cybersquatting lawsuit?
* Which domains do our Sherpas want to make an offer on?

We're joined by three Domain Sherpas: Adam Dicker, Andrew Rosener and Page Howe.
---
This Week's DomainSherpa Discussion
---
DomainSherpa Discussion: Lend.me, CentralNic Buys Internet.bs, .Berlin Giveaway…

This is the show where we discuss domain name industry news with a panel of veterans and thought leaders.

In this DomainSherpa Discussion:
* Francois Carrillo launches Lend.me. Does the marketplace need financing? Who are Lend.me's competitors?
* CentralNic buys Internet.bs for up to $7.5 million. Smart move to diversify or moving away from their core competency?
* .Berlin gives away 67,000+ registrations in one day. Is this the new business model norm for TLDs?
* NameJet & Right of the Dot team-up for .Global auction at ICANN next week.
* Question from the audience: Singular and plural trademarks, when is it ok and when are you going to get in trouble? (Note: this is not advice, consult an attorney)
* Google Adwords and adult traffic
* What domains did the Sherpas buy in .community, .cleaning, .catering and .cards
* And much more!
---
This Week's News in Review
---
Verisign Backed Study Shows 80% of Small Businesses Prefer .com Over New gTLD's – 19-Jun-14
The results of a survey of small- and medium-sized (SMB) business owners which already conduct business online, was released today by SCORE…
Amazon Fires Up Defensive Domain Registrations for Fire Phone – 19-Jun-14
Amazon registers 200 or more domain names related to new phone. Amazon.com unveiled its Amazon Fire Phone yesterday. At the same time, it went on a defensive registration binge for names related to the new product. I count 200 domain name registrations yesterday related to the Fire Phone. This will give you an idea of…
Several Generic Domains Hit With UDRPs Recently – 19-Jun-14
A handful of generics are hit with UDRPs, and one previous complainant called me… I've noticed a handful of seemingly generic domain names get his with UDRPs over the past few days. Here are some that have hit my radar: southpaw.com qiq.com verb.com emoney.com There can always be extenuating circumstances behind a UDRP filing, such…
1st Day of New gTLD Launches .community 2,206; .cards 1,027; .catering 854; .cleaning 751 – 19-Jun-14
For new gTLD launched yesterday and the total registrations for all four of Donuts strings after the 1st day of general availability came under 5,000 registrations including Sunrise and Early Access Program registrations. Here are the totals for the new gTLD that launched yesterday according to ntldstats.com: .Community 2,206 .Cards 1,027; .Catering 854 .Cleaning 751…
ICANN Smacks New gTLDs for Pre-sunrise Auctions – 18-Jun-14
Running a premium domain name auction before you've finished your new gTLD sunrise period is Officially Not Cool, according to ICANN's compliance department. People who won premium new gTLD domains in auctions that took place before sunrise periods now face the possibility of losing their names to trademark owners. .CLUB Domains, and probably XYZ.com, operators…
DotBerlin Pulls Plug On Free Domain Giveaway – 18-Jun-14
The .berlin registry has apparently halted the promotion that has given away tens of thousands of free domain names, citing unexpectedly high demand. According to 101domain, a registrar that started giving away .berlin domains for free yesterday: As of 1pm PST today, June 18th, the free .BERLIN promotion will unfortunately come to an end. According…
.berlin Cancels Free Domain Name Giveaway – 18-Jun-14
Citing too much demand, .Berlin registry halts marketing program for free domains early. The .Berlin domain name registry has cancelled its free domain name giveaway that was supposed to run through Friday. According to participating registrar 101Domain, .Berlin cancelled the promotion due to demand "exceedingly above their anticipated volumes." Over 67,000 domain names were registered…
Radix Announces Timeline for .press "The Changing Face of Journalism" – 18-Jun-14
Radix, announced today the timeline for rolling out their new gTLD .Press .Press will be available starting June 24th for Sunrise, the Landrush phase will follow starting on August 26th, 2014 "where anyone can register short and generic domain names by paying a small premium and .Press hits general availability on September 17th after which…
Domain Name Association Asks Apple to Recognize New gTLD's in It's Safari Browser, Apple ID & Apple Devices – 18-Jun-14
The Domain Name Association (DNA) asked Apple yesterday to update its Safari Browser to recognize new gTLD domain names. Writing on behalf of the Association Executive Director Kurt Pritz in a letter sent to Apple, Mr. Pritz wrote: "" On behalf of the Domain Name Association (DNA), the trade association…
Yes, P&G Lied to Try to Steal The Swash.com Domain Name – 18-Jun-14
P&G launches a completely new product called Swash. Here's the backstory on the domain name. Remember last year when Procter & Gamble was found guilty of reverse domain name hijacking in a case over Swash.com? The company claimed to have a long running product by the Swash name that had generated $40 million in sales…
No More GoDaddy/Afternic Sales Reports During Quiet Period – 18-Jun-14
Quiet period eliminates weekly data on aftermarket sales. GoDaddy's planned initial public offering means no more weekly domain name sales reports for a while. Afternic has long sent out weekly aftermarket sales reports including total sales numbers and specific domains with sale prices. GoDaddy took over that responsibility when it acquired Afternic. These reports are…
Breaking: Facebook Acquires & Launches Sling.me to Use As Snapchat Competitor – 18-Jun-14
  Just two months ago the domain name Sling.me was acquired in a Sedo auction for $9,600 Today its become clear that Sling.me is going to become VERY big. The buyer was Facebook and Sling.me is going to be used for Facebooks new SlingShot product which is Facebook's answer to SnapChat. Engadget.com has already covered…
.global Event at ICANN Set for June 24th; Networking, Food, Drink, Worldcup & Live Auction – 18-Jun-14
As we hinted at the other day, .Global is having an event at the 50th ICANN meeting in London next week Tuesday June 24th. The event will be held at Hilton London Paddington, 146 Praed street, LONDON which is just blocks from the hotel the ICANN meeting will be held and is one of the…
Sedo is #1 Registrant of .berlin Domains – 18-Jun-14
.Berlin's second day of free domains is a lot slower, but German domain seller is a big boost to the TLD's numbers. .Berlin received a lot fewer registrations on the second day of its free domain giveaway. DomainIncite Pro reports 5,227 new registrations in the zone file, leaving .Berlin in second place behind .xyz. An…
Frank Schilling's North Sound Names Hit With Another URS On Two .link Domains – 17-Jun-14
Frank Schilling's North Sound Names is the subject of a second URS filing over two domain names it registered of Uniregistry strings, aix.link and db2.link. North Sound Names already successfully defended its first URS case filed against it, on Finn.Link North Sound reportedly registered some 43,000 domain names in extensions owned by Uniregistry with .Link…
Rightside Releases Premium Domains at Reg Fee for .pub – 17-Jun-14
Thousands of domains that would normally carry a premium are being offered at registration fee. Rightside, backer of an increasingly large pool of new TLDs, is trying something different with its upcoming launch of .Pub. The company's previous new TLD launches have included reserved domains (called Platinum) and premium domains. The premium domains were sold…
Logicboxes Waives Off Upfront Fees for New gTLD Vertical Integration Solutions – 17-Jun-14
According to a press release we just received , LogicBoxes announced that it has waived off all upfront fees for its Vertical Integration Solution for New gTLDs. "New gTLDs have great potential, especially the Geo and Community extensions that provide a unique online namespace for people belonging to that community and region. However, with over…
Over 2,200 Registered for 50th ICANN Meeting in London Next Week – 17-Jun-14
Over 2,200 people have registered for next week's ICANN meeting. Next week's ICANN meeting in London is sure to be big. And not just because it's the big 5-0. The 50th ICANN meeting, which officially kicks off on Sunday, June 22, already has 2,200 registered attendees. I'm one of those 2,200. I haven't been to…
.bid/.trade Domain Name Auction Closes With No Sales – 17-Jun-14
Auction attracts bidders, but none are willing to pay the reserve prices. A domain name auction on Sedo for registry-reserved .bid and .trade domain names has closed with no sales. The auction included 35 domain names, 10 of which received bids. The top auction was PPC.bid at $1,050, which was below its stated reserve of…
Shares of Minds + Machines Sink On News of Its Expensive .fashion Auction Win – 17-Jun-14
Minds + Machines Group Limited (AIM:MMX) announced overnight that it acquired the new gTLD .Fashion at a price that exceed almost all the money it received from losing the new gTLD applications for .cricket, .pizza, .restaurant, .coupon and .immo. In essesence according to the company it gave up rights to 5 new gTLD strings for…
UDRP's Filed On Verb.com, QIQ.com and AmericanForce.com – 17-Jun-14
Two UDRP's were just filed against two very good domain names. Moroccanoil Israel Ltd. Verb Hair Products Canada Inc./Verb Products Inc. filed the UDRP against Verb.com Verb.com has been owned since at lease 2002 by a Richard Bloxham. According to Screenshots.com the domain name Verb.com has been parked since at least August 2005. The parked…
Funny: UDRP Panel Rejects Developer of iFunny.mobi's Attempt to Grab iFunny.com – 17-Jun-14
A three member UDRP panel has denied the attempt of Okruzhnost LLC of Penza, Russian Federation, attempt to grab the domain name ifunny.com owned by Six Media Ltd. of Hong Kong, represented by Esquire.com Here are the facts and findings from the three member panel, which consisted of Gabriela Kennedy, Nicholas Weston and The Hon…
.xyz 1-ups .berlin in Free Domain Giveaways – 17-Jun-14
.Berlin more than doubles it registrations overnight. .XYZ calls. Starting yesterday, certain registrars started offering free .Berlin domain names to customers in a promotion that will run through the end of the work week. I posed the question if this promotion would enable .Berlin to overtake .xyz at the top of the top level domain…
Minds + Machines Pays Dearly for .fashion Top Level Domain Name – 17-Jun-14
Company essentially swaps five new TLD applications for .fashion. Minds + Machines has paid a significant sum to win a four way auction for the .fashion top level domain name. Although the company did not disclose the actual price, it disclosed this stunning fact: after considering its payoffs from losing .cricket, .pizza, .restaurant, .coupon and…
CentralNic Pays Up to $7.5M for Internet.bs – 17-Jun-14
CentralNic has acquired the unfortunately named Bahamas-based registrar Internet.bs for up to $7.5 million, in an effort to bolster its registrar business. The deal is for a mixture of cash ($2.7 million), newly issued shares ($2.5 million) and a delayed performance-related payout of up to $2.3 million. CentralNic is best known as a registry and…
CentralNic to Acquire Internet.bs in a Deal Worth Up to $7.5 Million – 17-Jun-14
CentralNic plc,(AIM:CNIC) acquired Internet.BS, a top 30 domain name registrar for a maximum consideration of USD 7.5 million. CentralNic said it will pay $5.2 million when the deal closes, with $2.7 million due in cash and $2.5 million to be paid in the form of 2.1 million new CentralNic shares. An additional $1.8 million payment…
CentralNic Buys Domain Name Registrar Internet.bs (Ibs) – 16-Jun-14
CentralNic gobbles of up large domain name registrar. Publicly traded CentralNic (LSE: CNIC) has purchased Bahamian domain name registrar Internet.bs (IBS). The move gives CentralNic, currently positioned as a registry, a strong entry in the retail registrar market. CentralNic is traditionally known for offering third level domain names, but it is the technical registry services…
NameJet & RightoftheDot Team Up for .global Auction Event During ICANN London – 16-Jun-14
Namejet.com just announced it has teamed up with RightoftheDot.com to hold a Online/Live auction during the ICANN London Conference for over 90 premium .Global domain names We will have more on this in the next few days leading up to the auction but basically Namejet.com is going to handle the pre-bidding on the domains before…
Lend.me Launches As a Prosper for Domain Names – 16-Jun-14
Peer-to-peer loans use domain names as collateral. Francois Carrillo, who runs the Domaining.com news aggregation site, has launched Lend.me, a loan marketplace for domain name owners. It's a peer-to-peer loan marketplace similar to Prosper and LendingClub. A key difference is that the loans are secured with domain names. The site acts as a matchmaking site…
14 Year Old eMoney.com Hit With UDRP; URS Filed On Sci.technology – 16-Jun-14
The owner of the domain name eMoney.com has just gotten hit with a UDRP. The domain name according to DomainTools.com has an original registration date of 2000 and the registrant/administrative contact still as it was in 2000, a "E Will". The domain name current seems to be directing into an advertising program as opposed to…
New gTLD .website "The First True Alternative to .com"" Announces Launch Timeline – 16-Jun-14
  Radix the registry operator of .Website just announced the timeline for the release of the new gTLD extension which they are calling "The first true alternative to .com" Here is the some of the Press release: "Website will become the first all-purpose domain extension available for registration when it launches into Sunrise on June…
HP Employees Threatened Competitor Splunk? – 16-Jun-14
Competitor says HP employees and consultant set up websites and social media accounts to disparage it…and then crossed the line with physical threats. I've read a lot of bizarre domain name disputes, but two recent ones involving an HP employee take it to another level. Big data company Splunk just won two UDRP domain name…
Mrs. Jello Loses UDRP On Milly.com After Rejecting Offer to Sell & Not Filing an Answer – 16-Jun-14
Milly LLC of New York, New York, just won control of the domain name Milly.com in a UDRP which was owned by Mrs. Jello, LLC which of course the company owned by the late Igal Lichtman. Sadly no one responded to the UDRP on behalf of Mrs. Jello, LLC, although someone apparently rejected an offer…
.CEO Marketing Goes From Silly To… – 16-Jun-14
New TLD not doing so well? It doesn't suck, it's just "limited release". By all measures, PeopleBrowsr's two top level domain name launches have been flops. .CEO has 1,244 domains in the zone file. .Best has 434. This isn't a huge surprise to me. .CEO launched with some silly and sexist videos. Its marketing wasn't…
Will .berlin Be #1 This Week? Domains are Free for Next 5 Days. – 16-Jun-14
Free domains will boost total .Berlin registration numbers. .Berlin got off to a nice start thanks to a free .Berlin promotion. A new promotion may propel the domain name to the #1 slot on the new top level domain name charts. Officially, 20 registrars are offering .Berlin domain names for no more than 5.55 euros…
This is Why There Needs to Be a Penalty for Someone Bringing a Groundless URS – 16-Jun-14
Talk about a waste of time and money. You probably will never find a better case for providing a penalty for someone who brings a groundless Uniform Rapid Suspension (URS) proceeding than this one. As you may know unlike the UDRP which at least carries a potential "penalty" in the form of Reverse Domain Name…
Francois Launches Lend.me Putting Borrowers & Lenders Together at 12% Interest – 16-Jun-14
Francois Carrillo who is the Founder and C.E.O of Cybertonic which also publishes domaining.com has rolled out his newest site, Lend.me. The site puts together lenders and borrowers together which are willing to lend and borrow using domain names and websites as collateral with an interest rate of 12% per year, which is less than…
Donuts Wins .immo gTLD – 15-Jun-14
Donuts has acquired the .immo new gTLD after its three rival bidders withdrew their applications. Minds + Machines, dotimmobilie and Starting Dot have all withdrawn from the contest in the last few days, presumably due to an auction. Starting Dot had applied for a Community Priority Evaluation, which would have allowed it to avoid an…
Donuts Spends $50 Million On New gTLD Auctions – 15-Jun-14
Donuts has revealed that its bill for new gTLD auctions has so far come to $50 million. That, coupled with some other data released in a blog post last week, suggests that it's spent over $2 million, on average, per gTLD. CEO Paul Stahura wrote that the company has participated in "roughly" 50 auctions and…
The Removed ICA Post On Xyz: Berken's Thoughts, What Mr. Corwin Has to Say, & The Missing Emails – 15-Jun-14
Ron Jackson wrote two stories at DnJournal.com, over the weekend covering a post written by Phil Corwin, that post was published on Circle ID and on the ICA website on Friday entitled ICANN is MIA on .XYZ, and its subsequent removal on Saturday from the ICA website. I highly suggest if you haven't done so…
The .uno Registry Rolls Out Futbol.uno in Time for The World Cup – 15-Jun-14
Dot Latin LLC, operators of the .Uno has a pretty creative way of bring attention to the .Uno extension by launching Futbol.Uno just time for the World Cup. I had a chance to chat with Esther Honig, the social media manager for Dot Latin LLC who chatted with me about the project: ""Today, and…
Amazon Snubs ICANN Auction to Win .coupon Privately – 12-Jun-14
Amazon has won the new gTLD .coupon, after Minds + Machines withdrew its application this week. I understand that the two-way contention set was settled privately via a third party intermediary, possibly via some kind of auction, with M+M ultimately being paid off to withdraw its bid. .coupon was the only ICANN-managed "auction of last…
Wow: .hotel Contention Set Resolved After CPE – 12-Jun-14
.Hotel applicant wipes out competition by winning community status. In what is sure to be a shocker to many new TLD applicants, HOTEL Top-Level Domain s.a.r.l has prevailed in its Community Priority Evaluation for the .hotel domain name. It was the only applicant to elect community status and has now won the contention set. This…
Patient.co.UK UDRP Bid to Grab Patient.com Denied; $2 Million Asking Price May Have Doomed RDNH – 12-Jun-14
Egton Medical Information Systems Limited of the United Kingdom which owns and operates Patient.co.uk, lost its attempt to grab the domain name Patient.com in a UDRP. The domain owner is Health Axis Group of Tampa, Florida. Despite the three member panel of Gabriela Kennedy, Nick J. Gardner and David E. Sorkin finding that the Complainant…
1st Day New gTLD; .events 3.9k, .futbol 1.6k; .dating 1k; .partners 880, .productions 771 – 12-Jun-14
Five new gTLD's went into their first day of general availability yesterday and including Sunrise registrations, they wound up with just over 8,000 registrations total. (The totals are combined from ntldstats.com and RegistrarStats.com and we used the higher total in all cases). Here are the totals after the 1st day including Sunrise Registrations .Events 3,902…
UDRP Panel Finds Reverse Domain Name Hijacking On Bigbang.com – 12-Jun-14
Javier Zetter Casillas of Guadalajara, Mexico, represented by AN-KI, Mexico, has been found guilty of Reverse Domain Name Hijacking (RNDH) on the domain name BigBang.com, which is owned by Vertical Axis Inc. which was represented as usual by ESQwire.com PC. Mr Casillas brought his case based on trademarks in the United States , Canada and…
Uniform Rapid Suspension Comes to .us – 12-Jun-14
Neustar is to impose the Uniform Rapid Suspension policy on the .us ccTLD. This means trademark owners are going to get a faster, cheaper way to get infringing .us domains taken down. From July 1, all existing and new .us names will be subject to the policy. Neustar's calling it the usRS or .us Rapid…

If you enjoyed this article, subscribe for updates (it's free)