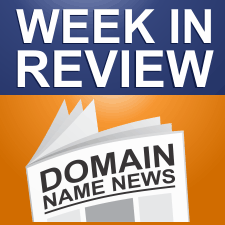 Every Friday, DomainSherpa.com provides you with a hand-selected, editorially-based review of the weekly news. In this summary, you will find the latest articles and videos produced by DomainSherpa staff and contributors. You will also find links to the best news articles in the domain name industry – so you don't have to spend your time searching for news or reading something that was not worth your time.
---
This Week's DomainSherpa Interview
---
VIDEO: In Search of the Domain Name Holy Grail: Third-Level Domain Name Sales – With John Lyotier

The holy grail of owning a premium domain name is being able to sell an endless of supply of either email addresses or third-level domain names – in essence, acting like a domain name registry but without the regulatory burden.

But as Left of the Dot co-founder and CMO John Lyotier explains in this video, the task is a difficult one. His company has navigated this territory before, and he offers both insights and a better model for producing revenue.
---
Additional Resources
---
DomainSherpa Discussion: .XYZ Haters Gonna Hate; Real Stats; Famous Four Fail?…

This is the show where we discuss domain name industry news with a panel of veterans and thought leaders.

In this DomainSherpa Discussion:
* What About Network Solutions in All This .XYZ Hate?
* Namestat.org's Beautiful Interface and Filtered "Real" gTLD Results
* .Co.Com – What Percentage of a .Com is .Co.Com Worth?
* NetworkSolutions.com's Marketing Fail: No, You Can't Register The Domains We're Promoting
* GoDaddy.com's $100 Million IPO Filing – Who Wants In?
* Famous Four Media Launches First gTLDs to With Few Sales
* Google Adwords Stops Supporting Porn and Adult Material – Go Find Your Traffic Elsewhere
* And much more!
---
This Week's News in Review
---
Amazon Snubs ICANN Auction to Win .coupon Privately
– 12-Jun-14
Amazon has won the new gTLD .coupon, after Minds + Machines withdrew its application this week. I understand that the two-way contention set was settled privately via a third party intermediary, possibly via some kind of auction, with M+M ultimately being paid off to withdraw its bid. .coupon was the only ICANN-managed "auction of last…
Wow: .hotel Contention Set Resolved After CPE
– 12-Jun-14
.Hotel applicant wipes out competition by winning community status. In what is sure to be a shocker to many new TLD applicants, HOTEL Top-Level Domain s.a.r.l has prevailed in its Community Priority Evaluation for the .hotel domain name. It was the only applicant to elect community status and has now won the contention set. This…
Patient.co.UK UDRP Bid to Grab Patient.com Denied; $2 Million Asking Price May Have Doomed RDNH
– 12-Jun-14
Egton Medical Information Systems Limited of the United Kingdom which owns and operates Patient.co.uk, lost its attempt to grab the domain name Patient.com in a UDRP. The domain owner is Health Axis Group of Tampa, Florida. Despite the three member panel of Gabriela Kennedy, Nick J. Gardner and David E. Sorkin finding that the Complainant…
1st Day New gTLD; .events 3.9k, .futbol 1.6k; .dating 1k; .partners 880, .productions 771
– 12-Jun-14
Five new gTLD's went into their first day of general availability yesterday and including Sunrise registrations, they wound up with just over 8,000 registrations total. (The totals are combined from ntldstats.com and RegistrarStats.com and we used the higher total in all cases). Here are the totals after the 1st day including Sunrise Registrations .Events 3,902…
UDRP Panel Finds Reverse Domain Name Hijacking On Bigbang.com
– 12-Jun-14
Javier Zetter Casillas of Guadalajara, Mexico, represented by AN-KI, Mexico, has been found guilty of Reverse Domain Name Hijacking (RNDH) on the domain name BigBang.com, which is owned by Vertical Axis Inc. which was represented as usual by ESQwire.com PC. Mr Casillas brought his case based on trademarks in the United States , Canada and…
Uniform Rapid Suspension Comes to .us
– 12-Jun-14
Neustar is to impose the Uniform Rapid Suspension policy on the .us ccTLD. This means trademark owners are going to get a faster, cheaper way to get infringing .us domains taken down. From July 1, all existing and new .us names will be subject to the policy. Neustar's calling it the usRS or .us Rapid…
.UK Gets Over 50,000 Registrations On It's 1st Day
– 11-Jun-14
According to itproportal.com, the new .UK extension has surpassed 50,000 domain registrations in the first 24 hours following its launch. Nominet, the UK domain name registry, expects 10 million domain name registrations and why not? There are over 10 million existing domain holders with a .co.uk or one of the other variations that will have…
Sorry, Moniker. It's Over.
– 11-Jun-14
My long relationship with Moniker is coming to an end due to irreconcilable differences. I've been a Moniker customer for a decade. Probably longer. I haven't been a completely satisfied customer, but I have been a content customer. Until a week ago. That's when Moniker flipped the switch on its new system. It completely scrapped…
Will WHOIS Be Assassinated?
– 11-Jun-14
166 page report describes plan to completely scrap WHOIS as we know it. Last year I wrote about a plan to scrap Whois as we know it and replace it with a new Registration Directory Service (RDS). The initial proposal, created by an ICANN working group, was rather complicated and 49 pages long. Now the…
Namestat Drops All Free .xyz Domains & Schilling's Registration of Own Strings From Rankings
– 11-Jun-14
One of the two new sites that server up new gTLD stats, NameStat.org has made some changes to its ranking system for new gTLD registration. The service has dropped all free .XYZ domain names given out by Network Solutions (actually all Network Solution .XYZ registrations) and all Domain Names registered by Frank Schilling's North Sound…
.co.com Drops Pricing On "Premium" Domain Names, Releases Reserved
– 10-Jun-14
Company will slash prices on premium domains and offer many reserved domains at regular prices. .Co.com, a new third level domain name option, is dropping prices on premium domain names and has removed tens of thousands of domain names from its reserved names list. The company released a list of the previously reserved domain names…
GoDaddy Gets Patent for "Domain Name Hijack Protection"
– 10-Jun-14
Patent is mostly about whois proxy email services. The U.S. Patent and Trademark Office has granted patent number 8,751,685 (pdf) to GoDaddy for "Domain name hijack protection". The patent, applied for in 2010, is actually a divisional patent of an application I wrote about in 2008. The earlier patent application hasn't been granted yet. The…
Linton's Fashion Metric Selected As 1 of 11 Out of 1,500 for Techstars Austin
– 10-Jun-14
Morgan and Daina Linton's FashionMetric.com, which uses big data to enhance fit and sizing for men's clothing is one of 11 startups selected for the latest class of Techstars Austin. FashionMetric was founded in 2012 by Morgan and Daina and world famous entrepreneur Mark Cuban owns part of the company. The news was reported by Xconomy.com…
Cisco Predicts There Will Be 1.5 Billion More Internet Users By 2018
– 10-Jun-14
Cisco released the complete VNI Global IP Traffic Forecast Global highlights from the updated study include the following projections: By 2018, there will be nearly four billion global Internet users (more than 51 percent of the world's population), up from 2.5 billion in 2013 By 2018, there will be 21 billion networked devices and connections…
One Domain Investor Responsible for Bulk of .webcam and .trade Domain Name Registrations
– 10-Jun-14
One investor responsible for most initial domain name registrations in .webcam and .trade. A single domain name investor was responsible for the bulk of domain name registrations of Famous Four Media's domain names launched yesterday. .Webcam added 3,655 domain names to reach 3,678. Approximately 3,100 of them were registered at registrar Encirca by a single…
Famous Four Off to Slow Start; .webcam 3,675 Registrations; .trade 3,235; .bid 629
– 10-Jun-14
Famous Four Media launched their first new gTLDs yesterday at 10am into general availability and got off to a slow start overall. .Webcam as predicted had the most registrations at 3,675 according to ntldstats.com, placing it as the 70th most registered new gTLD. .Trade followed close behind with 3,235 while .Bid managed to get just…
Watch: .ninjas Invade X Games
– 10-Jun-14
.Ninja sponsors the X Games. We've talked quite a bit on this blog about the need for top level domain name registries to promote their new domain names to end users. Here's a great example of a company doing just that. The X Games came to Austin for the first time this past weekend. The…
Minds + Machines Profits By Losing New gTLD Auctions
– 10-Jun-14
Minds + Machines managed to make a profit in 2013, after years of losses, due to its participation in private new gTLD auctions, some of which it "lost". The company today reported operating profit of £776,000 for the year to December 31, compared to a £3.07 million loss in 2012, on revenue of £4.12 million…
Donuts Wins .gifts, .sarl and .restaurant
– 10-Jun-14
Donuts has won the contention sets for three new gTLDs, at least two of which seem to have come as the result of an Applicant Auction auction. It beat mySARL to .sarl, Lucy Ventures to .gifts and Uniregistry, Minds + Machines and Famous Four to .restaurant. All of these rival bidders have withdrawn their applications…
.UK Launches With Stephen Fry As Anchor Tenant
– 10-Jun-14
Nominet has launched its controversial .uk service, enabling Brits and others to register directly at the second level for the first time. It did so with an endorsement from quintessential uber-Brit, gadget nut, Apple slave and national treasure Stephen Fry and a marketing splash including a .uk domain apparently visible from 35,000 feet up. This…
Owner of X.UK Expects The Short Web Address to Fetch a Record £10m
– 10-Jun-14
The Telegraph is out with a couple stories about the .UK extension. Stephen Fry is the first Brit to make the switch to .UK and the second story out this morning is about X.UK and a possible 10 Million GBP sale. Stephen Fry is the first Brit to switch to a .UK domain From the…
8 Things We Learned From GoDaddy's IPO Filing
– 09-Jun-14
GoDaddy filed its S-1 today to go public. I've skimmed the 250 pages to compile these seven data points that weren't previously known. 1. GoDaddy has a lot of customers: 11.548M, to be exact. 2. The company had 2013 revenue of $1.13B. It breaks down like this: $672M from domains (and add-ons like privacy), $381M…
GoDaddy Files to Go Public (Again)
– 09-Jun-14
GoDaddy says "It's Go Time" for IPO. GoDaddy has filed its S-1 with the Securities and Exchange Commission. This will be the company's second attempt at an initial public offering. It originally filed to go public in 2006, but later shelved its plans. The company found another way to exit in 2011 when it found…
Demand Media Spinoff Rightside to List On NASDAQ As "Name", Scores More TLDs
– 09-Jun-14
NAME is coming soon to the NASDAQ. Demand Media moved one step closer to spinning off its Rightside domain name business today with the filing of an amended registration statement. The company plans to issue new shares for the spinoff that will trade on the NASDAQ under the ticker NAME. The SEC filing does not…
New York Times Reports On GoDaddy IPO: Its Go Time
– 09-Jun-14
The New York Times is reporting that for Godaddy IPO its like there new Tag line, Its Go Time, as it filed it S-1 with the SEC today. According to the New York Times, Godaddy had 57 million domains under management as of Dec. 31. GoDaddy reported $1.1 billion in revenue for 2013, a 24%…
Breaking: Go Daddy Files for $100 Million IPO
– 09-Jun-14
Go Daddy has filed its S-1 registration form with the US Securities and Exchange Commission, signalling its intention to go public. The form reveals the company plans to raise $100 million with the share sale. Go Daddy's revenue for 2013 was $1.1 billion, up from $910.9 million in 2012, the filing reveals. But the company…
Famous Four Makes $175,000 From .webcam Porn Names
– 09-Jun-14
Famous Four Media has sold a package of 15 .webcam domain names to an unspecified buyer for a total of $175,000. The deal included tube.webcam, asian.webcam and milf.webcam, which Famous Four described as "adult oriented". Whois records for the domains are not yet available. The .webcam gTLD is due to go to general availability today,…
How Netsol Opts You in to Cybersquatted .xyz Names
– 08-Jun-14
Clear-cut cases of cybersquatting seem to be among those .xyz domain names that Network Solutions has registered to its customers without their explicit request. Some of the domains I've found registered in .xyz, via NetSol to the registrants of the matching .com or .net names, include my-twitter.xyz, facebook-liker.xyz and googledia.xyz. Domains including other brands, such…
Malaysian Company Guilty of Reverse Domain Name Hijacking for Spritzer.com
– 06-Jun-14
Bottled water company guilty of reverse domain name hijacking. Chuan Sin Sdn. Bhd of Taiping, Perak, Malaysia has been found guilty of reverse domain name hijacking in its attempt to get the domain name Spritzer.com through a UDRP. The complainant operates a bottled water company and uses the domain name Spritzer.com.my. (A "spritzer" in most…
If you enjoyed this article, subscribe for updates (it's free)