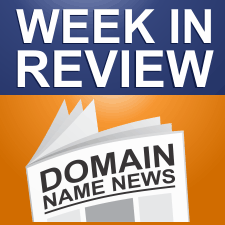 Every Friday, DomainSherpa.com provides you with a hand-selected, editorially-based review of the weekly news. In this summary, you will find the latest articles and videos produced by DomainSherpa staff and contributors. You will also find links to the best news articles in the domain name industry – so you don't have to spend your time searching for news or reading something that was not worth your time.
---
This Week's DomainSherpa Interview
---
VIDEO: How to Build an Affiliate Website – With Perry Rosenbloom

Learn how Perry Rosenbloom set up affiliate websites that generate a healthy five-figure income (soon to be six-figures) on topics he loves — and with domain names you can register today.

It didn't happen overnight. It took consistent, hard work for a few years, but now his passive income affords him the flexibility to travel with his school-teacher wife during summers.
---
This Week's News in Review
---
Domainfest Global 2013: Yep, It's Still Happening – 19-Jul-12
7th DOMAINfest Global to return in 2013. In my discussions in recent days about the sudden lack of domain conferences, a common question has been, "Is Oversee.net still doing DOMAINfest next year?". It's a fair question given that Oversee.net is a much smaller company than it was a year ago having since divested Moniker and […]
What Go Daddy's Purchase of Outright Means for Small Sellers – 18-Jul-12
Go Daddy has acquired Outright, an accounting solution for online sellers and small businesses. Go Daddy, which also focuses on small businesses, is known for its easy and inexpensive domain registration service (it manages over 53 million domain names) and for its annual Super Bowl ads.
DomainTools Lawsuit Dismissed for Lack of Jurisdiction – 18-Jul-12
Preemptive case against New Jersey man can't go forward in Washington, judge rules. DomainTools' preemptive lawsuit against Russ Smith has been dismissed (pdf) with prejudice for lack of personal jurisdiction and improper venue. Russ Smith had threatened to sue DomainTools for copyright infringement and try to get its trademark canceled. Among Smith's complaints: DomainTools' archival […]
Kohls Loses UDRP Over for Letter Kols.com Domain Name – 18-Jul-12
KOLS.com was registered three years before Kohls.com. Retailer Kohls.com has lost a UDRP dispute for the domain name Kols.com, which it claimed was a typo of its domain name Kohls.com. The respondent, Fox Business Systems / KansasNet, said it registered the domain name as an acronym for "Kansas Online Systems" and had intended to develop […]
Brothel Beats Victoria's Secret in Titillating Domain Name Dispute – 18-Jul-12
…and it's seriously a fascinating UDRP case. An Australian brothel has rebuffed an attempt by lingerie retailer Victoria's Secret to take its domain name VictoriasSecrets.com.au. The decision was handed down on a couple weeks ago and a Domain Name Wire reader just brought the case to my attention. The subject matter certainly makes for an […]
Meat Loaf launches $100,000 lawsuit against tribute act accusing him of being an online impostor – 18-Jul-12
A Meat Loaf tribute artist from Lancashire is fighting a $100,000 (£64,000) writ from the US rock star, who accuses him of being a "cybersquatter and online imposter".
Go Daddy Makes Its First "Business" Acquisition – 18-Jul-12
Go Daddy acquires Outright. More to come? Go Daddy today announced the acquisition of Outright, a provider of online financial software for small businesses. This is only the company's third acquisition in its history, and the first one that involves bringing over people from the acquired business. (It's previous acquisitions were a technology acquisition for […]
Are There Fewer Domain Conferences or Just Different Domain Conferences? – 17-Jul-12
There are only two big domainer conferences this year, but domainers still find opportunities to get together. Two years ago you could have gone to a domain name conference every other month. This year there are just two big domain conferences: DOMAINfest (which already took place) and the upcoming TRAFFIC conference in Fort Lauderdale. Here […]
Zynga Acquires Chefville.com Domain Name – 17-Jul-12
Zynga pockets key domain name for new game. Last month social gaming company Chefville announced its newest games including Chefville. But it didn't have the Chefville.com domain name — until now. Chefville.com was registered back in January 2006. Its current owner, an individual in California, appears to have owned it that whole time. (The oldest […]
Afternic Expands Further Into Asian Domain Market With Dnbiz Partnership – 17-Jul-12
Afternic, the leading marketplace for premium domains, announces partnership with Chinese registrar Dnbiz.
Doorkings.com: This is Why You Hire a Domain Attorney for UDRP – 16-Jul-12
A complainant's UDRP filing should be pretty simple, if it knows what it's doing. John Berryhill was ready. His client, United Marketing Group, Inc, had to prove to a WIPO panel that its domain names DoorKings.com and DKSOpeners.com were registered in good faith after DoorKing, Inc. filed a UDRP complaint. So he dutifully explained that, […]
Why Defensive Domain Name Registrations Aren't a Good Deal for Small Businesses – 16-Jul-12
Conventional wisdom says businesses should preemptively buy domain names to keep them out of the hands of competitors, griping customers, pornographers or other malefactors. This process is sometimes called "defensive" domain name registration.
Internet Adds 7 Million More Domain Names – 16-Jul-12
According to the latest Domain Name Industry Brief published by VeriSign Inc. (VRSN), approximately seven million names were added to the Internet in the first quarter of 2012. Therefore, the total number of registered domain names increased to approximately 233 million on a worldwide basis.
Facebook Wins UDRP On Facebook.info – 16-Jul-12
Facebook, Inc. just won a UDRP on the domain name Facebook.info The domain name was registered in September 2004. Most recently the domain was going to a page which stated on the top: "not in any way affiliated with the social network availabl …"
Internet Hits 233 Million Domain Names – 15-Jul-12
Second level domain space continues to grow. Verisign released and announced its latest quarterly domain name report at an odd time this quarter — 4 pm on a Friday. That's usually the time you release bad news you don't want people to hear about, so it's kind of odd for a marketing piece.
Berryhill Beats Back UDRP On SideTrack.com – 13-Jul-12
John Berryhill, Esq just beat back yet another UDRP this time on the domain name Sidetrack.com brought by Side by Side, Inc. /dba/ Sidetrack. The domain name was owned by generic domain investor, Alexander Lerman one of the newest members of the Internet Commerce Association (ICA).
Internet Grows to More Than 233 Million Domain Names in the First Quarter of 2012 – 13-Jul-12
More than seven million domain names were added to the Internet in the first quarter of 2012, bringing the total number of registered domain names to more than 233 million worldwide across all domains, according to the latest Domain Name Industry Brief, published by VeriSign, Inc.
Default Judgement Issued Against Paris in Domain Fight, Damages Hearing On Tap – 13-Jul-12
Paris may face damages in reverse domain name hijacking case. A Texas district court has filed an entry of default against Ville de Paris in a domain name squabble. The case involves Parvi.org. The city of Paris won a UDRP case for the domain name in 2009. When Paris filed the complaint it agreed to […]
Default Judgement Issued Against Paris in Domain Fight, Damages Hearing On Tap – 13-Jul-12
Paris may face damages in reverse domain name hijacking case. A Texas district court has filed an entry of default against Ville de Paris in a domain name squabble. The case involves Parvi.org. The city of Paris won a UDRP case for the domain name in 2009. When Paris filed the complaint it agreed to […]
Chicago Drops Directory for Email, Power.com Launches With @identity Service – 13-Jul-12
Chicago.com no longer a directory; owner also powering new email service at Power.com. This morning I read an article by Robin Wauters lampooning Power.com, which offers an @Power.com email address and subdomains for a very steep price. The site immediately reminded me of Chicago.com and its personalized @chicago.com email addresses. Indeed, Power.com is "powered" by […]
Chicago Drops Directory for Email, Power.com Launches With @identity Service – 13-Jul-12
Chicago.com no longer a directory; owner also powering new email service at Power.com. This morning I read an article by Robin Wauters lampooning Power.com, which offers an @Power.com email address and subdomains for a very steep price. The site immediately reminded me of Chicago.com and its personalized @chicago.com email addresses. Indeed, Power.com is "powered" by […]
DomainSherpa is Looking for a Producer – 12-Jul-12
If you watch the weekly DomainSherpa interviews religiously and want to get to know more people within the domain name industry, you're the kind of person we're looking for. As DomainSherpa's Producer, your job will be to…
U.S. Officials Seize 70 Websites – 12-Jul-12
Federal officials said Thursday they have seized 70 websites that allegedly offered counterfeit merchandise as part of an ongoing effort targeting sites that infringe intellectual property.
Intel Gets Two Strikes in Mexico – 12-Jul-12
Company loses two UDRPs for Spanish language domain names. Big brands occasionally lose cybersquatting disputes. But two in a row with similar circumstances? That's what happened to Intel south of the border. The company just got back-to-back losses on two Spanish language domain names including the word "Intel". Both of the domains are registered to […]

If you enjoyed this article, subscribe for updates (it's free)