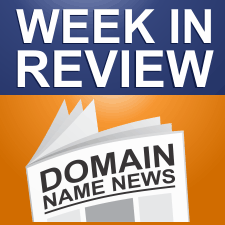 Every Friday, DomainSherpa.com provides you with a hand-selected, editorially-based review of the weekly news. In this summary, you will find the latest articles and videos produced by DomainSherpa staff and contributors. You will also find links to the best news articles in the domain name industry – so you don't have to spend your time searching for news or reading something that was not worth your time.
---
This Week's DomainSherpa Interview
---
VIDEO: How to Build a Drop Ship Website – With Greg Izzo

Forget building affiliate sites. Build a drop ship website on your premium, generic-keyword domain name and rank at the top of search engines in an uber-targeted niche.

That's exactly what Wayfair.com did starting in 2002 (under the CSN Stores brand), building out more than 200 niche websites like HotPlates.com and EveryGrandfatherClock.com. Today, Wayfair.com sells more than 4.5 million products and rakes in more than $500 million in sales revenue each year.
---
This Week's News in Review
---
DomainSherpa is Looking for a Producer – 12-Jul-12
If you watch the weekly DomainSherpa interviews religiously and want to get to know more people within the domain name industry, you're the kind of person we're looking for. As DomainSherpa's Producer, your job will be to…
U.S. Officials Seize 70 Websites – 12-Jul-12
Federal officials said Thursday they have seized 70 websites that allegedly offered counterfeit merchandise as part of an ongoing effort targeting sites that infringe intellectual property.
Owners of Firstdibs.com and 1stdibs.com Duke It Out in Court – 11-Jul-12
1stDibs.com says owner of FirstDibs.com is cybersquatting. The registrants of FirstDibs.com and 1stDibs.com are embroiled in a court battle, with the latter saying that FirstDibs.com infringes its trademarks. The owner of FirstDibs.com is seafood wholesaler Seafood Supply Company of Dallas, Texas. 1stDibs.com is an online retailer offering upscale home decor, jewelry, and real estate. In […]
Apple Begins Forwarding Ipad3.com to Its Web Site — and It's Tracking It, Too – 11-Jul-12
Apple smartly measures traffic to recently recovered domain name. Late last month Apple filed a cybersquatting complaint over the domain name iPad3.com. Shortly after filing the complaint the owner of the domain acquiesced, giving the domain to Apple's lawyers Kilpatrick Townsend & Stockton. For a while after the transfer to Apple's lawyers the domain didn't […]
Celebrating 25 years of .CA – 11-Jul-12
The Canadian Internet Registration Authority (www.CIRA.ca), the organization that manages the .CA Internet domain, is celebrating .CA's pivotal role in bringing Canadians together online and building Canada's digital brand abroad.
Public Interest Registry Hits 10 Million .org Domain Registrations – 11-Jul-12
Public Interest Registry (PIR) – the not-for-profit operator of the .ORG domain – has reached a major milestone with the registration of its 10 millionth .ORG domain name: JADFORUM.ORG, which was registered on June 24, 2012 with Go Daddy. The domain name was registered by the Jordan River and Dead Sea Basin Forum (JAD), an organization dedicated to advancing the sustainable and regional development of the Jordan River and Dead Sea Basin watershed shared by Israel, Jordan and the Palestinian Authority.
Google's Legalize Love Campaign Has a Domain Name Issue – 11-Jul-12
Logical domain names for campaign forward to a decidedly edgy web site. Google has made quite a splash with its "Legalize Love" campaign announced during the Global LGBT Workplace Summit over the weekend. The first thing I did when I heard news of its new campaign was to go to LegalizeLove.com to find more information. […]
Would Free Domains Upend The Retail Domain Market? – 10-Jul-12
There will be plenty of free and low cost domain registration options, but don't expect them to have a big impact on the domain registration market. I've had a number of conversations with people over the past month about the idea of free (as in no cost) domain names. Will some new top level domain […]
SedoMLS Network Expands Again with Addition of Rob Monster's Epik.com – 10-Jul-12
Domain marketplace giant Sedo announced the newest addition to the SedoMLS premium network today. U.S. registrar and domain name developer Epik.com has partnered with Sedo to offer new services to their customers. End users searching for a domain at Epik's website can now purchase premium domains directly from SedoMLS network listings. In addition, current Epik customers can can list their own domains for sale on the SedoMLS network (a distribution platform that now includes more than 60 partners including Godaddy and other top registrars).
Afternic Expands Partnership with Go Daddy – 10-Jul-12
Afternic announced an enhanced strategic partnership with GoDaddy.com that brings Afternic's 'Request Price' domain names to Go Daddy customers. Go Daddy already offers Afternic's premium domains with set 'Buy Now' prices. The inclusion of Afternic's 'Request Price' inventory expands the footprint of the premium domain aftermarket for both buyers and sellers.
Escrow.com Integrated as Payment and Transfer Continuity Provider at DomainNameSales.com – 10-Jul-12
Escrow.com announced that DomainNameSales.com has successfully integrated the Escrow.com platform into its automated completion system, to ensure all parties are protected when buying or selling a domain name on DomainNameSales.com.
Name.com Piggybacks Namecheap.com $.98 Twitter Domain Offer – 10-Jul-12
Name.com vs. NameCheap. It's on! Here's an interesting duel going on between two domain registrars that have mastered social media: Name.com and NameCheap.com. NameCheap.com is asking people to retweet a message about 98 cent domain registrations. If 30,000 retweet it by July 16, then NameCheap will provide a special 24 hour sale where you can […]
What Afternic's Expanded Deal With Go Daddy Means for Domainers – 10-Jul-12
More eyeballs and more sales. This morning Afternic announced an expanded deal with Go Daddy to distribute its non-fixed price domain sales listings through the registrar. Here's what this means for you… The Afternic deal will help you get more of your domain names on to the most valuable end user shelf space in the […]
Plans for Frank Schilling's Uniregistry Go Way Back – 09-Jul-12
Uniregistry.com registered back in 2006, original trademark application in 2010. Last month Uniregistry Corp., Frank Schilling's new top level domain venture, filed trademark applications for the mark "Uniregistry" as well as its stylized "U" logo. But this isn't the first time the company has applied for a trademark. Back in 2010 the corporation filed an […]
GoDaddy.com Adds Two Factor Authentication – 09-Jul-12
New security option available to customers with a U.S. mobile phone number. GoDaddy.com has added two factor authentication capabilities for U.S. customers. The feature appears to have been added within the past couple days. The added security layer, also known as two step authentication, means that someone who gets control of your username and password […]
Verisign "Domain Exchange" Patent Application Says Service Would Be Useful for Typosquatters – 09-Jul-12
Application filed shortly after pulling ICANN request admits a domain exchange service could be a boon for typosquatters. In April 2010 Verisign asked ICANN to allow it to introduce a "Domain Name Exchange" service. The service would have allowed registrars to exchange one domain name for another. The use case VeriSign proffered was that a […]
Protrada – The Domain Exchange acquires Domainface.com – 06-Jul-12
Protrada, the world's first domain name trading platform, today announced the acquisition of Domainface.com's assets. Domainface.com is a leading provider of domain name data and is owned by Face Software Limited.
SMA.com Spared in UDRP Case – No Bad Faith – 06-Jul-12
Panel rules domain not registered in bad faith. In May I wrote about how the owner of SMA.de — SMA Solar Technology AG — had filed a UDRP to get the domain name SMA.com. A three person World Intellectual Property Organization panel just handed down the verdict: the owner of SMA.com can keep the domain […]
NCC Plans to Invest $9.4 Million in .secure (If It Can Get The Domain) – 05-Jul-12
Company hopeful it can prevail over Amazon.com. The CEO of United Kingdom security company NCC Group (NCC.LN) told Dow Jones Newswires that it plans to invest 6 million pounds ($9.4 million) in the top level domain name .secure, with over half of that in the next twelve months. CEO Rob Cotton also told Dow Jones […]
Vanity.com files lawsuit to block transfer of domain name – 05-Jul-12
Last month a National Arbitration Forum panel handed down a shockingly bad decision over the domain name Vanity.com, ordering the domain transferred to Vanity Shop of Grand Forks, Inc. Now Vanity.com, Inc. has filed a federal lawsuit (pdf) to halt the transfer.

If you enjoyed this article, subscribe for updates (it's free)