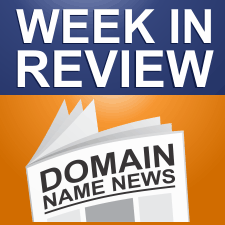 Every Friday, DomainSherpa.com provides you with a hand-selected, editorially-based review of the weekly news. In this summary, you will find the latest articles and videos produced by DomainSherpa staff and contributors. You will also find links to the best news articles in the domain name industry – so you don't have to spend your time searching for news or reading something that was not worth your time.
---
This Week's DomainSherpa Interview
---
VIDEO: 7 Interviews to Help You Build Wealth in 2014

All domain name investors say their parking revenue has decreased over the past few years. Stop complaining and do something about it.

The last two weeks of the year are the perfect time to think strategically about building a business that creates cash flow in 2014.

The DomainSherpa editorial staff has selected seven interviews — our must-watch recommendations for entrepreneurs and wantrapreneurs.
---
This Week's News in Review
---
.email and Two Other New gTLDs Go Live
– 02-Jan-14
Three more new gTLDs were delegated this afternoon, including the potentially interesting .email. The other two were TLD Registry's .在线 (Chinese for '.online') and United TLD/Rightside's .immobilien (German for '.realestate'). The reason I think .email could be interesting is that it's very close to ".mail", which has been highlighted in several analyses as a potentially…
Google's and Cleveland Clinic's .med Top Level Domains Rejected
– 02-Jan-14
Panel determines .med would create likelihood of detriment to medical community. Internet powerhouse Google and one of the world's most respected health institutions, The Cleveland Clinic, have both seen their hopes for operating a .med top level domain name dashed by an arbitration panel. Both parties were on the losing end of community objections filed…
SeekingAlpha: "New gTLD's Pose No Threat to Verisign"
– 02-Jan-14
Stock site SeekingAlpha.com just published a blog post entitled New gTLD's Pose No Threat To Verisign. Verisign (VRSN) is the registry for the .com and .net registry. The author of the post is stock analyst Zeus Kerravala, is the founder and principal analyst with ZK Research. Prior to ZK Research, Zeus Kerravala spent 10 years as an analyst at Yankee Group…
GoDaddy Gets Sixth Patent for "Adwords for Top Level Domains"
– 02-Jan-14
Domain registrar continues to collect patents for ways to prioritize domain name search results. The U.S. Patent and Trademark Office has granted a sixth patent to GoDaddy related to a way to position domain names in response to a user's domain search. I first wrote about GoDaddy's idea in 2011 after the USPTO granted the…
Neustar & Web.com Make Forbes "Tech Stocks to Buy in 2014 for Growth & Value Investors"
– 02-Jan-14
Forbes published a short list of "Tech Stocks To Buy In 2014 For Growth & Value Investors" and two companies from the domain space made the list. NeuStar (NSR) operates the .US ccTLD and .Biz TLD, .NYC new gTLD and is also the back end provider for .Co and for hundreds of new gTLD's…
Before Launching Its New Home for Tech, Wall Street Journal Quietly Acquires WSJD.com
– 02-Jan-14
We often call out companies for a acquiring bang on domain name before launching a new product or service, so we have to give some Kudos to Dow Jones & Company, Inc. the publishers of the Wall Street Journal for buying the domain name WSJD.com before launching WSJD on January 1…
Aio Quitely Acquires Aio.com But Bucks The Trend & Uses The Longer Aiowireless.com
– 02-Jan-14
Aio Wireless, a prepaid cell phone company headquartered in Washington DC, has been running television commercial in heavy rotation on several cable channels including CNN…
Sedo and Tucows Ink Domain Listing Distribution Deal
– 31-Dec-13
Tucows has joined SedoMLS, giving access to the domain sales network to its thousands of resellers. Sedo has gained a big customer for its SedoMLS network. Tucows, which is generally considered the third or fourth largest domain name registrar, is joining the network, the companies announced. This means that domain names listed for sale on…
New York Times Interview Vin Cerf On ICANN/Itu & Where The Internet is Going
– 31-Dec-13
The New York Times just published an interview with Dr. Vin Cerf in a story entitled "Viewing Where the Internet Goes"…
Tucows Executes Reverse Stock Split, Starts Trading On NASDAQ
– 31-Dec-13
Tucows shares trading close to $13.00. Domain name company Tucows is now trading on the NASDAQ at a double digit number, thanks to its reverse stock split. As of the time of posting, is shares (NASDAQ: TCX) are trading at $12.95. Shares closed at $3.11 yesterday, and today the shares are trading after a 1…
These are The First Four New gTLD Domain Names
– 31-Dec-13
Two luxury goods companies have the honor of being the first to register domain names in a new gTLD. Today, the first four domain names registered to actual registrants popped up in the zone file for dotShabaka Registry's Arabic ".web" — شبكة. شبكة. exited its mandatory Sunrise period on Sunday; the four new names appear…
10 Year Old Domain Klickerz.com Saved in UDRP
– 30-Dec-13
Rita A. Girondi just lost her attempt to grab the domain name Klickerz.com
The domain name Klickerz.com was registered on on May 25, 2003 by Light Church. Klickerz.com was a Parking company back in 2006-2007…
7578.com Hit With UDRP
– 30-Dec-13
The domain name 7578.com just got hit with a UDRP. I'm have never seen a UDRP filed on a NNNN.com domain name so it could be the first but it also could be an attempt to get back a stolen domain. The domain was owned by a Jocelyn Michel of Montreal until late October of this year when it was transferred to someone in Hong Kong under privacy at OnlineNIC Inc…
Anti-google Group Fairsearch.org Loses Objection Against .map
– 30-Dec-13
Panelist unmoved by FairSearch.org's arguments against Google's bid to run a .map top level domain name. FairSearch.org, a consortium representing companies that compete against Google, is now 0-for-2 in community objections it filed against Google's top level domain name applications. Panelist Vladimir Khvalei has determined that the group's community objection against .map fails (pdf). It…
Anti-google Group Fairsearch.org Loses Objection Against .map
– 30-Dec-13
Panelist unmoved by FairSearch.org's arguments against Google's bid to run a .map top level domain name. FairSearch.org, a consortium representing companies that compete against Google, is now 0-for-2 in community objections it filed against Google's top level domain name applications. Panelist Vladimir Khvalei has determined that the group's community objection against .map fails (pdf). It…
First New gTLD Sunrise Ends With "Very Few" Registrations
– 30-Dec-13
The first new gTLD Sunrise period was not a success, according to dotShabaka Registry. The 60-day Sunrise for شبكة. (.web in Arabic) ended yesterday with "very few" registrations, the company told us today, due largely to poor promotion of the Trademark Clearinhouse in Arabic-speaking regions. The gTLD is restricted to Arabic strings, and therefore Sunrise…
.ninja Springs to Life As a Squirrel As 19 New gTLDs Get Delegated
– 29-Dec-13
ICANN may be taking Christmas week off, but Verisign apparently isn't — another 19 new gTLDs were delegated to the DNS root system last night. Most belong to Donuts: .training, .builders, .coffee, .codes, .education, .florist, .farm, .glass, .house, .holiday, .international, .institute, .solar, .repair and .solutions. United TLD, the Demand Media/Rightside business that is also providing…
Verisign is Taking Back Expired Two Letter & Two Number .tv Domains
– 27-Dec-13
Verisign the registry for the .TV registry is apparently taking back any expired new Two letter (LL.TV) .TV domain names as well as any two numbered (NN>TV) domain names. Recently a domainer that had a back order on a two letter .Tv domain and a two numbered domain received this notice from Verisign…
ICANN Has Spent $120 Million On New gTLDs
– 27-Dec-13
The new gTLD program has cost ICANN almost $120 million so far, according to a quarterly financial report published earlier this week. It's the first time ICANN has published a quarterly statement. Normally it only files a formal report annually. According to the report, ICANN has spent $119.2 million of its original £344.9 million program…
The Oscars Files Another Suit Against GoDaddy Under ACPA Alleging Continued Violations
– 26-Dec-13
The Academy of Motion Picture Arts and Sciences which hands out the Oscars has filed anther lawsuit against Godaddy under the Anticybersquatting Consumer Protection Act. This suit filed on Novmeber 15, 2013, "supplements a currently pending action between the same parties asserting the same theories of infringement under the ACPA and related state theories that was filed in May 2010, Case No. 2:20-cv-03738-ABC-CW"…
NAR Pitches .realtor Domains (Free for 1 Year) and Disses .re
– 26-Dec-13
NAR to provide free .realtor registration for one year. National Association of REALTORS (NAR) sent an email to its members earlier this month pitching "priority registration" for .realtor domain names. Priority Registration basically means they will email you a day before general availability to remind you about .realtor registration. The email points members to SignUpForDotREALTOR.com…
HomeAway Sues Airbnb Over Birdhouses
– 26-Dec-13
Airbnb irks rival by launching birdhouse ad campaign. Publicly traded vacation rental site HomeAway (NASDAQ: AWAY) has sued upstart rival Airbnb for trademark infringement after the latter launched an ad campaign featuring birdhouses. HomeAway's logo prominently features a birdhouse, and the company uses birdhouses as its sort of "mascot." A birdhouse is prominently featured at…
If you enjoyed this article, subscribe for updates (it's free)