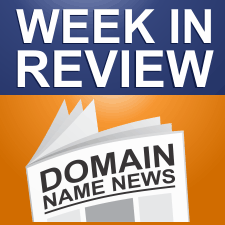 Every Friday, DomainSherpa.com provides you with a hand-selected, editorially-based review of the weekly news. In this summary, you will find the latest articles and videos produced by DomainSherpa staff and contributors. You will also find links to the best news articles in the domain name industry – so you don't have to spend your time searching for news or reading something that was not worth your time.
---
This Week's DomainSherpa Interview
---
VIDEO: What to Expect in the Domain Name Industry in 2013 – With Ron Jackson

For the past decade on DNJournal.com, Ron Jackson has tracked, analyzed and presented the most comprehensive and accurate collection of domain name sales data.

In this interview, Jackson both reviews trends of the past decade and looks ahead to the events of 2013 (e.g., the release of new gTLDs) that will affect future trends.
---
This Week's News in Review
---
Google Backing New gTLD Trade Association
– 24-Jan-13
New gTLD applicants and others have been meeting in Amsterdam this morning to discuss setting up a new trade association to promote new gTLDs and domain names in general.
Tucows.com Tops $2 A Share
– 24-Jan-13
Shares of Tucows.com (TCX) topped $2 a share in intraday trading for the first time since 2001. Shares of Tucows.com traded as high as $2.05 before falling back to $2 where its is trading as of time of publication.
Kim Kardashian Named Keynote Speaker for the Upcoming Webfest Global Conference
– 24-Jan-13
Oversee.net has selected celebrity/entrepreneur Kim Kardashian to be the keynote speaker at the Webfest Global Conference coming up February 5-7, 2013 at the Fairmont Miramar Hotel in Santa Monica, California.
Go Daddy Revamps Executive Accounts, Splits Into 2 Tiers
– 24-Jan-13
Registrar renames Executive Accounts as Premier Services and makes program more exclusive.
Moniker and Snapnames Announce Webfest Global Premium Domain Name
– 23-Jan-13
Moniker and SnapNames, both KeyDrive S. A. companies and leading providers of domain name solutions, announced today their Webfest Global Santa Monica Live & Extended Auction list. Moniker, which introduced the live domain name auction concept and is a top worldwide registrar, has been hosting the live and online auction event at Webfest, formally known as DOMAINfest, since 2007.
Ally Financial Sues Cybersquatter Who Pointed Domains to Chase.com
– 23-Jan-13
Bank files anti-cybersquatting lawsuit after domain owner refused to hand over domain names.
Sedo Posts Year's 2nd Six-Figure Sale to Top This Week's Domain Sales Chart
– 23-Jan-13
Sedo claimed the top spot on this week's Domain Sales Chart after banking $112,651 for Torrents.com. That is also the second highest sale of the New Year, trailing only last week's $375,000 sale of Booker.com on our early 2013 Year to Date Sales Chart.
Escrow.com Changes Transaction Time Periods Due to Customer Complaints
– 23-Jan-13
Escrow.com has changed our time periods since we had customers complain that we held transactions open for too long. Note that support can always reactive at the seller request and we can ask the seller to okay the reactivation at the buyer request.
Guy Files UDRP Against His Brother
– 22-Jan-13
Something tells me these guys didn't get together for Christmas this year. You know familial relations have hit a new low when you filed a UDRP against your brother.
Estibot Launches New Expired Domain Finder Dropping.com
– 22-Jan-13
A new expired domain service from the creators of Estibot. Estibot has launched a new expired …
Quantic Dream Registers PS4 Domain Name
– 22-Jan-13
Hints at platform for next title. – Heavy Rain developer Quantic Dream is working on two projects. The first is Beyond: Two Souls, which is being released on PlayStation 3. The other, largely believed to be based…
Michael Cyger Reaches a Major Milestone as DomainSherpa.com Posts Its 100th Show
– 22-Jan-13
When Michael Cyger launched the video interview site DomainSherpa.com a little less than two years ago (on February 9, 2011), it quickly became clear that an important new domain industry resource had arrived.
Afilias doubles .pro registrations in a year
– 22-Jan-13
Afilias says it has managed to grow .pro by 100% just one year after acquiring RegistryPro, despite an abuse crackdown and a tightening of registration policies.
SelectHealth Loses UDRP On Parked Domain SelectHealth.com
– 21-Jan-13
SelectHealth, Inc. of Murray, Utah just lost a UDRP on a direct match domain of its trademark SelectHealth.com. The one member panel noted that the domain name was registered long before the trademark was filed, however the panel also noted that for at least some time the domain was used in bad faith, as the domain name was parked, the domain holder offered to sell it to the trademark holder for $30K and appeared for a time that the domain holder may have lifted some copyrighted material off the complainant website at selecthealth.org and placed it on the .com.
Net-Chinese is the Newest Addition to the SedoMLS Premium Network
– 21-Jan-13
Sedo today announced that Asia Taiwan-based registrar Net-Chinese joined the SedoMLS Premium network. The continued expansion of the SedoMLS partner network helps premium domains reach even more buyers around the world. Net-Chinese customers can now purchase domains via the SedoMLS network directly at the Net-Chinese website.
Two Cases Show The Inconsistency of RDNH
– 21-Jan-13
Two cases, three different view of reverse domain name hijacking. Two recent UDRP cases show …
Blackberry Using Domain Name Won Via UDRP
– 20-Jan-13
Research in Motion (RIM) is using a domain name it won via UDRP for the new Blackberry app store, which is now found on BlackberryWorld.com.
Wii U Domain Name Expires, Being Auctioned Off
– 20-Jan-13
Where do you go for all of your Wii U news? Outside of *shameless plug* GameZone, most of you likely know to go to…
DomainHoldings Co-Founder John Ferber Becomes a Movie Producer! 1st Film Opens Saturday
– 18-Jan-13
DomainHoldings.com Co-Founder John Ferber is a man of many talents. After selling his previous company, Advertising.com, for close to $500 million, most think of him as an internet entrepreneur, but he may end up being better known as Movie Producer John Ferber!
Senator's Domain Name Held Up By Gun Enthusiast
– 17-Jan-13
Veteran California Democratic Senator Dianne Feinstein has been a staunch activist against assault weapons throughout her tenure on Capitol Hill, but a domain…
Buy.com To Change Its Name to Rakuten.com
– 17-Jan-13
In May 2010 a Japanese company Rakuten bought Buy.com for $250 million. Now that company is going to rebrand Buy.com as Rakuten.com Shopping. If you go to Buy.com today you will see the name Rakuten right above Buy.com
If you enjoyed this article, subscribe for updates (it's free)