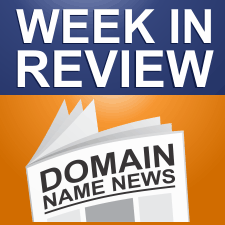 Every Friday, DomainSherpa.com provides you with a hand-selected, editorially-based review of the weekly news. In this summary, you will find the latest articles and videos produced by DomainSherpa staff and contributors. You will also find links to the best news articles in the domain name industry – so you don't have to spend your time searching for news or reading something that was not worth your time.
---
This Week's DomainSherpa Interview
---
VIDEO: Why Numeric Domain Names Are Worth More Than You Think – With Giuseppe Graziano

Listed among the DNJournal.com top domain name sales of 2013 are 114.com for $2.1 million, 88888.com for $245,000 and 1001.com for $100,000.

I would not have paid registration fees for any of these domain names, so I clearly don't understand the value of domain names comprised only of numbers, usually referred to as numeric domain names.

Luckily there's an expert ready to share what's behind those high sale prices and who's buying 80 percent of the numeric domain names.
---
Additional Resources
---
DomainSherpa Review – Jan 23, 2014

In this show:
* 118 "really cool brandable" domain names are reviewed
* 15 nice domains going to auction at NameJet soon are evaluated
* Both sides of the "plural versus singular" debate as it relates to NoseJobs.com
* "Registered or Available" game — see who won today's competition (new winner!)

This is the show where we get into the minds of successful domain name investors and talk about the value of specific domain names. By listening to the Sherpas, we expand our thought process so we can become more successful investors ourselves.

We're joined by four Domain Sherpas: Adam Dicker, Michael Berkens, Page Howe and Rick Schwartz.
---
This Week's News in Review
---
Google Unveiled Smart Contact Lens, We Look at Who Owns The Best Domain Names
– 23-Jan-14
A week ago Google introduced their smart contact lens project. Google wrote on its blog in a post which has over 5800 comments…
Why Google Wants to Give You 101 Alternatives to .com
– 23-Jan-14
Hundreds of new top-level domain names (the last bit of a web address, like .com) will hit the web this year. Of nearly 2,000 proposed domains, 101 belong to Google, one of the largest single applicants. That's odd, for Google has worked hard to make domain names as irrelevant as possible…
Verisign: Rise in Value of Bitcoin Causes Surge in .com/.net Domain Registrations: 22k in 2013
– 23-Jan-14
Verisign just published a blog on how the rising value of Bitcoin has led to surge of .com and .net domain name registrations. The value of a Bitcoin surged from roughly $13 at the beginning of 2013 to an eventual high of $1,137 at the end of November (The chart below, courtesy of Coinbase, documents the ebbs and flows of a Bitcoin's value)…
Domainfest Returns to Hollywood, Plans Conference for End of March
– 23-Jan-14
Oversee.net's DomainSponsor announces plans for 2014 conference. DomainSponsor's annual DomainFest conference is changing its branding back to DomainFest and has set its dates for 2014. The nine year old conference changed its name last year to WebFest Global because the agenda had expanded beyond domain names into search, mobile, and web development. Although it appears…
Two .xxx Domain Names Sell for $750,000
– 23-Jan-14
ICM Registry sells two more domain names to previous premium domain customer. Premium .xxx domain names continue to sell for top dollar. .XXX domain registry ICM Registry announced today that Really Useful has acquired Tube.xxx for $500,000 and Tubes.xxx for $250,000. Really Useful is the same company that acquired four .xxx domain names for $600,000…
Domain Name Conference Planned in Hong Kong to Coincide With INTA Meeting
– 23-Jan-14
New TLDs come to Hong Kong. DotAsia and Momentum Events are planning a domain name conference in Hong Kong May 13-14, coinciding with the International Trademark Association (INTA) annual meeting taking place in the same city. The event is a combination of DotAsia's "Internet of Names" meeting and Momentum's "Digital Marketing & gTLD Strategy Congress"…
Porn Won't Be Allowed On The Home Page of .sexy Websites
– 23-Jan-14
Nudity is too sexy for .sexy home pages. Anyone who wants to register a .sexy domain name to build their porn empire, take note: you can't have nudity on the "home page" of your domain name. .Sexy registry Uniregistry spells out the rules in a revised document (pdf) it filed with ICANN on January 20…
Nat Cohen Sells Lgg.com for $175k to Company That Filed UDRP Against The Domain Name
– 23-Jan-14
Company pays up after playing dirty in domain name negotiation. This week's DNJournal sales report includes a $175,000 sale of LGG.com. When reviewing the report, I instantly knew this domain name was familiar. Sure enough, I've written about it before. The company that just bought the domain name, a Finnish dairy company called Valio Ltd,…
Cobb International Guilty of Reverse Domain Name Hijacking
– 23-Jan-14
Company filed UDRP case even though the domain names at issue were not registered in bad faith. South African firm Cobb International has been found guilty of reverse domain name hijacking in a UDRP decision at World Intellectual Property Organization. Cobb International filed a UDRP for the domain names CobbQ.com and CobbAmerica.com against Chris Holloway,…
Sell Bikes? There's a Web Domain for That
– 23-Jan-14
Seven Web domains will be released next week, including .bike, .clothing and .singles. The new domains are expected to draw interest mainly from entrepreneurs and small-business owners seeking Web addresses that more closely relate to the products and services they sell than the Web addresses that are currently available to them…
Cartier Sues Nominet Hoping to Set Global Domain Name Take-down Precedent
– 22-Jan-14
Luxury watchmaker Cartier has taken .uk registry Nominet to court, hoping to set a precedent that would enable big brands to have domain names taken down at a whim. The company sued Nominet in a London court in October, seeking an injunction to force the registry to take down 12 domain names that at the…
Web.com: Weblock Program Will Be Opt-in, Not Opt-out
– 22-Jan-14
Company will not charge customers for added security service unless they accept it. Web.com, parent company of Network Solutions and Register.com, came under fire yesterday after informing some customers they would automatically be opted-in to a security program that costs $1,850. An email sent to 49 customers informed them that their accounts would have added…
Harvard Business School Study: Display Ads Drive Search Clicks After Two Weeks
– 22-Jan-14
Greg Sterling wrote an article on Search Engine Land today that related to a study showing display ads drive search clicks with a delayed effect. The study was conducted by Harvard and Ozyegin University researchers. Ozyegin is located in Turkey…
Quartz: "The Biggest Land Rush in The History of The Internet Starts On February 4″
– 22-Jan-14
Leo Mirani and David Yanofsky wrote a very thorough piece for Quartz on the new gtlds. The article did a nice job in the set up and background of the program, then they took a look at the existing tlds and their reach on the Internet…
Confirmed: There Will Not Be a .co/GoDaddy Super Bowl Commercial This Year
– 22-Jan-14
Godaddy.com released one its commercials that it will be airing during the Super Bowl today. I confirmed with Godaddy that there will not be a .Co domain name registry co-branded commercial running on this year's Super Bowl…
UDRP Panel Refuses to Give Expired Domain to Previous Owner
– 22-Jan-14
Domain owner that offered to sell domain name to respondent let it expire. A UDRP panel has refused to transfer the domain name iSound.com back to a previous owner who let the domain name expire. Jeremy Same filed the case against Richard Weston / dreamGEAR, LLC for the domain name iSound.com. Same's company owned the…
GoDaddy Posts Its First 2014 Super Bowl Commercial
– 22-Jan-14
No naked women. Just men this time. GoDaddy has published one of its Super Bowl Commercials that will air during the big game February 2. As promised, it's a distinct departure from previous years in which the company featured scantily clad women. This time it is scantily clad men, although Danica Patrick still plays a…
Donuts Has Bad Luck of The Draw, Loses .ski As Well
– 22-Jan-14
Panelist from .sports decisions also rules against Donuts for .ski. Earlier today I wrote about how Donuts lost a community objection brought against its .sports top level domain name application. It also lost an objection brought against .ski. This was a case of bad luck-of-the-draw: it got the same panelist on this case, Jonathan Taylor,…
Go Daddy Turns to Man Boobs for 2014 Super Bowl Ad
– 22-Jan-14
For some reason people like watching Go Daddy's Super Bowl commercials. Here's its 2014 commercial, which the company posted to YouTube today. Rather than attempting to grab the viewer's attention with fleeting glimpses of female décolletage, which has become the tradition over the 10 years Go Daddy has been running these expensive annual ads, this…
TKO: There Will Be No .sports Top Level Domain in The First Round
– 22-Jan-14
Objection panel rules that the the sport community would face material detriment for a .sports domain name. Well, at least this decision is consistent. Except it isn't. An International Chamber of Commerce panelist has upheld SportAccord's community objection against Donuts' application to run the .sports top level domain name. While this decision (pdf) is consistent…
TeamWork.com Sold for $675,000 to Company With $12 Million in Sales
– 22-Jan-14
According to Siliconrepublic.com, an Irish software company located in Cork, TeamworkPM just bought the domain name Teamwork.com for $675,000. According to domaintools.com is appears the domain name was actually sold last year by domain investor Alexander Lerman to the software company…
Company Wins UDRP On Domain It Let Drop After Domain Holder Says He Bought It for $21k
– 22-Jan-14
We just wrote about a guy who bought a domain name for $31,000, let it drop and lost a UDRP to regain control. This time Intrac Group AB of Stockholm, just won the rights to the domain name intrac.com, from intrac.biz, who said they paid $21,500 for the domain…
DotConnectAfrica Files for ICANN Independent Review
– 22-Jan-14
Failed .africa gTLD applicant DotConnectAfrica has filed an Independent Review Process appeal against ICANN, it emerged today. The nature of the complaint is not entirely clear, but in a press release DCA said it's related to "ICANN Board decisions and actions taken with regard to DCA Trust's application for the .africa new gTLD". It's only…
Guy Buys iSound.com for $31k Asks $4m; Lets Its Drop & Loses UDRP, to Get It Back
– 22-Jan-14
In one of the more interesting UDRP cases I've not because of the law or the decision but because of the fact pattern. Jeremy Same (The Complainant) just lost his bid to get iSound.com back, a domain he bought in 2012 for $31,000 and let drop, to the company that he tried to sell the domain name to for $4 Million dollars…
Did Expedia Get Caught Trying to Buy Its Way to The Top of Google ?
– 21-Jan-14
Search Engine Land wrote a piece yesterday on the travel website Expedia losing 25 % of their search visibility in Google. The possible reason is for unnatural links…
Big Company's Website Suspended Thanks to 2013 RAA
– 21-Jan-14
Sports site suspended because someone didn't click on a confirmation email. It's not exactly Amazon.com, but a website belonging to a large company has been suspended thanks to a whois verification snafu. Fixtures365.com, a sports betting site, has been suspended because the owner did not respond to a verification email. As of January 1, domain…
Booking.com Which Applied for .booking Rolls Out Campaign Using Booking.yeah
– 21-Jan-14
Booking.com which applied for the new gTLD .Booking announced today a new advertising campaign wrapped around Booking.Yeah. Its the "first-ever brand campaign" for Booking.com…
Namesilo.com Becomes 2nd Domain Registrar to Accept Bitcoin
– 21-Jan-14
A second domain name registrar, NameSilo.com announced that it was offering Bitcoin as a new method of payment on its website. NameCheap.com became the 1st domain name registrar to offer BitCoin back in March of 2013…
Matt Cutts On Guest Blogging, You Should Probably Stop
– 20-Jan-14
Guest Blogging Is Pretty Much Done. Matt Cutts, head of web spam at Google made a post today on his personal blog concerning guest blogging. Matt basically said that if you are guest blogging for links, just stop it…
What WordPress Founder Matt Mullenweg Said About Domain Names at Namescon
– 20-Jan-14
WordPress enforces its brand in domain names and doesn't plan to use any new top level domain names. One of the nice surprises at NamesCon last week was a last-minute appearance by Matt Mullenweg. Mullenweg created WordPress and is CEO of Automattic, which runs the hosted WordPress.com platform. Unfortunately, since it was last minute, I…
Pool.com Gets Contract for .wien and .tirol Auction Services
– 20-Jan-14
Pool.com scores sunrise and landrush business for two domains, but this aspect of TLD launches isn't as important as before. Pool.com announced today that it will handle auction resolution for the sunrise and landrush phases for Austrian TLDs .wien and .tirol (its capital city and a province, respectively). I won't write about every company's win…
Candy Crush Maker Now Looks to Crush The Competition With Trademark
– 20-Jan-14
King.com the company behind the popular Candy Crush Saga was awarded a registered trademark for the word Candy as it relates to video games and clothing…
Trademark Owner Loses Bid to Grab 11 Year Old Domain With 1 Year Old Trademark
– 20-Jan-14
Andtech Corporation just lost its attempt to grab the domain name andtech.com from the domain owner Portmedia Domains/Portmedia Holdings Ltd which was represented by Ari Goldberger of Esqwire.com…
UDRP Panel Oversteps Its Authority & Transfers 17 Year Old Murko.com
– 20-Jan-14
UDRP's were to settle clear cut disputes for trademark holders where a matching domain name or one which was confusing similar. I think this panel has gone way beyond a set of facts that qualifies for simple in awarding a domain name murko.com registered some 17 years ago back in 1997 to a complainant on common law trademark rights grounds…
Panel: .kosher Top Level Domain Application is Kosher
– 20-Jan-14
Application for .kosher top level domain name can proceed after surviving objection. An International Chamber of Commerce panelist has ruled that a community objection against .kosher has failed. The case was really an issue of competitive advantage, as the objector is in competition with the domain applicant in the business of certifying that products are…
Famous Four Open Its First New gTLD .bid & You Can Bid to Own The Domain
– 20-Jan-14
FFM today announced a "reservation program" .Bid called Bid on .Bid. The .BID Reservation program is split into two phases: Bid-on-.BID and First-Come-First-Served (FCFS)…
Bing: Domains Just Not That Relevant to Seo
– 20-Jan-14
Anyone who thinks that having a exact-match keyword domain automatically promotes their web site to the top of search results is in for a rude awakening, according to a top guy at Bing. In a blog post, Bing senior product manager Duane Forrester tried to debunk the "myth… That merely having a popular keyword in…
Namecheap: a Top Ten Registrar?
– 20-Jan-14
eNom reseller NameCheap is actually in the top 10 largest registrars in terms of domains under management, judging by data in regulatory documents filed by eNom parent Rightside. According to a Rightside SEC filing related to its spin-off from Demand Media, NameCheap accounted for 23% of the company's total domains under management as of September…
ICANN BC Committee Tells ICANN Not to Allow Singular & Plurals Strings (Again)
– 19-Jan-14
Elisa Cooper the Chair of the ICANN Business Constituency has told ICANN (again) not to allow singular and plural's strings of the same word. The letter dated December 30, 2013 was just published yesterday on ICANN' site yesterday…
Donuts Comments On ICANN Last Resort Auction Rules
– 19-Jan-14
Donuts filed a comment with ICANN over the ICANN Last Resort Auction Rules which were up for public comment. Unlike Google which thinks the one year period in which is would take ICANN to hold all Last Resort Auctions is too slow, and Unregistry which think the period is too quick, Donuts thinks the timing is just about right although wants applicants who agree to have a second extension period of 3 months to resolve contention privately…
New gTLDs Top 100 As First Dot-brands Hit The Root
– 18-Jan-14
There are now 106 new gTLDs live on the internet, following the latest batch of delegations. Fifteen strings were entered into the DNS root today, including the first two dot-brands, which are Monash University's .monash and CITIC Group's .中信 (".citic" in Chinese). .CLUB Domains, Luxury Partners and Plan Bee became freshly-minted registries with the delegations…
Google Removed 350 Million Bad Ads in 2013
– 17-Jan-14
Google is out with their bad ads advertising report for 2013. On their blog they reported: Stopping more bad ads from fewer bad sources. We removed more than 350 million bad ads from our systems in 2013…
Search Marketers Playing a Virtual Game of Ping Pong
– 17-Jan-14
MediaPost took at look at how cost per click rates seem to be bouncing up and down. Depending on which search engine clients advertised on, resulted in very different pricing and pricing trends…
Yogaglo Gets Defensive With Domains After Patent Backlash
– 17-Jan-14
Online yoga instruction service snaps up domain names to protect itself during patent backlash. YogaGlo, which provides yoga classes via the web, has faced quite the backlash since it received a patent for its way of recording a yoga class and delivering it over the web. The company penned a response to the backlash last…
.health Applicants Survive Community Objections
– 17-Jan-14
.Health applications move forward after lengthy objection process. The objection process against .health top level domain names is over. Both DotHealth, LLC and Donuts have survived community objections filed against their applications. They previously survived limited public interest objections. The community objections were filed by the ICANN At Large Advisory Committee (ALAC). Panelist Jan Paulsson…
Donuts Loses .insurance But Can Keep .insure
– 17-Jan-14
New top level domain mega-applicant Donuts is no longer in the running for the .insurance top level domain name as a result of a community objection decision. But it has survived an objection against its .insure application, for which it is not in a contention set. Panelist Mr. Juan Fernández-Armesto ruled in Donuts favor on…
If you enjoyed this article, subscribe for updates (it's free)