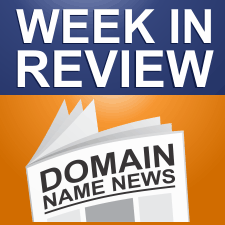 Every Friday, DomainSherpa.com provides you with a hand-curated, no-B.S., important domain name industry news.
In this summary, you will also find the latest tutorials and videos produced by DomainSherpa staff and contributors.
---
This Week's Featured DomainSherpa Show
---
VIDEO: 7 Steps to Protect Your Trademarks from Domain Name Cybersquatters

Waiting to defend your trademarks can be costly. Hoping that the whole issue will go away is not a realistic strategy. The rules for intellectual property protection have changed.

There are proactive steps you can take now to prevent cybersquatting. Understanding the seven steps discussed in this interview should be your top priority if your company owns a trademark.
---
In Addition, Don't Miss…
---
---
This Week's News in Review
---
Verisign Q3 2014 Report: 284 Million Domain Names With 6.8% Growth, 130 Million .com & .net
– 22-Jan-15
VeriSign, Inc. today announced 4 million domain names were added to the Internet in the third quarter of 2014, bringing the total number of registered domain names to 284 million worldwide across all top-level domains (TLDs) as of Sept. 30,…
Trademark Clearinghouse Releases New Numbers: 34,400 Trademarks Registered
– 22-Jan-15
The Trademark Clearinghouse release some new numbers today. There are now 34,400 trademark submitted to the trademark clearinghouse. Just over 50% were submitted for more than one year for a total of almost 86,000 trademark years. Over 128,000 claim notice have been sent out to trademark holders notifying them of a registered new gTLD covered…
Trademark Clearinghouse Bundles Porn Domains With Service at Discount
– 22-Jan-15
Deal with ICM Registry cuts pricing if you sign up for TMCH and protect a brand in adult domain names. The Trademark Clearinghouse (TMCH) will cut you a deal on its services, if you take a little T&A with it. On a webinar about the new ICM Registry domains .Adult and .Porn today, ICM General…
.Gay is Gay Enough After All? ICANN Overturns Community Panel Decision
– 22-Jan-15
One of the applicants for .gay has won a significant battle in the fight for the controversial new gTLD. In a shock move, a committee of ICANN's board of directors has overturned the rejection of dotgay LLC's Community Priority Evaluation, ordering that the case should be re-examined by a new panel of experts. As you…
.XXX Registry Releases Domain Check for Brand Owners
– 22-Jan-15
Tool checks brand across more than just ICM Registry's top level domain names. ICM Registry, the company behind .xxx and the forthcoming .porn and .adult domain names, has released an online tool for companies to check their brands across hundreds of new top level domain names. Domain Check, of course, provides status information related to…
Forbes: Why, Even After a Year, There's Still No Land Grab for New Internet Domains
– 22-Jan-15
And it's pretty much turned out the way I thought. The additional virtual territory does not seem to have been a tremendous bonanza — at least so far. Here's how things unfolded.
Do We Need New Domain Names for Real Estate?
– 22-Jan-15
Many domain names used in real estate are still available in .com. There are lots of new top level domain names coming out (or already released) for real estate purposes: .Realtor, .realty, .realestate, .casa, .immobilien, .immo and probably a few others I've missed. This week Rightside released .forsale, a domain it is pitching for real…
Domain Hijacking Bug Found in Go Daddy
– 22-Jan-15
Go Daddy has rushed out a fix to a security bug in its web site that could have allowed attackers to steal valuable domain names. Security engineer Dylan Saccomanni found several "cross site request forgery" holes January 17, which he said could be used to "edit nameservers, change auto-renew settings and edit the zone file…
Investment Firm RVK Engaged in Reverse Domain Name Hijacking On RVK.com
– 21-Jan-15
Company changed its brand last year, filed UDRP to get matching three letter domain name. A World Intellectual Property Organization panel has found investment advisory firm RVK (formerly R.V. Kuhns & Associates, Inc.) guilty of engaging in reverse domain name hijacking over the domain name RVK.com. The company, aided by law firm Tonkon Torp LLP,…
Escrow.com Releases Express Cart
– 21-Jan-15
Last week, during NamesCon, Escrow.com released "Express Cart" that allows anyone to provide Escrow services directly from their website. Do you need to provide Escrow services on your site? This applies to anyone that has a domain name portfolio website…
The Wild Story About How The Domain Name CM.com Was Just Registered
– 21-Jan-15
Verisign just allowed the reserved domain name CM.com to be registered. Here's why. In 2013, the longtime registrant of CM.com lost his domain name. The domain name had been registered to Satoshi Shimoshita since 2004. Yet the domain name was deleted following a period in which the nameservers for the domain name pointed to NS1.SPAMSHUTDOWN.COM…
Panel Decides to Terminate UDRP On Telepathy's SDT.com, Fed Case Pending, 1 Vote RDNH
– 20-Jan-15
2 of a 3 member UDRP panel decided to terminate a UDRP filed by SDT International limited company of Belgium (SDT) on the three letter .com, SDT.com from Nat Cohen's Telepathy, Inc. who was represented by Wiley Rein LLP. The three member panel spit in its decision with 2 members voting to terminate the the…
NCC Buys Open Registry for Up to $22.6MM, Now Owns Part of The TMCH
– 20-Jan-15
NCC Group has acquired registry back-end provider Open Registry in a deal that could be worth as much as £14.9 million ($22.6 million). The deal means that NCC, which runs the new gTLD .trust via subsidiary Artemis Internet, now owns a back-end, a registrar and a piece of the Trademark Clearinghouse, in addition to its…
MomAndMe.com Spared in UDRP, Should Have Been RDNH?
– 20-Jan-15
Indian company should not have brought case. A single member World Intellectual Property Organization panel has ruled against Mahindra & Mahindra Limited of India in its UDRP against the owner of MomAndMe.com. Even though the domain name owner didn't respond, this case should have been a candidate for reverse domain name hijacking. The complainant claims…
Architelos Gets Patent for NameSentry
– 20-Jan-15
Certain aspects of abuse monitoring and management solution for top level domain names is now patented in the United States. The U.S. Patent and Trademark office granted U.S. patent number 8,938,801 (pdf) to Architelos today for "Managing domain name abuse". The patent is related to the new TLD services company's NameSentry product for monitoring domain…
"The Donald" Goes After The Domain Trumpcard.com in a UDRP
– 20-Jan-15
Domain Trump has filed a UDRP on the domain name Trumpcard.com. The domain name TrumpCard.com was first registered in 1998. While the Donald owns some casinos or at least has his name on them, the term Trump Card has a meaning well before the time there was a Donald Trump and well before he ever…
ICANN Audit Claims Two More Registrar Scalps
– 20-Jan-15
Two tiny registrars — WebZero and Black Ice Domains — have had their registrar accreditations terminated for a failure to respond to a routine ICANN audit. Israel-based Black Ice had just a couple thousands gTLD domains under management; US-based WebZero had fewer than 100. Both registrars stood accused of not providing documents to ICANN in…
Fiesta.com Hit With a UDRP
– 20-Jan-15
The extremely generic domain name Fiesta.com has been hit with a UDRP filing. The complainant is Dean & Simmons, Sàrl Heintz Van Landewyck S.à.r.l. which as the best as I can tell has a pending but not yet registered trademark on the term and is actually facing abandonment by April…
If you enjoyed this article, subscribe for updates (it's free)