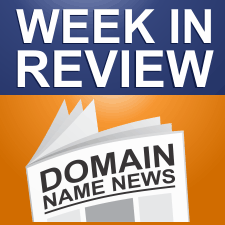 Every Friday, DomainSherpa.com provides you with a hand-selected, editorially-based review of the weekly news. In this summary, you will find the latest articles and videos produced by DomainSherpa staff and contributors. You will also find links to the best news articles in the domain name industry – so you don't have to spend your time searching for news or reading something that was not worth your time.
---
This Week's DomainSherpa Interview
---
VIDEO: Magic Castle, Galactic Spaceship and Webfest Global – With Aaron Kvitek

WebFest Global, the newly rebranded DomainFest, is coming to Santa Monica, California, in February 2013. It will have educational presentations ranging from SEO and mobile websites to affiliate marketing and new gTLDs.

In the domaining world, as for most industries, professional networks matter. So making contacts and building relationships at educational events is just as important as the technical learning. That is why WebFest will be hosting three parties: at a local promenade, under the wing of the Space Shuttle Endeavour, and at the Magic Castle nightclub. Three parties you do not want to miss.
---
This Week's News in Review
---
Senator's Domain Name Held Up By Gun Enthusiast – 17-Jan-13
Veteran California Democratic Senator Dianne Feinstein has been a staunch activist against assault weapons throughout her tenure on Capitol Hill, but a domain…
Buy.com To Change Its Name to Rakuten.com – 17-Jan-13
In May 2010 a Japanese company Rakuten bought Buy.com for $250 million. Now that company is going to rebrand Buy.com as Rakuten.com Shopping. If you go to Buy.com today you will see the name Rakuten right above Buy.com
Sign.com Owner Threatens Signs.com – 16-Jan-13
Company sends cease & desist letter, claiming Signs.com violates Sign.com service mark.
Pool's Domains Will be Transfered to NamesBeyond – 16-Jan-13
Pool announced on the 20th of December that it is shutting down many of it's registrars effective January 10, 2013. Pool's move to shut down registrars left thousands of domains in limbo.
The First True Laches UDRP Decision – 16-Jan-13
National Arbitration Forum panel finds case should be barred based on laches. The doctrine of laches bars bringing a claim after an unreasonable delay in a way that unduly hurts the opposing party.
Rick Santorum Lets His Political Future (Of Domain Names) Expire – 15-Jan-13
Santorum lets a number of domain names expire. Is one time presidential hopeful Rick Santorum …
.CO Registry Announces Global Launch of Scandinavian Internationalized … – 15-Jan-13
.CO Internet, the company behind one of the most successful global domain extensions in history today announced the global launch of Scandinavian Inte
Verisign gets another patent for ccTLD registration – 15-Jan-13
Verisign has been granted U.S. patent number 8,356,081 for "Automated Domain Name Registration". This patent, applied for in 2005, is a divisional patent of 7,000,028, which was filed back in 2000.
Frito-lay Forwards Doritos.com to Its Facebook Page – 15-Jan-13
Is forwarding your brand's .com domain to Facebook a good idea? A reader just notified me that …
Verisign Gets Another Patent for ccTLD Registration – 15-Jan-13
Patent covers bulk checking and registration of country code top level domains. Verisign has …
Tracy Morgan Goes After TracyMorgan.com Domain Name – 14-Jan-13
Comedian Tracy Morgan wants control of his domain name. Comedian and 30 Rock star Tracy Morgan…
Chinese Registrar 66.cn Becomes a SedoMLS Partner – 14-Jan-13
Sedo today announced a new partnership with Chinese registrar 66.cn. Customers at 66.cn's website will now be able to purchase domains from Sedo's inventory of over 16 million names by clicking on a 'for sale' listing and completing their purchase at the Sedo.com website.
Forbes: Get a Domain Name Without Bankrupting Your Startup – 14-Jan-13
I'm sure you have all been frustrated at least once by not being able to get the Internet domain name you want for your company. Who owns all of these names, and should you ever buy one for a premium? The simple answer is that if you want…
Vanuatu's Domain Name Under Discussion – 14-Jan-13
Vanuatu has started public discussions on the fate of its country code Top Level Domain name (ccTLD) as its telecom regulator bids to take control over this national resource.
The dot vu (.vu) has been in the custody of Television Vanuatu Ltd (TVL) as a legacy of internet development in the island nation.
Cira Launches French-language Domain Names – 14-Jan-13
The organization that manages .CA domains is now allowing Canadians to register .CA Internet addresses correctly in both official languages.
15 New Batman Arkham Domain Names Have Been Registered in One Go – 13-Jan-13
Could the mystery registrant be Warner Bros.?
Gun Parts Store Registers Sen. Feinstein's Domain Name, Uses It to Promote Gun… – 11-Jan-13
Ares Armor now runs senatorfeinstein.com, uses it as platform for pro-gun advocates…
UNITAID Wins Rights To Internet Domain Names – 10-Jan-13
Unitaid, the drug purchasing facility affiliated with the UN World Health Organization, has won the rights to a series of internet domain names using its name, including unitaid.org. A World Intellectual Property Organization dispute panel found the names had been registered by a private party with the apparent intent of demanding a significant payment from the well-funded Unitaid.

If you enjoyed this article, subscribe for updates (it's free)