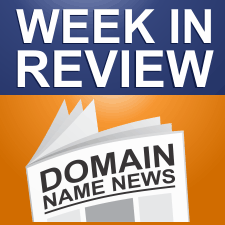 Every Friday, DomainSherpa.com provides you with a hand-selected, editorially-based review of the weekly news. In this summary, you will find the latest articles and videos produced by DomainSherpa staff and contributors. You will also find links to the best news articles in the domain name industry – so you don't have to spend your time searching for news or reading something that was not worth your time.
---
This Week's DomainSherpa Interview
---
VIDEO: Rapid Prototyping to Test Your Business Idea for Free on Facebook – With Raj Beri

We all have domain names that are begging to be developed. Or an idea that we would love to test and see if potential customers like it enough that we can build a profitable business.

But what if we don't want to design the user experience, hire a developer, build a website, sign up for hosting, or spend any money launching? Can it be done?

It can. And Raj Beri has returned to the show to tell us exactly how to do it. Listen in as Beri describes how to rapidly prototype and test a business idea, including with what industries or with what products or services, and how successful it can be.
---
This Week's News in Review
---
HKIRC Launches .hk Lock Better Protection for .hk Websites As The Internet Becomes Less Secure – 16-Jan-14
The Hong Kong Internet Registration Corporation Limited, rolled out a new product for registrants of .hk domains (Hong Kong). It looks like the pricing for the service will be HK$2,000 a year or approximately $258 per domain…
Google Registry Tells ICANN They Should Finish Off Last Resort Auctions in Six Months – 16-Jan-14
Google Registry in its comment filed on the ICANN Last Resort says ICANN plan to conduct all of the Last Resort Auctions within one year is too long. Google wants the ICANN Last Resort Auctions to be all held within 6 months…
Verisign: .com Registrations Blow Past 112 Million Mark for The 1st Time – 16-Jan-14
Verisign is reporting that the number of .Com domain names in the active zone file exceeded the 112,000,000 Mark for the first time. The number of .com domain name registrations in the active zone crossed the 112 Million number today January 16th, 2014…
Google Unveils Publisher Plugin for Publishers to Monetize With Adsense – 15-Jan-14
The Next Web reported that Google has come out with a WordPress plugin
Here's what Google says you can do with the plugin…
Nominet Bans Rape Domains – 15-Jan-14
Nominet has banned "rape" domains from the .uk space, following an independent review spurred by a newspaper article. The company announced today that it is to adopt the recommendations of Lord Macdonald (pdf), who said domains that "signal or encourage serious sexual offences" should be deleted. The policy applies retroactively and at least a dozen…
GoDaddy Announces New CIO – 15-Jan-14
GoDaddy, the Web's largest platform for small businesses, has hired technology industry veteran Arne Josefsberg as its new Executive Vice President, Chief Infrastructure Officer…
Uniregistry Wants ICANN to Slow Down The Last Resort Auction Schedule – 14-Jan-14
Uniregistry, Corp. ("Uniregistry"), an applicant for 52 top-level domains has gone against many other new gTLD applicants in asking ICANN to slow down the new gTLD Last Resort Auction Schedule…
Details On .uno, .luxury, .xyz, .rest, .ski, and More New TLDs – 14-Jan-14
This is a live blog from the "Meet the New TLDs" panel today at NamesCon in Las Vegas. Participants included: Shaul Jolles CEO, DotLatin .uno Aaron Grego CEO, Punto 2012 .rest, .bar, .cafe Rob Rozicki VP & Co-Founder, Starting Dot .ski, .bio, others Daniel Negari CEO, .xyz, .college Monica Kirchner CEO, Dotluxury .luxury Kirchner (.luxury)…
Net Neutrality Ruled Unenforceable – 14-Jan-14
]In a landmark ruling Tuesday, a federal appeals court has struck down key parts of the Federal Communications Commission's open-Internet rules, effectively ruling that the federal government cannot enforce net neutrality. Put more simply, it can't require that Internet service providers treat all traffic equally…
Logicboxes Releases Registry Wallet for Registrars – 14-Jan-14
Service aims to make it easier for registrars to manage prepaid balances with registries. Logic Boxes has released a new service called Registry Wallet to help domain name registrars maintain adequate balances with domain name registries. If you're not familiar with registrar-registry relations, you might be surprised to learn that registrars have to pre-pay for…
Eight More New gTLDs Delegated – 14-Jan-14
Donuts and United TLD had a combined total of eight new gTLDs added to the DNS root zone today. Donuts subsidiaries saw .zone, .agency, .cheap and .marketing go live, while United TLD (Demand Media/Rightside) got .dance, .democrat, .moda (Spanish for "fashion/style") and .social. The nic.[tld] domains all appear to be resolving, albeit to the registries'…
TLDH Opens Up List of 70,000 Premium Names for All New gTLDs – 13-Jan-14
Top Level Domain Holdings has ramped up its new gTLD pre-registration effort with a new database service that enables registries to automatically collate and price their premium names. The new OpenDB.co service builds on the Online Priority Enhanced Names system we reported on during the ICANN meeting in Buenos Aires a couple months ago. TLDH…
TLDH to Invest in Rival New gTLD Names – 13-Jan-14
Top Level Domain Holdings is to launch a new company, backed with a $2 million starting pot, devoted to investing in second-level names in rival registries' new gTLDs. TLDH chairman Fred Krueger told us today that the new company, which will be found at SecondLevel.co, will start buying up attractive names as soon as new…
In The Face of Confusion, People Will Default to Something They Trust and Understand – 13-Jan-14
George Pongas is the general manager for Aus Registry, AusRegistry is the current registry operator and wholesale provider for all commercial .au (Australia) domain names including .com.au and .net.au, and non commercial domain names .gov.au and edu.au…
Go Daddy CEO Calls Current Domain Space Polluted and Not Descriptive – 13-Jan-14
Blake Irving CEO of Go Daddy sat down at the Consumer Electronics Show and gave a talk about the changes taking place in the domain space. Irving calls the current space polluted and talks about the new names being descriptive. He talks about pizza, doctor, dentist and then says LA, of course LA has been available and is a cctld. This inclusion is why some think that the repurposed country codes may get an extra boost as people just include them when talking about the new gtlds…
Heritage Auctions and Rightofthedot.com Partner On Live Auctions of New gTLD Domains & Contention Auctions – 13-Jan-14
Heritage Auctions and RightOfTheDot, LLC announced today an exclusive joint partnership to provide live and online auction services for premium domains in new gTLD extensions that are being launched over the next several years…
Demand Media Files With SEC to Spin Off Domain Registries and Registrars Into Rightside – 13-Jan-14
Demand Media, Inc. (DMD), a leading media and domain name services company, today announced that its newly formed wholly owned subsidiary, Rightside Group, Ltd. ("Rightside"), has filed a Form 10 registration statement with the Securities and Exchange Commission in connection with the planned spin-off of Rightside as an independent publicly traded company…
GoDaddy Signs Registry-registrar Agreement With .Club – 10-Jan-14
The largest Internet registrar in the world has signed on to sell "yourname.club" Web addresses to retailers, loyalty groups, organizations, and clubs of all sizes. The ".CLUB" extension has consistently ranked among the Top 10 of most popular new extensions…
UDRP Panel Hands Over KnowhowInsurance.com to TM Holder of Knowhow – 10-Jan-14
A one member UDRP panel just handed over the domain name KnowHowInsurance.com, to the trademark holder of "Know How"
The Complainant registered the domain name KnowHow.com on June 22, 1995; knowhow.co.uk January 14, 1997, and knowhowmovies.com on June 27, 2011.
The UK trade mark of KNOWHOW was registered on January 21, 2011, for goods in class 9, 35, 36, 37, 39, 40 and 42, under number UK00002557010…
New TLDs Come Out With a Whimper – 10-Jan-14
Those hoping for a "big bang" of new TLDs are surely disappointed in how the rollout is taking place. I've talked to a number of new top level domain name applicants who believe new TLDs need to come out with a "big bang." A bunch of great domain options backed by big marketing budgets need…
Panelist Awards .Charity to Famous Four Based On PIC – 10-Jan-14
Panelist approves of Famous Four application for .charity while killing Donuts' rival application. A Public Interest Commitment for the .charity top level domain has resulted in Famous Four "winning" the contention set for the domain. The Independent Objector (IO) filed community objections against both Famous Four's and Donuts' applications for .charity, along with Famous Four's…
You Snooze, You Lose New gTLD Sunrise Coming Soon – 10-Jan-14
Trademark attorneys and brand management executives take note: January 21 will see the launch of the first first-come, first-served sunrise period we've seen in a new TLD in a long time. FCFS means that domain names will be allocated to participants immediately, rather than at the end of the sunrise period. For those responsible for…

If you enjoyed this article, subscribe for updates (it's free)