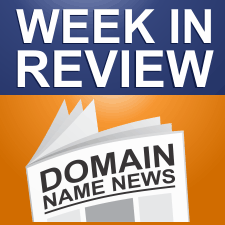 Every Friday, DomainSherpa.com provides you with a hand-selected, editorially-based review of the weekly news. In this summary, you will find the latest articles and videos produced by DomainSherpa staff and contributors. You will also find links to the best news articles in the domain name industry – so you don't have to spend your time searching for news or reading something that was not worth your time.
---
This Week's DomainSherpa Interview
---
VIDEO: .Club: 1 Million Registrations by Year 1, 5 Million by Year 5 – With Colin Campbell and Jeff Sass

.Club is targeting one million registrations by the end of Year 1, and five million registrations by the end of Year 5. And they have the focus, marketing plans and public relations in place to help achieve their goals.

In this interview, .Club CEO Colin Campbell and CMO Jeff Sass discuss the winning auction (in which they beat out Donuts and Merchant Law Group with a bid somewhere less than $5 million), their registry mission, potential customer base, customer adoption, marketing, availabilities phases, valuation of both their domains and .com equivalents (e.g., wine.club versus wineclub.com), and much more.
---
Additional Resources
---
DomainSherpa Review – Jan 9, 2014

In this show:
* 2 reader-submitted domain names are reviewed (one Challenge, one geo-related)
* The DomainSherpa Challenge is taken again
* 25 Names pre-auction at NameJet
* A new "Registered or Available" king is crowned, and much more!

This is the show where we get into the minds of successful domain name investors and talk about the value of specific domain names. By listening to the Sherpas, we expand our thought process so we can become more successful investors ourselves.

We're joined by four Domain Sherpas: Adam Dicker, Michael Berkens, Page Howe and Rick Schwartz.
---
This Week's News in Review
---
Uh Oh: .basketball Community Objection Fails, .sport Prevailed.
– 09-Jan-14
Panelist in .basketball decision uses different interpretation of guidelines to come up with a different conclusion than panelist in .sport. An International Chamber of Commerce panelist has determined that community objections filed against two applications for .basketball have failed. Comparing this decision to a recent one upholding a community objection to .sport, it appears we…
Mediapost: "Google Holds Right Cards for The Horizontal Market"
– 09-Jan-14
Gord Hotchkiss did a piece today about Google and the mobile market. As Hotchkiss sees it Google holds all the cards to take advantage of everything coming down the pike. He notes Google is pushing hard to make Android the default operating system in the Open Automotive Alliance. Google is basically looking to turn cars into really big mobile devices. Laurie Sullivan covered this for MediaPost here…
Direct Nav Company Files Patent Application for Bidding On Domain Parking Traffic
– 09-Jan-14
Santa Monica company wants to patent optimized bidding on zero click domain parking traffic. Adrenalads, a direct navigation company based in Santa Monica, has filed a patent application for analyzing and bidding on zero click traffic. U.S. Patent application number 13/541767 (pdf) for "System and method for acquiring domain visitors on a parking service and…
Another Domain Name Escrow Service Launches: Escrowhill.com
– 09-Jan-14
EscrowHill launches ahead of NamesCon conference. Earlier this week I wrote about Agreed, a new domain name escrow service. Fast forward a couple days, and another domain name escrow service is officially opening its doors. But there's a small caveat. Andee Hill's new escrow company, which was announced back in November, is officially open for…
CentralNic and Co.com Ink Deal
– 09-Jan-14
According to a press release we received today, Co.com LLC and CentralNic (LSE: CNIC) announced an agreement today, under which CentralNic will provide the technical registry services to make co.com domain names available through registrars worldwide…
CentralNic to Manage .co.com's Back-end
– 09-Jan-14
CentralNic is going to run .co.com after all, kinda. The two companies have signed a deal whereby CentralNic will manage the back-end registry for the forthcoming subdomain service, which domain owner Paul Goldstone launched a few months ago. CentralNic, before it became the named back-end for 60 new gTLD applications, was known only for offering…
Go Daddy Fires Back at AMPAS
– 08-Jan-14
Two weeks ago Mike covered the news that The Academy of Motion Picture Arts and Sciences which hands out the Oscars had filed another lawsuit against Godaddy under the Anticybersquatting Consumer Protection Act ("ACPA"). The Hollywood Reporter is out with a story now where Go Daddy claims that the Academy gets special treatment from the judge hearing the case. They go on to say that the judge has a certain affinity for AMPAS because the judge has a daughter who is an actress…
Gold is Not a Clearly Delineated Community, Panel Rules
– 08-Jan-14
Rival applicants fails to eliminate Donuts' .gold top level domain application. An International Chamber of Commerce panelist has ruled that "gold" is not a clearly delineated community, and has thus rejected a community objection filed by World Gold Council against Donuts' application to run .gold. World Gold Council (WGC) is a rival applicant for .gold…
Brazilian Company Guilty of Reverse Domain Name Hijacking
– 08-Jan-14
Dental company went after domain name used by Korean dentist. A three person WIPO panel has found JJGC Industria E Comercio de Materiais Dentarios S.A. of Curitiba, Paraná, Brazil, guilty of reverse domain name hijacking. The company, which specializes in dental implants, filed its case over the domain name NeoDent.com. It uses the domain name…
UDRP Panel Orders Hp.nu to Be Transferred to Hewlett-packard
– 08-Jan-14
HP gets two letter ccTLD in WIPO decision. Hewlett-Packard has won the transfer of the domain name HP.nu in a UDRP decision at World Intellectual Property Organization. .Nu is the ccTLD for the island state of Niue. The operators of .nu use the standard UDRP for handling domain name disputes. The domain name owner tried…
Namescon Will Be Biggest New gTLD Show Yet
– 08-Jan-14
The inaugural NamesCon new gTLDs conference, set to run for three days in Las Vegas next week, has attracted roughly 525 registrations, making it the largest such event to date. Organizers are speculating that the final tally of attendees could pass 600, despite the fact that early bird pricing ended last night and tickets went…
Twitter Co-founder Biz Stone Launches His Newest Project On a .co; Jelly.co
– 07-Jan-14
Biz Stone one of the co-founders of Twitter, just launched his newest project on a .Co domain name: Jelly.co. Jelly.co is an app which was originally launched on jellyhq.com which is now forwarding to the domain name jelly.co…
Luxottica to Acquire Glasses.com Domain and Business
– 07-Jan-14
According to a press release this morning, Luxottica has entered into an agreement to acquire Glasses.com from WellPoint, Inc. Although this isn't a domain name deal because Glasses.com is a full-fledged website and business, the Glasses.com domain name and branding is a great asset for this optical holding company to own. Terms of the deal, including the price, were not disclosed.
Cisco Acquires a Domain in Stealth Mode That Represents an Industry They Say is Worth Trillions
– 07-Jan-14
Mike did a story the other day about IOT.com and it having a price tag of $2.8 million. The Internet of Things has become a very hot topic over the last couple years, Cisco has also been busy branding the Internet of Everything or IOE…
New Escrow Service Agreed.com Launches
– 07-Jan-14
New domain name escrow service offers a good user experience to streamline domain transactions. Thought Convergence has formally launched its new online escrow service, Agreed. Those of you at TRAFFIC in Florida last October will recall that I wore an Agreed t-shirt one day. This was because Ammar Kubba won a charity auction: For a…
Republican National Committee Loses Fight Over .republican
– 07-Jan-14
RNC loses objection against Demand Media's application to run .republican top level domain name. The Republican National Committee (RNC) has lost a community objection it filed against Demand Media's application to run the .republican top level domain name. The RNC, which uses the domain name gop.com, is behind an application for the .gop domain name…
New gTLD Launches: Registrar Coverage at Less Than 40% of The Market
– 07-Jan-14
Registrars representing less than 40% of the gTLD market are ready to offer new gTLDs during their launch phases, according to the latest stats from ICANN. ICANN released yesterday a list (pdf) of the just 21 registrars that have signed the 2013 Registrar Accreditation Agreement and have been certified by IBM to use the Trademark…
gTLD Market Passes 150 Million Names
– 07-Jan-14
There were over 150 million domain names registered in gTLDs at the end of September, according to the latest registry reports. The exact number, across all 18 gTLDs that file registry reports, was 150,173,219 as of September 30. As you might expect, .com accounts for the vast majority — just over 113 million — with…
GoDaddy's Afternic Gets Another Large Chinese Domain Name Registrar On Board
– 07-Jan-14
Afternic adds another registrar in its fastest growing market, China. Domain name sales platform Afternic announced today that Xinnet has joined its fast transfer distribution network for selling domain names. Xinnet is China's second largest domain name registrar behind HiChina. HiChina joined Afternic's network in 2012. Based on sales data I monitor, I believe HiChina…
The Bob & Renee Parsons Foundation – GoDaddy "Matching Challenge" Raises $5mm to Help Injured Service Members Via The Semper Fi Fund
– 07-Jan-14
Campaign Matching Customer Donations Dollar-for-Dollar Exceeds Original Goal Scottsdale, AZ (PRWEB) January 07, 2014 Semper Fi Fund, The Bob & Renee Parsons Foundation and GoDaddy have announced the results of their two-month matching challenge. Thanks to GoDaddy, Bob and Renee…
Domain Name Game.cn Sells for a Record $511,000
– 07-Jan-14
According to nicenic.net,the domain name Game.CN sold for $511,972.38.
.Cn is the ccTLD for China. According to the story, the domain was a previously reserved .CN domain name Game.CN which was in a public auction, which ended in bidding 3.098 million cny," with intensive competition of 686 bids in the last hour"…
Overstock Gets Hit With $6.42 Million Fine From California Court Over Boosted Comparison Pricing
– 07-Jan-14
According to Wired.com, online retailer Overstock.com got hit with a $6.42 million dollar fine levied by a state California court finding that "Overstock's price comparison techniques violate the state's unfair competition and false advertising laws. " When comparing its prices on products "to those listed by competitors, the judge found, the company is overstating the differences and misleading consumers. In short, the judge ruled that the company must better explain its comparisons on the site for all to see, or use rather complicated methods to take into account prices from multiple competitors."…
Afternic Adds China's 2nd Largest Registrar to Fast Transfer Network: Now Has 18 of Top 20
– 07-Jan-14
Afternic.com which is owned by Godaddy, today announced their partnership with Xinnet, the second-largest domain registrar in China and 17th-largest registrar in the world. The agreement brings the world's largest portfolio of fast-transfer domain names to Xinnet customers….
Donuts Picks Young British Firm for Sunrise Disputes
– 06-Jan-14
A newish UK company managed by some old internet policy hands has been appointed by Donuts to handle disputes arising from its Sunrise and Domain Protected Marks List policies. Oxford-based Synetergy, which says it worked with Interconnect Comunications on new gTLD evaluations, is managed by Emily Taylor (formerly of Nominet) and Tony Holmes (formerly of…
ICANN is Hiring for Positions in The United States to Belgium to Singapore to Turkey
– 06-Jan-14
From the United States to Belgium to Singapore to Turkey, if your in need of a Job ICANN is hiring…
Gucci Wins 184 .org Domains in a UDRP & Not One is Worth The Registration Fee
– 06-Jan-14
Brand holders god love them. Gucci just won the rights to 184 .Org domain names in a single UDRP. I can safety say there is not one of these .org domain names that is even worth the registration fee…
Gucci Wins 182 Domain Names in a UDRP
– 06-Jan-14
Gucci wins a lot of domain names in a UDRP decision. Italian design firm Guccio Gucci S.p.A. has won 182 domain names in a UDRP. It's one of the highest number of domain names I've seen transferred in a single UDRP, although there have certainly been larger cases. The case was filed against Brian E…
CNN Covers The Selfie Olympics On Twitter While ICANN Bans Registrations in New gTLD's
– 06-Jan-14
In the domain name space The Olympics have been given the strongest protections including ICANN prohibiting the registration any new gTLD containing the word Olympics in it…
Latest Go Daddy Phishing Attack Unrelated to 2013 RAA
– 06-Jan-14
Fears that the 2013 Registrar Accreditation Agreement would lead to new phishing attacks appear to be unfounded, at least so far. The 2013 RAA, which came into force at most of the big registrars on January 1, requires registrars to verify the registrant's email address or phone number whenever a new name is registered. It…
Washington Post's 2014 in and Out List: .com's are Out, .everythingelse is in
– 05-Jan-14
The Washington Post published its 2014 In and Out list for 2014 a few days ago and one entry hit the domain industry right in the heart. On the In and Out list along with over 60 items, people and products: .Com is out and ".EverythingElse" is in…
.me Announces .me Loyalty Program at NMX in Las Vegas
– 04-Jan-14
Start collecting points to redeem exciting rewards. Podgorica, Montenegro (PRWEB) January 04, 2014 The .ME Registry, operator of the most personal domain extension available, is proud to announce the.ME Loyalty Program, a platform to connect all .ME users into one community…
Donuts Appeals Ridiculous .hospital Objection
– 03-Jan-14
New TLD applicant asks ICANN's board to reconsider objection that killed .hospital. A lot of new top level domain name applicants and objectors have filed reconsideration requests with ICANN after landing on the losing side of objections. I stopped writing about these filings after the first few. They're so plentiful as to no longer constitute…
Vienna is The First City With Its Own TLD
– 03-Jan-14
The world's first city gTLD, .wien, went live on the internet this morning. It's the TLD for what the English-speaking world calls Vienna, the Austrian capital. While its nic.wien starter page doesn't seem to be resolving yet, .wien itself is in the DNS root zone file. punkt.wien, the new registry, said in its application that…
.email and Two Other New gTLDs Go Live
– 02-Jan-14
Three more new gTLDs were delegated this afternoon, including the potentially interesting .email. The other two were TLD Registry's .在线 (Chinese for '.online') and United TLD/Rightside's .immobilien (German for '.realestate'). The reason I think .email could be interesting is that it's very close to ".mail", which has been highlighted in several analyses as a potentially…
Google's and Cleveland Clinic's .med Top Level Domains Rejected
– 02-Jan-14
Panel determines .med would create likelihood of detriment to medical community. Internet powerhouse Google and one of the world's most respected health institutions, The Cleveland Clinic, have both seen their hopes for operating a .med top level domain name dashed by an arbitration panel. Both parties were on the losing end of community objections filed…
SeekingAlpha: "New gTLD's Pose No Threat to Verisign"
– 02-Jan-14
Stock site SeekingAlpha.com just published a blog post entitled New gTLD's Pose No Threat To Verisign. Verisign (VRSN) is the registry for the .com and .net registry. The author of the post is stock analyst Zeus Kerravala, is the founder and principal analyst with ZK Research. Prior to ZK Research, Zeus Kerravala spent 10 years as an analyst at Yankee Group…
GoDaddy Gets Sixth Patent for "Adwords for Top Level Domains"
– 02-Jan-14
Domain registrar continues to collect patents for ways to prioritize domain name search results. The U.S. Patent and Trademark Office has granted a sixth patent to GoDaddy related to a way to position domain names in response to a user's domain search. I first wrote about GoDaddy's idea in 2011 after the USPTO granted the…
Neustar & Web.com Make Forbes "Tech Stocks to Buy in 2014 for Growth & Value Investors"
– 02-Jan-14
Forbes published a short list of "Tech Stocks To Buy In 2014 For Growth & Value Investors" and two companies from the domain space made the list. NeuStar (NSR) operates the .US ccTLD and .Biz TLD, .NYC new gTLD and is also the back end provider for .Co and for hundreds of new gTLD's…
Before Launching Its New Home for Tech, Wall Street Journal Quietly Acquires WSJD.com
– 02-Jan-14
We often call out companies for a acquiring bang on domain name before launching a new product or service, so we have to give some Kudos to Dow Jones & Company, Inc. the publishers of the Wall Street Journal for buying the domain name WSJD.com before launching WSJD on January 1…
Aio Quitely Acquires Aio.com But Bucks The Trend & Uses The Longer Aiowireless.com
– 02-Jan-14
Aio Wireless, a prepaid cell phone company headquartered in Washington DC, has been running television commercial in heavy rotation on several cable channels including CNN…
If you enjoyed this article, subscribe for updates (it's free)