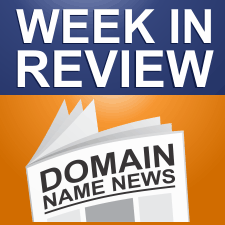 Every Friday, DomainSherpa.com provides you with a hand-selected, editorially-based review of the weekly news. In this summary, you will find the latest articles and videos produced by DomainSherpa staff and contributors. You will also find links to the best news articles in the domain name industry – so you don't have to spend your time searching for news or reading something that was not worth your time.
---
This Week's DomainSherpa Interview
---
VIDEO: Maximizing Domain Name PPC Income – With Howard Hoffman

In the midst of a recession and with domain name parking revenue down, what can you do today to maximize your domain name pay-per-click (PPC) income?

Howard Hoffman, president of PPCIncome.com makes a living focused on maximizing the revenue from his portfolio of 9,000 domain names. Actually, that's only half of his living. The other half is O2Cool Oxygen Water, a company he founded in 1998, which was the catalyst for his domain name career.
---
This Week's News in Review
---
Mike Mann's Domain Asset Holdings Loses The Domain Name Lifetimeassistance.com
– 23-Feb-12
Mike Mann's company, Domain Asset Holdings, LLC of Potomac, Maryland, USA. just lost what we think its a generic domain name Lifetimeassistance.com in a one person UDRP panel decision.
Bank Domain Names Open to Misuse, Fraud, European Regulator Says
– 23-Feb-12
Plans to grant banks the use of new domain names such as .fin and .bank will make it harder for regulators to stop fraud, Europe's top banking authority told the group in charge of the Internet's address system.
Survey Says GoDaddy is Top Domain Registrar
– 22-Feb-12
GoDaddy dominant, especially with larger domain registrars. 1,164 people answered the question "Which domain registrar do you think is best overall" on the 7th annual Domain Name Wire survey.
Google in-house AFD Goes Away – Monetization of TRAFFIC at GOOG more ALIVE than Ever
– 22-Feb-12
Frank Schilling: Google has shut down its in-house Domain channel. AFD direct through Google is gone!~ Before the handwringing outsiders and the misinformed begin to spout inaccuracies like "domain traffic is dead!" or "it's a Facebook and Twitter world so abandon your names you delusional old-timers!", let me take this opportunity to tell you that domain name traffic has never been more important or vibrant – and this business, never more lively.. How can that be you say?
Sir Richard Branson Wins Rights to Richardbranson.xxx
– 22-Feb-12
Sir Richard Branson wins the right to control richardbranson.xxx after an Australian man was ruled to have registered the domain "in bad faith".
.me Begins 2012 With Wildly Successful Auction
– 22-Feb-12
.ME domain names showed strong aftermarket selling power during the TLD's first auction of 2012. Due to high bidder demand, the auction exceeded its projected end time by nearly three hours. More than 93 .ME domain names were sold during the auction, including Hotel.Me, which sold for $25,000, Life.Me at $17,450 and Forex.Me at $16,099 USD. The auction was held in partnership with Sedo, a domain name aftermarket service.
Google Kills Hosted Adsense for Domains On Undeveloped Sites
– 22-Feb-12
Google sent out a message today to publishers using Adsense for Domains. After nearly 4 years of running the program, the company has decided to discontinue their hosted Adsense for Domains on undeveloped domain names. The company is recommending migrating your domain names to a parking company.
Let's Have Fun With Boston Red Sox Domain Names
– 22-Feb-12
A merry prankster had some fun at the expense of the Red Sox recently by buying the domain name JetBluePark.com — the team's new spring training facility in Fort Myers, Fla., is named JetBlue Park — and directing it to the Yankees' homepage.
Domain Name Dispute Ends in Victory for Virgin Boss
– 22-Feb-12
Richardbranson.xxx has been returned to the company.
Two Internet Domain Names Chosen for Wales
– 22-Feb-12
TWO internet domain names have been chosen for Wales; .cym and .wales, the body in charge of the system said yesterday.
NSW and Vic Govts Hunt Domain Names
– 21-Feb-12
The internet is having a firesale, and the NSW and Victorian governments want a piece of the action. Like New York, Paris and London before them, the state governments are trying to secure their own exclusive domain names ".sydney", ".melbourne" and ".victoria".
ICM and Name.com Announce Details of Adult Performer Program
– 21-Feb-12
According to a Press release we just received from ICM Registry, the company behind the new .XXX Top Level Domain, they just announced today "details of the highly anticipated Adult Performer Program, which releases more than 3,500 .XXX domain names th …
Gingrich Website Goes to Article On Reagan Criticism
– 21-Feb-12
The Democrats who bought Newt Gingrich's domain name are at it again, this time directing visitors to NewtGingrich.com to an unflattering article.
Jeremy Lin Domain Name Up for Sale in China
– 20-Feb-12
Even as his star continues to rise, newly-drafted National Basketball Association (NBA) sensation Jeremy Lin may risk falling prey to cyber-squatters.
Domain Guardians Launches Monthly Domain Newsletter, Offers Domain Brokerage
– 20-Feb-12
Since the sale of eSignature.com that Jen Sale and Mike Robertson of Domain Guardians brokered last year, they told DNN that they've had a lot of demand to…
Nations Luxury Transportation, LLC Acquires Privatejet.com
– 20-Feb-12
By the end of 2012, it is expected that PrivateJet.com will be generating over 250,000 unique visitors per month from over 52 countries worldwide and will serve as the destination website for Private Jet Travelers, Pilots, Aviation Brokers and Consumers who prefer to live life without limitations.
Seven ICANN Directors Have New gTLD Conflicts
– 17-Feb-12
Seven members of ICANN's board of directors have self-identified conflicts of interest when it comes to the new generic top-level domains program, according to a report from its last meeting. Chair Steve Crocker, CEO of the consulting firm Shinkuro, appears to be newly conflicted. He was among the directors to excuse themselves before the board discussed a resolution on new gTLDs last week, but he did vote on a new gTLD resolution at its December meeting. Crocker has previously revealed…
Secret Service Shuts Down Then Reinstates Jotform
– 17-Feb-12
The recent JotForm shutdown and reinstatement shows that even without SOPA, law enforcement can take down Websites without notifying owners
Learn From Jack Donaghy: Buy a Domain Before It Goes Porn
– 17-Feb-12
Choosing a domain name can often lead to drastic compromises in name recognition. Only the lucky few who acted quickly, or who have truly unique names, can claim lordship over theirname.com. I pity the John Smiths of the world. Nobody feels the hurt more than Jack Donaghy when, on last night's 30 Rock, he tries to register a domain for his campaign for mayor.
Amazon Buys Prime.xxx Domain Name
– 17-Feb-12
Prime.xxx registered by Amazon.com. Amazon.com has picked up the domain name Prime.xxx, an interesting (likely defensive) domain name registration. The
Los Altos Hills Teacher Filed for Linsanity Trademark
– 16-Feb-12
The Pinewood school physical education teacher, who was head coach at Palo Alto High School 2008-09 also has owned the Linsanity domain name since 2010.
Google Wins 32 Typo-squatter Domain Names
– 16-Feb-12
The US firm secures names such as Gougle.com, Go0gle.com, and goggleemail.com.
Takedowns Run Amok? The Strange Secret Service/Godaddy Assault On Jotform
– 16-Feb-12
When the Secret Service asked GoDaddy to suspend the domain of a major online forms site yesterday, the company agreed—and a significant online business was suddenly damaged without notice and without being charged with a crime. What is going on with the US domain name takedown process?
AFL Applies for New Domain Name
– 16-Feb-12
The Australian Football League (AFL) is looking to establish a bigger presence on the internet and has applied for a new top-level domain name '.afl'.
If you enjoyed this article, subscribe for updates (it's free)