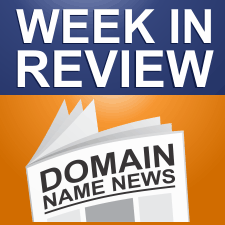 Every Friday, DomainSherpa.com provides you with a hand-selected, editorially-based review of the weekly news. In this summary, you will find the latest articles and videos produced by DomainSherpa staff and contributors. You will also find links to the best news articles in the domain name industry – so you don't have to spend your time searching for news or reading something that was not worth your time.
---
This Week's DomainSherpa Interview
---
VIDEO: Strategy, Marketing and Leadership Lessons for New gTLD Registries and Investors

Many believe the .CO registry is the "poster child" for how a new top-level domain answers all the above questions and is succeeding in the minds of individuals, businesses and entrepreneurs. That makes the top-level domain a better investment than many, if not most, other top-level domains other than .com.

With new gTLDs going live every week for the upcoming couple of years, this interview contains critical information that both new registry operators and investors alike should familiarize themselves with.
---
Google; Linkedin; Amazon; Bmw; Dupont; GoDaddy; Micosoft; Yahoo All Grab .menu Domains in Sunrise
– 20-Feb-14
An interesting mix of companies applied during Sunrise for .menu domains.
While some of the Sunrise domains like nestle.menu; fridays.menu; tgifridays.menu; panerabread.menu; pfchangs.menu; icantbelieveitsnotbutter.menu, joyofcooking.menu; sweettomatoes.menu and kentuckyfriedchicken.menu are bang on for those in the food or restaurant industry, most of the trademarks were by tech companies and other global brands.
Even Mark Monitor and Godaddy registered their respective .menu domains
Google; Linkedin; Amazon; BMW; Dupont; Micosoft; and Yahoo all registered Sunrise .Menu domains for some of the worlds most well known brands including:
adsense.menum…
Best Selling Author & Social Media Expert Gary Vaynerchuk to Keynote DOMAINFest Conference
– 20-Feb-14
DomainSponsor just announced that New York Times and Wall Street Journal best-selling author and social media expert Gary Vaynerchuk will be the opening keynoter at this year's DOMAINFest Hollywood, which will be held from March 31 to April 2, 2014 at the luxurious Loews Hollywood Hotel in Hollywood, California.
As a social media trailblazer, Vaynerchuk began video blogging in 2005 and now has nearly 1 million Twitter followers…
Gucci Wins UDRP On 71 Domains Against The Most Ridiculous Domain Holders of All Time
– 20-Feb-14
Gucci won 71 domain names in a UDRP against the most ridiculous domain holders of all time. The Complainant is Guccio Gucci S.p.A. of Florence, Italy, represented by Studio Barbero, Italy. The Respondent is Organization shimici…
Moniker Has a New CEO: Bonnie Wittenburg
– 20-Feb-14
Bonnie Wittenburg takes over the top spot at domain name registrar Moniker. Domain name registrar Moniker has a new CEO, Bonnie Wittenburg. Wittenburg has been with Moniker's parent company KeyDrive since 2009, where she served as Executive Vice President of Key-Systems USA. She has been in the domain name industry since 1999, including stints at…
SteelBuildings.com: an Example of What's Wrong With UDRP
– 20-Feb-14
Small business owner forced to defend his great product-defining domain name. Last month I was shocked to see a UDRP filed for SteelBuildings.com. I was even more surprised when I saw that the domain name seemed to be in use by a company that sells steel buildings. I reached out to the whois contact for…
New gTLD Registrations Top 125k As .today; .technology; .land; .directory Open Up Strong
– 20-Feb-14
The total number of new gTLD domain name registrations have now passed the 125,000 mark as several new extensions have finished Sunrise and starting to take registrations. .Guru continues to led the pack now topping over 35,000 registration with .Photography topping 18,000 registrations…
PeopleBrowsr Tones It Down in New .CEO Vids
– 20-Feb-14
PeopleBrowsr, registry for the forthcoming .ceo gTLD, has eschewed the cringe in its new promotional videos. No more company employees dancing around in masks to white rap; rather, straightforward animation with a voice-over explaining what .ceo is. As I was so rude about the first (horrible, horrible) .ceo vid I feel duty bound to embed…
Board Confirms: ICANN Seeks Non-US Headquarters
– 19-Feb-14
ICANN's board of directors has given the clearest indication yet that the organization wants to set up an HQ overseas, further loosening ties with the US government. The board has formed six new "President's Globalization Advisory Groups", made up of half a dozen directors each, one of which has been tasked with advising ICANN on…
.wiki Picks Namejet.com for Sunrise and Landrush Auctions
– 19-Feb-14
Top Level Design, LLC, the applicant for the new top level domain .wiki, has selected NameJet, to operate the sunrise and landrush auctions and help with future premium auctions. Sunrise is expected to begin in March, 2014…
.org Adds 206k Registrations; Up 2.6% in 2013; 85% of Registrants Renew for 3 Years or More
– 19-Feb-14
PIR, the not-for-profit operator of the .ORG Top Level domain name extension, today released the results of its bi-annual domain name report, "The Dashboard," detailing the increased growth of .ORG throughout 2013. The report reveals that 206,542 new .ORG domains were registered from January to December 2013, bringing the total number of .ORG domains under registration (DUM) to more than 10,346,000 globally…
The New gTLD .hiv Project Has Pretty Creative Way of Distributing Money to Non-profits
– 19-Feb-14
At the Fairwinds Beyond The Dot conference this morning a presentation by the supporters of the new gTLD .HIV explained that part of the project will "generate funds to support the dedicated all over the world, raise awareness of the topic HIV/AIDS and work against the stigmatization of people living with the virus." The .HIV new gTLD is being described as more than just a domain name, its "A Digital Red Ribbon", the Red Ribbon of the digital age if you will…
.uno Wants to Be The Spanish Equivalent of .com
– 19-Feb-14
At the Fairwinds Beyond The Dot conference this morning Shaul Jolles President and CEO of the the .Uno registry laid out his goal for the .UNO registry. .UNO wants to be the .COM to the spanish speaking market. .UNO will globally connect over 490 million Spanish speaking businesses, consumers and individuals…
Verisign Gets Patent for Recovery of a Failed Registry
– 19-Feb-14
Verisign adds to patent war chest. The U.S. Patent and Trademark Office has granted Verisign patent number 8,656,209 for "Recovery of a Failed Registry". I wrote about the patent application in 2012. Verisign describes the system as one that "enables a registry recovery service to retrieve zone files from a target registry, archive the zone…
CentralNic Inks Agreement With Domain Venture Partners
– 18-Feb-14
CentralNic, the internet platform business which derives revenues from the worldwide sale of internet domain names, has signed an agreement with Domain Venture Partners' new investment fund, DVP II. The company has been selected to be the registry service provider for certain registries acquired by DVP II. This means that CentralNic's platform will be used to enable their domain names to be purchased through domain name retailers ('registrars') worldwide.
.music New Top Level Domain Community Objections Fail
– 18-Feb-14
All community objections against .music and .band have failed. An International Chamber of Commerce panelist has denied Constantine Roussos' community objections against competing applications for .music as well as applications for .band. All of the .music objections have been decided in the applicants' favor. Roussos applied for .music under DotMusic LLC and filed the objections…
Dot Desi Reseller, LLC Selects Logicboxes' Vertical Integration Solutions for The .desi gTLD
– 18-Feb-14
Dot Desi Reseller, LLC selects LogicBoxes' Vertical Integration solutions for the .desi gTLD. LogicBoxes, the Vertical Integration solutions provider for New gTLD Registries today announced that it has been selected by Dot Desi Reseller, LLC (an affiliate of Desi Networks, LLC Registry for .desi gTLD) to manage their wholesale and retail infrastructure and provide marketing assistance…
Sedo 2013 Annual Market Study
– 18-Feb-14
Sedo released their 2013 Annual Market Study, they also included an infographic of the year in review. 4 of the top 10 sales were handled by Sedo brokers. $577 was the median price across all sales. $1,893 was the mean price across all sales…
Insurance.pro Decision Acknowledges Limits On UDRP and Trademarks
– 18-Feb-14
Facing legitimate questions over a trademark's legitimacy, UDRP panel determines case is outside the scope of the policy. A couple weeks ago a National Arbitration Forum panel handed down a decision in a complaint brought over the domain name insurance.pro. On the surface it appeared to just be a case about a seemingly generic domain…
CentralNic Gets Its Foot in The Door As Famous Four Back-end
– 18-Feb-14
New gTLD portfolio applicant Famous Four Media has selected CentralNic to provide back-end registry services, joining existing providers ARI Registry Services and Neustar. CentralNic will be "a preferred provider" of Domain Venture Partners, which is the parent company of Famous Four's 60 new gTLD applicants, according to a joint statement issued by the companies today…
Aeropostale Files Uniform Rapid Suspension Case for .clothing Domain Name
– 18-Feb-14
Clothing company is second company to take advantage of new policy to defend against cybersquatting. Clothing company Aeropostale (NYSE:ARO) has filed a Uniform Rapid Suspension (URS) case against the domain name aeropostale.clothing. This is just the second case filed against a second level domain under a new top level domain using URS. URS is a…
Candy Crush Saga Maker King.com Filing for IPO
– 18-Feb-14
We have written a couple times about King.com and their intellectual property goals of trademarking the words candy and saga. Today the company announced they are looking to do an IPO. The company will look to trade under the symbol KING…
RPG Life loses battle for domain name
– 18-Feb-14
A complaint filed by RPG Life Sciences, a pharma company that is part of the diversified RPG Group, against the owner of the domain name 'rpglife.com' has been denied by an international arbitration panel. Interestingly, the owner has now offered to sell the domain name to RPG Life.
JD.com Might Have Sold For As Much As $5 Million
– 17-Feb-14
George Kirikos reported that, browsing through some SEC filings, the domain JD.com may have sold for as much as $5 Million dollars.
Latest Top Level Domain Related Trademarks: .xyz, Uniregistry, and More
– 17-Feb-14
These companies have filed trademark application for slogans related to top level domain names. Domain name registries are lining up all sorts of catchy slogans for their businesses. Here are some recent applications with the U.S. Patent and Trademark Office. "The Right Domain Name Can Change Your Life" – Frank Schilling's Uniregistry filed an intent-to-use…
NCC Buys .trust New gTLD From Deutsche Post
– 17-Feb-14
NCC Group, owner of .secure applicant Artemis, has bought the rights to .trust from Deutsche Post, which has an uncontested bid for the new gTLD but decided it doesn't want it. The price tag of the deal was not disclosed. NCC, which is also one of the two major data escrow providers supporting new gTLD…
ARI Parent Goes All Surfer Dude With Rebranding
– 16-Feb-14
AusRegistry Group, parent of new gTLD back-end ARI Registry Services, has rebranded itself Bombora Technologies. The change, which comes with a new web site, is said to reflect AusRegistry's corporate evolution and not necessarily a reflection of its growing internationalization. The rebranding does not affect ARI (aka AusRegistry International) or .au ccTLD provider AusRegistry itself,…
Afternic Changes Payment Thresholds, Ends Park & Sell Rebate Program
– 15-Feb-14
Payment thresholds change for sales and parking platforms and rebate program ends. Afternic and domain name parking platform SmartName have changed their payment thresholds and options in the wake of GoDaddy's acquisition. Afternic has also quietly shuttered its Park & Sell rebate program. Payments For Afternic, the minimum domain sales payout for international wires is…
ICANN Heading to Geneva After All?
– 14-Feb-14
ICANN could wind up being based in Geneva as a result of the current post-Snowden internet governance discussions, according to a report in a Swiss newspaper. Le Temps, citing several anonymous ICANN sources, reported today that an HQ move from Los Angeles to Geneva was a "very likely scenario". That's as an alternative to allowing…
M+M Sees 200,000 .london Names in Its Future
– 14-Feb-14
Minds + Machines CEO Antony Van Couvering reckons the company's forthcoming .london new gTLD could see as many as 200,000 domains under management, just from small businesses. He told DI the target is realistic following the results of a YouGov survey of 1,001 London-based small businesses, which found that 26% were "likely" to buy a…
If you enjoyed this article, subscribe for updates (it's free)