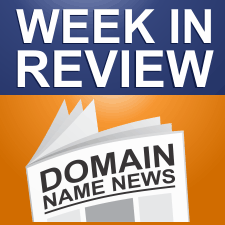 Every Friday, DomainSherpa.com provides you with a hand-curated, no-B.S., important domain name industry news.
In this summary, you will also find the latest tutorials and videos produced by DomainSherpa staff and contributors.
---
This Week's Featured DomainSherpa Show
---
VIDEO: How to Sell Domain Names Like a Super Seller on Flippa – With Ali Zandi

Ali Zandi entered the domain name industry as an investor in mid-2014. He started by purchasing 10 domain names and sold every single one within 30 days on Flippa.

He did such a good job, he moved from selling about $2,000 to $12,000 in a period of three months, was upgraded from "New" to "Super Seller" on Flippa, and was offered a newly created senior broker position at Flippa. (His sales are now $402,000 in the first 7 months.)

In this interview, Ali Zandi talks about who buys what types of domain names on Flippa, and walks us through his exact process for listing domain names for sale on Flippa.
---
This Week's News in Review
---
Highlights From Rightside Q4 Investor Call
– 19-Feb-15
Domain name company Rightside (NASDAQ: NAME) reported results today. Rightside reported fourth quarter and full year financials for 2014 after the bell today. The company had earnings of $1.5M for Q4, and adjusted EBITDA of $0.6M. For the year it turned in a net loss of ($1.9M) and adjusted EBITDA of ($3.1M). I just listened…
European Start Up Accelerator Reveals Latest Startups and a Lot of Them Use The .io Extension
– 19-Feb-15
Tech Crunch did a story on Entrepreneur First which is a European accelerator for start-ups along the lines of the popular Y Combinator. Entrepreneur First is the best place for Europe's top technical individuals to meet and build world-changing startups in London. We select purely on the basis of technical talent, so you can apply…
Rightside Reports 4Q Revenue Up 13.5%: Makes Almost $8 Million On Losing New gTLD Apps
– 19-Feb-15
Rightside reported its earnings for the 4th Quarter today and full year ended December 31, 2014 after the market closed. Domain Name Services Revenue Increases 16% Year-over-Year 4Q Total Revenue Increases 13.5% Year-over-Year Domain name services revenue for the three months ended December 31, 2014 increased 16% to $43.2 million compared to $37.2 million for…
gTLD Food Truck Coming to Austin During SXSW
– 19-Feb-15
Sedo to promote top level domain name choices during SXSW. Sedo is bringing its "gTLD frozen yogurt" marketing idea to Austin next month during the SXSW conference. The company partnered with registries for a similar program during dmexco in Cologne last September. Sedo served frozen yogurt with toppings, and the toppings were all named after…
L'oréal Wins New gTLD .Beauty Beating Donuts & Minds + Machines/Adding to Its Huge Vertical
– 19-Feb-15
L'Oréal has won the new gTLD .Beauty beating Donuts and Minds + Machines. We reported earlier today that L'Oréal also won the rights to operate .Hair L'Oréal was also the sole applicant for .skin and .makeup so L'Oréal has basically cornered the new gTLD market for that vertical. Interestingly the company withdrew its .Brand application…
Rightside Buys .News Domain Name Extension
– 19-Feb-15
Rightside has bought the .NEWS domain name extension, to be released later this year. "The .NEWS extension will offer media outlets, journalists, radio and television personalities, and online news aggregators the opportunity to distinguish themselves with short, relevant, and memorable…
2 More New gTLD's Settled; Amazon Loses .Box; L'oréal Wins .hair
– 19-Feb-15
Two more new gTLD's that were scheduled to go to the ICANN Last Resort Auction next week have been settled by privately. Amazon has withdrawn its application for .Box leaving NS1 Limited of Hong Kong who is run by the same principal of .Asia, Edmon Chung as the winner. It seems .Box see's itself as…
.College to Offer Trademark Holders & Universities Free Registrations
– 18-Feb-15
XYZ.COM LLC, the company behind the .xyz domain extension, announced the global launch of the .College domain extension today offering for the first time free Sunrise registrations for trademark holders and a special early access program for universities in which they can also get their .college domain registered for free. .College also announced a four…
Snapdeal Acquires Exclusively.com
– 18-Feb-15
Exclusively.com Acquired Medianama.com published an article on Exclusively.com getting acquired by SnapDeal, the company was originally Exclusively.in before getting the .com. From the article: Exclusively.in started as a flash sales site but pivoted to a standard e-commerce model offering designer apparel and accessories in 2011. The company used to ship products only to the US and UK catering to…
.Top Domain Apparently Using Spam to Get to The Top
– 18-Feb-15
New TLD registry sends spam to people who have registered other new TLDs. How do you get attention for your new top level domain name in a crowded field? One new top level domain name company has apparently resorted to sending lots of unsolicited email — and likely scraping Whois to do it. .Top is…
Amazon Goes Big On City .Delivery Domain Names
– 18-Feb-15
Company registers major city domain names in new .delivery top level domain name. Amazon.com is obsessed with improving delivery, from its local locker pickup to Sunday delivery to delivery by drone. So perhaps it shouldn't come as a big surprise that the company registered a bunch of city.delivery domain names when they became available earlier…
Renewals at 55% As First New gTLD Junk Drop Begins
– 17-Feb-15
The first new gTLD to go live is seeing its first-year renewals at 55% one year after hitting general availability. dotShabaka Registry's شبكة. (or ".shabaka", the Arabic for ".web") has also seen its zone file shrink by about 27% over the last two weeks. The zone peaked at 2,069 domains on February 1, 2015, but…
How Committed is Google to The New gTLD Program? Applied for 101; Now Lost 29 Out of 34 Auctions
– 17-Feb-15
Google was the 2nd largest applicants of New gTLD's applying for 101 of them and spending $18.6 Million dollars in application fees catching the eye of many publications outside of the domain space Here, Here, and Here Non-domainer publications wrote about how Google would basically get everything they applied for basically because they could afford…
Namebio Upgraded With Key New Comps Feature
– 17-Feb-15
Upgraded domain name sales database makes it easier to find comps when buying and selling domain names. Domain name sales database NameBio.com has been overhauled, and one of the new features should prove useful when searching for sales comps for domain name sales. Adam Strong brought in domainer and developer Michael Sumner to assist with…
Group Forms to Stop New gTLDs Breaking Stuff
– 17-Feb-15
A little over a year into the live phase of the new gTLD program, a group of domain industry companies are getting together to make sure the expansion is supported across the whole internet. A new Universal Acceptance Steering Group has formed, with the support of ICANN and the Domain Name Association, to help fix…
Watch Daniel Negari Discuss New TLDs On NBC Bay Area
– 16-Feb-15
Negari goes on NBC's Press:Here to discuss .xyz and new top level domains. Just over one year ago ICANN's Akram Atallah went on NBC Bay Area's Press:Here show to discuss new top level domain names. The same program interviewed .XYZ founder Daniel Negari in a show published Friday. You can see the interview below. (Daniel…
Google Wins The .Moto New gTLD Beating Rightside.co (Name) for Its Motorola Division
– 16-Feb-15
Google has won the rights to operate the .Moto new gTLD beating United TLD Holdings which is now Rightside.co (NAME) in what we can only assume was a private contention auction. The new domain extension .Moto was scheduled to go to a ICANN Last Resort Auction later this month. Google of course owns Motorola and…
.XYZ Passes .Mobi in Domain Registrations As It Closes in On 800k
– 16-Feb-15
According to ntldstats.com, the new gTLD .XYZ has passed .Mobi in the number of registered domain names. The .Mobi registry which went live on September 26, 2006 according to RegistrarStats.com has 791,396 domains under registration having lost over 1/3 of the registrations it had at its peak in 2014. According to ntldstats.com (which does not…
Delays to Two-letter Domains After Governments Take a Second Bite at The Apple
– 16-Feb-15
New gTLD registries will have to wait a bit longer before they're allowed to start selling two-character domain names, after ICANN's Governmental Advisory Committee controversially issued new guidelines on their release. The registries for hundreds of gTLDs will be affected by the delays, which could last a few months and were put in place by…
.Blog Won in Eight-figure Auction By Primer Nivel
– 16-Feb-15
A Colombian registrar has become the unlikely owner of the coveted .blog new gTLD, beating eight other applicants to the string at auction. Winning bidder Primer Nivel is a Panamanian company affiliated with Bogota-based CCI REG, which runs my.co. The company was the first to reveal its plans to apply for .blog, telling DI back…
Donuts Beats Google, Uniregistry and Afilias to Operate The New Domain Extension .Team
– 15-Feb-15
Donuts has won another private auction beating Uniregistry and Afilias to operate the new gTLD extension .Team. Unlike many other new gTLD's I'm not sure there is much vertical competition to .team, arguably .club or one of the sports verticals like .Baseball or .Football; .Soccer etc As of now there are still 5 new gTLD's…
Radix Wins Rights to New Domain Extension .store Beating Amazon & Google + 4 More
– 15-Feb-15
Radix has won the rights to operate the new gTLD .Store, beating 6 other applicants including Amazon and Google. The other 4 applications for .Store have now withdrawn their application as well, Donuts, Uniregistry, Minds + Machines, and a company out of Delaware thedotstore.com. The new gTLD .Store was set to go to the ICANN…
Minds + Machines Gets .dds, Pockets Millions From .store and .blog
– 13-Feb-15
Company adds to its cash pile as .dds, .store and .blog are settled. New top level domain name company Minds + Machines announced today that it has won the contention set for the .dds domain name, beating Google. DDS is short for "Doctor of Dental Surgery" and is the designation that most U.S. dental schools…
If you enjoyed this article, subscribe for updates (it's free)