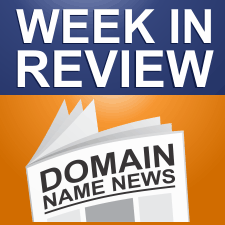 Every Friday, DomainSherpa.com provides you with a hand-selected, editorially-based review of the weekly news. In this summary, you will find the latest articles and videos produced by DomainSherpa staff and contributors. You will also find links to the best news articles in the domain name industry – so you don't have to spend your time searching for news or reading something that was not worth your time.
---
This Week's DomainSherpa Interview
---
VIDEO: How to Become an Expert at Domain Name Outbound Sales – With Joe Uddeme

If the thought of picking up the telephone and making cold calls to potential buyers fills you with dread, join the club. Most people feel that way.

But in today's master-class interview, we learn the ins and outs of outbound sales from a successful domain name broker. Withholding no secrets to his success, Joe Uddeme openly shares the strategies and tactics that have led him to more than 100 closed transactions and $7.5 million in sales volume in 2012.
---
This Week's News in Review
---
Bob Menendez's Domain Names are Not Bob Menendez's – 14-Feb-13
New Jersey Senator Bob Menendez does not control the Internet domain names that represent his own name. The American Future Fund registered RobertMenendez.com on February 12.
Mystery gTLD Applicant to Take Google Fight to Lawmakers – 13-Feb-13
An as-yet unidentified new gTLD applicant plans to lobby Washington DC and Brussels hard to get dozens of Google's new gTLD bids thrown out of ICANN on competition grounds.
American and US Airways Boards Vote to Merge, So Those Domains Will Come in … – 13-Feb-13
Company registered domains related to merger nearly a year ago. Last March I wrote about how a number of domain names related to a combined American Airlines…
ICANN Terminates Three Registrars – 12-Feb-13
Lime Labs, R Lee Chambers Company (DomainsToBeSeen.com) and Central Registrar (Domainmonger.com) have been given 30 days notice that their accreditations are being yanked and that their domains will be transferred to other registrars. About 12,000 domains will be affected, the vast majority of which are managed by Lime Labs.
ICANN Seeks More Power Over New gTLD Registries – 12-Feb-13
ICANN has floated some quite significant amendments that would give it greater powers to approve mergers and acquisitions and more or less unilaterally change registries' contracts in future.
Donuts Replies to Government of Samoa's Early Warning About .WEBSITE – 12-Feb-13
Donuts replied to Government of Samoa's early warning that it will proceed with its application for .WEBSITE. Donuts also said that .WEBSITE—and all gTLDs, speaking generally—will benefit by the adoption of naming alternatives to .COM and other longstanding incumbent gTLDs.
University Of Oklahoma Files Federal Lawsuit Over SoonerNetwork.com – 12-Feb-13
According to newsok.com, the University of Oklahoma has filed a federal lawsuit over the domain name, soonernetwork.com. According to the story, the domain name is owned by Hugh Michael Glenn.
Cincinnati Zoo Gets CincinnatiZoo.com Eleven Years Later – 12-Feb-13
Zoo moved slower than a turtle but will now get CincinnatiZoo.com. It took them a while, but one of the nation's oldest zoos now has its .com domain…
Colbert for Pope? Over 100 "Pope" Domains Registered Yesterday – 11-Feb-13
A retiring pope? Some smell a profit opportunity. After the sudden resignation of Pope Benedict XVI yesterday, I wrote about some of the likely names for the…
Facebook Lags As Domain Names and Twitter Dominate Super Bowl 2013 Ads – 11-Feb-13
Last year one trend in particular caught my attention: the common call to action used by advertisers to drive a response from consumers. My brilliant team of data crunchers found 49% of Super Bowl 2012 ads directed viewers to a corporate website address – above all other social media channels such as Facebook (11%) and Twitter (9%).
Cardinals Flock to Rome As Domainers Flock to Their Keyboards – 11-Feb-13
Want to register the domain of the next pope? You're probably too late. After the shocking news that Pope Benedict is resigning, the rush is on to figure out…
Ron Paul Turns to UN to Get Ownership of Domain Name – 11-Feb-13
Ron Paul has asked a United Nations agency to help him take control of a self-titled domain owned by some of his supporters, infuriating several of his libertarian fans.
Domain Names Rekindle Legacy of Kain and Wolfenstein Rumours – 10-Feb-13
Domain names rekindle Legacy of Kain and Wolfenstein rumours at PC Gamer. PCGamer.com is the official web counterpart to the PC Gamer print magazine. Exclusive reviews, demos, and updates and news on all your favourite PC gaming franchises.
gTLD Strategy Congress Takes Shape With Google, .boston, and More – 10-Feb-13
More speakers announced for new top level domain conference taking place in March. Next month's Digital Marketing & gTLD Strategy Congress is coming together
Stratfor Aims to Take Down Site About Hack (DNW) – 08-Feb-13
Intelligence firm wants to take down site that discusses 2011 hacking incident. Stratfor Enterprises, LLC, an intelligence firm that was famously hacked in…
Tucows Offering Great Domain Names for Sale On Namejet (Elliot's Blog) – 08-Feb-13
I recently noticed that Tucows has listed a number of high quality descriptive domain names for sale on NameJet. Some of these domain names have reserve prices…
ANA Urges ICANN to Improve Rights Protection On Domain Names (B2B Online) – 07-Feb-13
The Association of National Advertisers urged the Internet Corporation for Assigned Names and Numbers to improve protection mechanisms for top-level domains in a letter that supports Limited Preventative Registrations.
Cyber squatter Buys 'Michelin Guides' Domain Name, Sets up 'Michel (Platini) in Guides' Website (ESPN) – 07-Feb-13
A 28-year-old salesman named Adam Mascall from Luton received a very angry letter through the post from the people at Michelin Guides (i.e, the French restaurant bible universally revered in food circles) after he snapped up the "www.michelinguides.com" domain name for just £6 recently.

If you enjoyed this article, subscribe for updates (it's free)