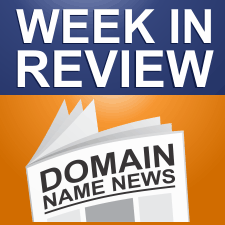 Every Friday, DomainSherpa.com provides you with a hand-selected, editorially-based review of the weekly news. In this summary, you will find the latest articles and videos produced by DomainSherpa staff and contributors. You will also find links to the best news articles in the domain name industry – so you don't have to spend your time searching for news or reading something that was not worth your time.
---
This Week's DomainSherpa Interview
---
VIDEO: NameJet Private Auctions: What You Need to Know – With Matt Overman

Anyone who buys expiring domain names knows that there are three major auction sites on the Internet. But of the three, NameJet.com is the one that seems to get fantastic domain names on the most regular basis.

In this interview, NameJet General Manager Matt Overman walks us through how private auctions work and describes how you can take advantage of them too.
---
This Week's News in Review
---
ICANN has found a sub-$500 URS provider – 31-Jan-13
ICANN has picked a provider for its Uniform Rapid Suspension anti-cybersquatting service, one that's willing to manage cases at under $500 per filing.
Kieren Mccarthy to Become Executive Director of IFFOR – 31-Jan-13
McCarthy takes bigger role in IFFOR and group offers policy making services. Former ICANN General Manager of Public Participation Kieren McCarthy will become
Makeup.com Sold for $2 Million, Rodeo.com and Karate.com for $500k Total – 31-Jan-13
L'Oreal paid $2 million for domain in 2010. I was digging through some SEC filings today when I came across some prices on domain name sales. The sales
American Automobile Association Sues Owner of Aaaclubs.xxx and Other Domains – 31-Jan-13
AAA sues to stop adult entertainment site from using AAA in its name. The American Automobile Association, commonly known as AAA or Triple A, has sued the
DomainTools Launches Domain Report, a New Product to Provide … – 30-Jan-13
DomainTools, the leader in domain-name research and monitoring, today announced Domain Report, its newest product that is changing how individuals and businesses access domain information. A Domain Report creates a thorough, customized report that utilizes the world's most comprehensive database on domains to generate an accurate, up-to-date and comprehensive snapshot of domain data.
Consumers are Advised Against New gTLD Domain Pre-registration – 30-Jan-13
New gTLD education and awareness resource, Newgtldsite.com, is advising consumers to avoid new websites offering "pre-registration" for domain names that may be available through the ICANN New gTLD Program this year. These offers are often misleading and carry risks that outweigh any benefits of pre-registration at this time.
Chocolate.com Domain Name for Sale – 30-Jan-13
The Rodeo Drive of online domains is finally on the market. Sedo, the largest domain name marketplace, announced the sale of Chocolate.com and its accompanying business. Purchased by its current owner — Internet Real Estate Group — in 2004, the site has expanded to include 250 vendors and over 5,000 products, making it the largest online marketplace for fine chocolates. "The site has done well for the few employees we have working on it," says Andrew Miller, Chocolate.com's managing director. "However, it's time for us . . .
Above & Beyond Promotion at Webfest Global 2013 – 29-Jan-13
Above.com along with partners, Rook Media and ParkingCrew, will give away 4,000 domains to Webfest Global 2013 attendees.
Sedo Partners with REG.RU to Offer One-Stop Shop Domain Solution – 29-Jan-13
Sedo today announced a new partnership with one of Russia's leading registrars, REG.RU. This partnership offers REG.RU a one-stop shop domain name solution by integrating Sedo's full suite of B2B products and services into the REG.RU website.
Herbalife Registers Three Ackman-related Domain Names With GoDaddy … – 29-Jan-13
Herbalife (NYSE: HLF) is firing back against Bill Ackman and doing so in remarkable fashion. According to the NY Post, Herbalife has bought the following domain names: "therealbillackman.com," "billackman.net," and "therealackman.net."
YourBigIdea.co Super Bowl Tie-in – 29-Jan-13
Site shows you what your life might be like if you register your "big idea". This weekend is a big one for .co as it runs its Super Bowl ad in conjunction with Go Daddy for the third year in a row.
Chrysler Files UDRP for Nearly 1000 Domain Names – 29-Jan-13
I was checking out the recent UDRP filings at the World Intellectual Property Organization (WIPO), and I saw that Chrysler filed a UDRP for almost 1,000 domain…
Verisign's Patents: Who Will The Company Go After? – 28-Jan-13
Company's patent portfolio isn't limited to domain name industry.
Sedo to Broker Internet Real Estate Group's Chocolate.com Domain & Site – 27-Jan-13
Sedo is brokering Internet Real Estate Group's Chocolate.com and the web business. The site is a marketplace for fine chocolates that lists 250 vendors and
CEO Fadi Chehade Prefers to Delay New gTLDs by Year – 25-Jan-13
CEO Fadi Chehade this afternoon delivered a blisteringly frank assessment of ICANN's new gTLD program, admitting that if it were up to him he would delay the whole thing by a year.
Heads Up, Competing Registries: Verisign Might Start Asserting Its Patents – 25-Jan-13
Verisign evaluating how to make money from its patent portfolio.
New TLD Applicant That Misspelled String Finally Fixes It – 24-Jan-13
Kerry Trading Co. finally fixes a typo in its top level domain application.
Google Backing New gTLD Trade Association – 24-Jan-13
New gTLD applicants and others have been meeting in Amsterdam this morning to discuss setting up a new trade association to promote new gTLDs and domain names in general.
Tucows.com Tops $2 A Share – 24-Jan-13
Shares of Tucows.com (TCX) topped $2 a share in intraday trading for the first time since 2001. Shares of Tucows.com traded as high as $2.05 before falling back to $2 where its is trading as of time of publication.
Kim Kardashian Named Keynote Speaker for the Upcoming Webfest Global Conference – 24-Jan-13
Oversee.net has selected celebrity/entrepreneur Kim Kardashian to be the keynote speaker at the Webfest Global Conference coming up February 5-7, 2013 at the Fairmont Miramar Hotel in Santa Monica, California.
Go Daddy Revamps Executive Accounts, Splits Into 2 Tiers – 24-Jan-13
Registrar renames Executive Accounts as Premier Services and makes program more exclusive.

If you enjoyed this article, subscribe for updates (it's free)