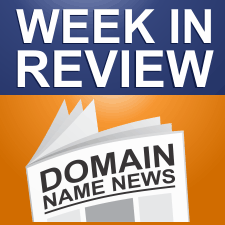 Every Friday, DomainSherpa.com provides you with a hand-selected, editorially-based review of the weekly news. In this summary, you will find the latest articles and videos produced by DomainSherpa staff and contributors. You will also find links to the best news articles in the domain name industry – so you don't have to spend your time searching for news or reading something that was not worth your time.
---
This Week's DomainSherpa Interview
---
VIDEO: How MoneyCrashers.com Grew from 10K to 800K Monthly Readers – With Andrew Schrage

Andrew Schrage could have continued working 40 hours per week at the hedge fund that employed him after college and made a nice living doing so. Instead, he took control of his destiny and began working with a friend a few hours a night on a website that teaches personal finance.

Learn how the purchase of MoneyCrashers.com with about 10,000 monthly readers for a nominal financial amount grew over four years to what it is today – a site that serves 800,000 monthly readers and provides an income that rivals the founder's prior salary at a hedge fund.
---
This Week's News in Review
---
Oops! Copyright Cops Return Seized RojaDirecta Domain Names – 19 Months Later – 30-Aug-12
One of Spain's most popular websites, whose American domains were seized in January 2011 as part of a crackdown on internet piracy, is getting its domains returned 19 months later, as the U.S. government voluntarily dropped its claim Wednesday.
"Notorious Cybersquatter" Loses UDRP Decision – 30-Aug-12
In a precedent-setting decision, a one-person UDRP panel labels Enom's Whois Privacy Protection Service, Inc./Whois Agent with the attention-getting stigma.
Melbourne IT Holding New gTLD Trademarks Summit – 29-Aug-12
Google, Microsoft, Donuts, and the Association of National Advertisers are among those expected to take part in the discussion. The meeting follows on from Melbourne IT's recent anti-cybersquatting proposal, which calls for stronger protections for brands that are frequent targets of trademark infringement.
Domain Name MSG.ME Sells for 25,000.00 USD – ME Domains Take the Stage – 29-Aug-12
There have been some fantastic sales this year for Dot ME domain names including Meet.me that sold for $450,000 and Memories.me that sold to Disney for an undisclosed amount.
Rising Star AG Forgets to Renew RisingStar.com, Files UDRP 2 Years Later (and loses) – 29-Aug-12
Investment company Rising Star AG, which owns RisingStar.ch, bought the domain name RisingStar.com for $5,000 in 2006. It forgot to renew the domain name in 2010 and it went to auction on SnapNames, where it sold for $3,300. (Rising Star claims it sold for $1,000, but it apparently doesn't know how to search on Google.)
Royal Bank of Scotland Files 34 UDRPs – 28-Aug-12
Royal Bank of Scotland and its National Westminster Bank Plc have decided to go bulk in cracking down on cybersquatters. The company just filed 34 UDRP cases covering 35 domain names in one fell swoop.
Dotless Domains: Why Domain Names Need Punctuation – 28-Aug-12
ICANN wants to know whether it should formally ban "dotless" domain names in the gTLDs for which it oversees policy. While the Applicant Guidebook essentially prohibits registries using their new gTLDs without dots, there's not yet a hard ban in the template Registry Agreement.
New Domain Name Dispute Study: 7 Panellists Decide Nearly Half of All Cases – 28-Aug-12
DNattorney.com's new study of domain name dispute decisions again shows that procedural reform of ICANN's UDRP is urgently needed. Decision making is apparently being concentrated amongst a handful of select American panelists who decide a vastly disproportionate number of international cases, thereby potentially affecting outcomes and creating an appearance of injustice.
Dot Kiwi Fails to Knock Out .kiwi.nz – 27-Aug-12
InternetNZ's approval of the new domain name .kiwi.nz has provoked an immediate reaction from Tim Johnson, CEO of Dot Kiwi Ltd, which has applied for the top-level domain .kiwi.
Sony Preparing for PS4 with 'Console War' Domain Registration? – 27-Aug-12
As spotted by Fusible, Sony Pictures has registered several domain names related to "Console War", fueling speculation that they could be planning a marketing video promo for the PlayStation 4.
MobileApps.com Shuts Down, Domain Name For Sale at USD 1 Million – 27-Aug-12
MobileApps.com Pte Ltd, a startup company based in Singapore has announced that they have closed their website and is putting up the domain name MobileApps.com for sale. Initially launched as an app discovery solution for developers targeting direct consumers, the company is re-purposing its original solution to target the B2B market.
ICANN Terminates Two Domain Name Registrars – 24-Aug-12
ICANN's contract compliance efforts with domain registrars seem to go in fits and starts. The past couple months have been active, and this month the company fully terminated two accredited domain name registrars.
Above.com Settles Cybersquatting Lawsuit with Verizon – 24-Aug-12
The suit alleged that the defendants used a number of false identities to traffic in trademark-infringing domain names. It alleged the company has registered, used and/or provided Above.com privacy service to at least 183 domains including Verizon's trademarks, including VerizWireless.com, ActivateVerizon.net, and loginvzw.com.
Fight Breaks Out Over .kiwi – InternetNZ at Center of Controversy – 24-Aug-12
InternetNZ announced the new second-level domain today. It's designed to "increase choice" for New Zealanders who want to register their personal names as domain names. But it stands to clash with .kiwi, a new gTLD applied for by Dot Kiwi Ltd, a New Zealand subsidiary of a Canadian company, which has partnered with Minds + Machines on the bid.
UDRP is Not Surefire Way to Take Down a Counterfeit Web Site – 23-Aug-12
On the face of it, it might seem appealing for a trademark owner to use UDRP to take down a web site selling counterfeit goods. But trademark holders need to understand that UDRP is for cybersquatting, and not all sites selling counterfeit goods meet the three requirements of winning a UDRP. The latest example is Oakley, which failed to recover the domain name MyFakeOakleySunglasses.com.
Confirmed: .nxt Conference Canceled – 23-Aug-12
The show was expected to run next week, August 29-31, in London, following two successful events in San Francisco last year.
Federal Courts Seize App Domains in Pirating Crackdown – 23-Aug-12
The three seized domain names – applanet.net, appbucket.net and snappzmarket.com – are in the custody of the federal government. Visitors to the sites will now find a seizure banner that notifies them that the domain name has been seized by federal authorities and educates them that willful copyright infringement is a federal crime.

If you enjoyed this article, subscribe for updates (it's free)