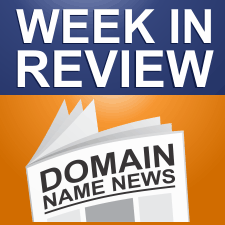 Every Friday, DomainSherpa.com provides you with a hand-selected, editorially-based review of the weekly news. In this summary, you will find the latest articles and videos produced by DomainSherpa staff and contributors. You will also find links to the best news articles in the domain name industry – so you don't have to spend your time searching for news or reading something that was not worth your time.
---
This Week's DomainSherpa Interview
---
VIDEO: How to Build a Successful, Diversified, Family-run Business – With Bill McClure

Bill McClure is not a newcomer to the domain name industry. Years ago he bought and built FlowersDirect.com and eFlowers.com and then sold them to FTD. Over his many years of acquiring, building and selling businesses, he has learned one simple fact: You can always trust your family.

Listen along as Bill discusses how he targets markets, how much he purchases domain names for, how he develops them, and what kind of leaders he is looking for to continue building more businesses in the future. If you are an entrepreneur or passionate about e-commerce, this is a must-see interview.
---
This Week's News in Review
---
Patent Troll Goes After GoDaddy in Latest Suit – 05-Apr-12
GoDaddy joins the likes of Google and Yahoo as defendants in cloud storage patent troll lawsuits …
ICANN Report for December is Out & 106,500 .xxx Domain Names Got Registered – 04-Apr-12
The monthly ICANN Registry reports are now live for December and it shows that ICM registry the owners of the .XXX extension registered 106,549 domain names in its first month of operation.
This 106,549 does NOT include those domain names registered …
Protrada Press Release Troy Rushton joins Trump, Robbins and Kiyosaki on stage at the NAC2012 in San Jose – 04-Apr-12
Protrada CEO and Founder Troy Rushton has been invited to join one-man-brand Donald Trump, Mr Motivation Anthony Robbins and Rich Dad creator Robert Kiyosaki at the National Achievers Congress 2012 in San Jose.
Microsoft Just Registered 11 Halo: Infinity Domain Names – 04-Apr-12
Apr. 5, 2012 – The Halo franchise is easily Microsoft's most profitable and important for the Xbox. Not only does it sell system, it helps launch them too. So it's
National Arbitration Forum Says Cases are Up 18% From 2009 But Down 4% From 2010 – 04-Apr-12
In a press release today the The National Arbitration Forum (NAF),  "announced that a total of 2,082 cases were filed in its domain name dispute resolution program in 2011, up 18 percent from 2009 (1,759 cases) and down four percent from 2010 (2,177 ca …
Halo Infinity Domain Names Registered – 03-Apr-12
Web listings tied to Microsoft point to Halo factory building something new in first-person shooter franchise.
Domain Industry Evangelist Troy Rushton to Share Stage With Donald Trump and … – 03-Apr-12
Protrada.com Founder and CEO Troy Rushton is going to get a golden opportunity to tell the mainstream business world about the value of domain names next week. Rushton has been invited to join Donald Trump, Anthony Robbins, Robert Kiyosaki and other successful entrepreneurs who will be featured speakers at the National Achievers Congress 2012 that will be held in San Jose, California April 10-12.
Godaddy Now Offers Free Domain Appraisals, But… – 02-Apr-12
GoDaddy domain appraisals now free. But you might get what you pay for. GoDaddy recently star …
Google Gets Realtimebidding.com Domain [Updated] – 02-Apr-12
Google gets domain name for a key online advertising term. With the Ad-Tech conference kickin …
Startup Weekend™ Teams Up With The .co Domain to Offer Short, Memorable .co … – 02-Apr-12
Startup Weekend™ today announced a one-year Global Partnership with .CO Internet, the company behind the fast-growing .CO domain extension. Through the partnership, .CO domain name scholarships will be granted to all Startup Weekend participants, reaching more than 45,000 entrepreneurs in over 100 countries across the globe. The domain name scholarships will help these entrepreneurs kickstart their businesses with a 12-month .CO domain registration at no cost to them for the first year.
Wales Bids for Online Domain Names – 02-Apr-12
The creation of new internet domain names for Wales could put the small nation on the online map, Welsh First Minister Carwyn Jones has said.
Netflix Isn't As Stupid As You Think With DVD.com Domain Purchase – 02-Apr-12
Naturally there's a fair degree of speculation taking place far outside of CEO Reed Hastings' noggin. Some fear that Netflix is about to repeat its Qwikster mistake, shuttling off disc-based plan members to DVD.com so it can concentrate on making Netflix.com entirely about Net flicks.
ICANN to Announce New Domain Applicants April 30 – 02-Apr-12
The organization that manages internet domain names says it will release the names of applicants for new dot-something domains on April 30.
Top Level Domain Name .radio Wanted in Europe – 02-Apr-12
Last week, The European Broadcasting Union reported that it will begin the application process to acquire the .radio domain name for the European radio community.  Director General of the EBU Ingrid Deltenre explains, "The EBU would administer the .radio top level domain name with a neutral, reliable, and not-for-profit way. It would be regrettable…
Protrada Adds Even More Features and Makes Data Free for Everyone – 30-Mar-12
Protrada, the world's first aggregator of major domain auction houses and premier domain name trading platform, today released a major upgrade which includes a multitude of new features to give members even greater benefits when buying, selling and developing domains. These improvements are on top of the recent enhancements that deliver data in an easy to read widescreen format, faster data search and more filter settings.
Marchex Shutting Down Domain Parking Program – 30-Mar-12
Marchex is officially shutting down its domain parking program for clients.
Apple Wants to Evict Domain Squatters – 30-Mar-12
Apple has had a continuing problem with domain squatters over the years, often paying good money to grab such internet domain names as iPhone.com…
Netflix Buys DVD.com Domain Name – 30-Mar-12
Despite the fact Netflix expects its legacy DVD-rental business to decline in perpetuity, the company has acquired the rights to the DVD.com domain name.
Confirmed: Netflix Buys Dvd.com – 29-Mar-12
Netflix has confirmed its purchase of DVD.com. A spokesperson tells Domain Name Wire "Netflix cares about keeping DVD healthy, and this is just one small investment in keeping DVD healthy."
Microsoft Registers XboxFL Domain Names – 29-Mar-12
We've no idea what Xbox FL is, but the domains were registered just two days ago and currently redirect to Bing, Fusible reports.
European Broadcasters to Bid for .Radio Domain Name – 29-Mar-12
The European Broadcasting Union said Thursday that it would apply to acquire the .radio domain name for the radio community.

If you enjoyed this article, subscribe for updates (it's free)