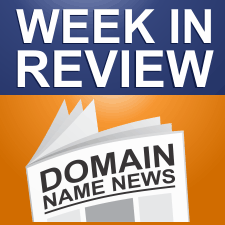 Every Friday, DomainSherpa.com provides you with a hand-selected, editorially-based review of the weekly news. In this summary, you will find the latest articles and videos produced by DomainSherpa staff and contributors. You will also find links to the best news articles in the domain name industry – so you don't have to spend your time searching for news or reading something that was not worth your time.
---
This Week's DomainSherpa Interview
---
VIDEO: Developing the Ultimate Geo-domain for the Rich and Famous – With Toby Hardy

Most developers build a site, increase readership and then sell advertising space. Unless you own an ultra-premium geographic domain name like FrenchRiviera.com, in which case the brand alone is enough to set up meetings with some of the most exclusive potential advertisers in the region.

Toby Hardy bought FrenchRiviera.com in 2009 and, in partnership with Fred Mercaldo at CitiesPlanet.com, is turning it into the ultimate online destination for the rich and famous who visit cities such as Monte Carlo, Cannes and the like.
---
This Week's News in Review
---
WIPO Panel Steals Four Letter Domain From BuyDomains – 26-Apr-12
Panel hands down the wrong decision in FACI.com case. A three member World Intellectual Property Organization panel has found that BuyDomains (NameMedia) registered FACI.com in bad faith. The case makes no sense. It seems that the panel's judgement hinges on the fact that BuyDomains knew about the complainant's trademark for FACI upon acquisition of the […]
Nuts! Company That Bought Nuts.com Takes a Big Google Hit – 25-Apr-12
Company buys a great domain, but changing domains is hard. The New York Times has an interesting "case study" today about Newark Nut Company. The company recently bought Nuts.com to replace its existing NutsOnline.com domain name. You'll like the reasons the company decided to spend hundreds of thousands of dollars for Nuts.com: people couldn't remember […]
Man Petitions to Get Google Trademarks Canceled After Google Files UDRP Against 763 Domain Names – 25-Apr-12
A whopping UDRP and a strange reaction. Google has filed a single UDRP case with National Arbitration Forum covering a whopping 763 domains. The domains names include the word Google followed by common search terms, e.g.: googleiphone4s.com googlevolkswagengroup.com googlescientology.com googlesamsung.com googledusseldorf.com googlesalvador.com googleducks.com googlesaints.com Many of these are "double trademarks" covering a Google trademark as […]
Neustar's .us Marketing: Cash Mobs – 24-Apr-12
Neustar continues .us marketing with cash mobs. Earlier this month I wrote about how .us registry Neustar was starting to market .us domains with its "Kickstart America" campaign. Neustar is continuing this effort with a couple new videos titled "cash mobs". The company sends a bunch of customers to a retail store (that uses a […]
Architelos Introduces 'Velocity' to Help Tlds Market in Evolving Domain Name … – 24-Apr-12
With top-level domains (TLDs) about to enter unchartered territory, Architelos today introduced Velocity marketing services to enable existing and new TLD registries to claim control of their marketing and directly address and interact with potential domain name registrants.
Bloomberg and Reuters Feature Domain Name Price Index Created With Sedo Market – 24-Apr-12
Sedo announced that Bloomberg and Reuters have added IDNX, the industry's leading domain price index, to the financial markets covered on their respective Web sites. This validates the economic relevance and investment potential of domain names, and makes the domain market more transparent for investors.
Domain Name Row Fuels Beastly Tensions – 24-Apr-12
MEAT and Livestock Australia has come under fire from Animals Australia for purchasing web domain names it says are linked to the animal welfare organisation.
Domaintools Showcases Brand Management & Trademark Protection Solutions – 24-Apr-12
The meeting is attended by more than 8,000 individuals from a global community of attorneys, brand managers, and interested parties of IP, as well as key industry media such as Intellectual Property Magazine, Leader's League, Managing IP, Newton Media, World Trademark Review, and Marcasur. "The Treadstone Group, Inc., a global I.P. investigation and acquisition firm, relies heavily on data returned through DomainTools' products to identify, validate, and corroborate facts pertaining to domain name registrants (Whois Lookup), portfolios owned (Reverse Whois), and their propensity to cybersquat (Whois History)," says Ross D. Bulla, President, The Treadstone Group, Inc. The company offers a range of services for trademark research and brand protection, from Reverse Whois lookups, Domain name ownership records and finding domain typos to trademark alerts, registrant alerts and domain monitoring. Like the white pages of the Internet, DomainTools provides a directory that serves a comprehensive snapshot of past and present domain name registration and ownership records in addition to comprehensive research tools that help to uncover and discover everything there is to know about a domain name.
Another .music Trademark Application and an Interesting One for .pay – 23-Apr-12
.Music trademark application dead on arrival and merchant service company applies for .pay mark. A California sole proprietor is the latest person to waste money trying to trademark .music. Joseph Walker, through is company ExtraWeb Ent., filed the application on April 12. Walker claims he's using .music in commerce since April 10. Here's his proof: […]
.co Expands Number of Accredited Registrars – 23-Apr-12
Instra among most recent registrars to become accredited for .co. Most of the time you see top level domains operators try to get as many registrars as possible to carry their domains as possible. But .co took a different tact, launching with just 10 accredited registrars. These registrars (and their resellers) were the only ones […]
Thursday is Deadline to Comment On Verisign .com Renewal – 23-Apr-12
Time running out to comment on .com contract. Thursday, April 26 is the last day to comment to ICANN about its proposed contract renewal with VeriSign. The terms of the agreement are very similar to ICANN's last .com contract. It allows VeriSign to raise the wholesale price of .com domains by 7% for four of […]
Irb Applies for .RUGBY Top Level Domain Name – 23-Apr-12
The IRB announces it is applying to the Internet Corporation for Assigned Names and Numbers to acquire the .RUGBY top-level domain name.
Paris Still Running Away From Reverse Domain Hijacking Claim – 22-Apr-12
Paris' motto in domain disputes: fire an attack, then run away.
Amazon Unveils Amazonsupply.com – 22-Apr-12
Domain registrations hinted at Amazon's plans. Today Amazon.com officially unveiled AmazonSupply.com, billed as "the hardware store for researchers and developers". Last month I caught wind of this new shop from an inside connection called whois. Here are some of the related domains Amazon registered that tipped me off that the e-commerce giant was up to […]
Entrepreneur Mike Mann Registered 14962 Domains in 24 Hours – 22-Apr-12
For years, Mike Mann has been snapping up Internet domain names and selling them off to the highest bidder…
New Domain Names Will Take Time to Bed in – 22-Apr-12
ICANN is reviewing applications for the new top level domains but one industry expert believes consumers will need to change their online habits if the system is to succeed.
Delay in Internet Name Expansion Continues – 21-Apr-12
There's still no word on when applications will continue for new Internet address suffixes to join ".com'' and others in use. Last week, a technical glitch forced the Internet Corporation
Meet The 'Mann' Who Registered 14962 Domains in 24 Hours – 20-Apr-12
For years, Mike Mann has been snapping up Internet domain names and selling them off to the highest bidder.
Candidate Apologizes for Buying Opponent's Website Domain Names – 20-Apr-12
A Ward 4 civic election candidate is apologizing for buying website domain names associated with an…
New iPhone App Reveals Domain Name and Website Sales Figures – 20-Apr-12
Australian Internet pioneers Kikabink have launched a new iPhone® App called Domain Sales. The app provides access to more than 72,000 historical domain and website sales, enabling people to review sales prices and value domain names. The Domain Sales app is a world first, providing sales data on top level domain names (TLDs) such as .com, .org and .net as well as country code top level domains (ccTLDs) such as .com, .au and .ca.
Namecheap Passes GoDaddy in One Google Search Race – 20-Apr-12
The search-engine and domain-name crowds are chewing over a tasty tidbit of industry news this afternoon, namely that the registrar NameCheap has vaulted ahead of market leader GoDaddy by one potentially telltale measure: Google search results on the phrase "domain name."
Delay in Internet Name Expansion Continues As Organization Tests Fix – 20-Apr-12
There's still no word on when applications will continue for new Internet address suffixes to join ".com" and others in use.
Germany's .DE Crosses 15 Million Domain Mark – 19-Apr-12
.De registry DENIC has announced that Germany's country code domain name has hit a major milestone: 15 million domains currently registered.

If you enjoyed this article, subscribe for updates (it's free)