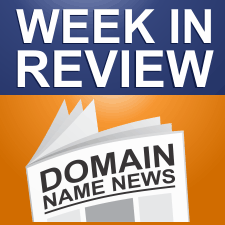 Every Friday, DomainSherpa.com provides you with a hand-selected, editorially-based review of the weekly news. In this summary, you will find the latest articles and videos produced by DomainSherpa staff and contributors. You will also find links to the best news articles in the domain name industry – so you don't have to spend your time searching for news or reading something that was not worth your time.
---
This Week's DomainSherpa Interview
---
VIDEO: Perseverance Pays off: New .XXX TLD Generates $25 Million in 3 Months; ICM Registry Applies for 3 New Adult TLDs – With Stuart Lawley

After three failed attempts over a period of several years to gain approval through the ICANN system for the new top-level domain .XXX, most people would have thrown in the towel. Not Stuart Lawley, who started as a minority investor in ICM Registry at the time of the initial ICANN application and eventually became its CEO and chairman.

Through his vision and indefatigable spirit, Lawley brought the registry to life and extraordinary profitability. Listen in as he describes how the new TLD .XXX generated $25 million in its first three months and what his aspirations are for future growth.
---
This Week's News in Review
---
Germany's .DE Crosses 15 Million Domain Mark – 19-Apr-12
.De registry DENIC has announced that Germany's country code domain name has hit a major milestone: 15 million domains currently registered.
Huffington Post Union of Bloggers Loses Domain Name – 18-Apr-12
Huffington Post Union of Bloggers (HPUB) just lost a dispute brought by Huffington Post parent AOL under the uniform domain name dispute resolution policy (UDRP). Basically, AOL said HPUB was cybersquatting.
Africa Set for New Continental Domain Name Extension – 18-Apr-12
Under the leadership of the African Union Commission, UniForum SA, trading as the ZA Central Registry (ZACR), has applied for a new Internet extension, .Africa
Why Is ICANN Reopening the Issue of Second Level Defensive Registrations at New gTLDs? – 18-Apr-12
One of the most frustrating aspects of dealing with ICANN is that, regardless of whether one agrees or disagrees with its policy decisions, it often seems incapable of sticking to them for very long. Certainly there's a virtue to being open to reexamining certain matters. But when an issue has been debated ad nauseam there comes a point where no new argument can be made, no new information is forthcoming, and there's absolutely no reason to revisit the matter — especially if it's a divisive one. Yet ICANN has just done it again.
Radel Buying Domain Names As Election Strategy – 18-Apr-12
Former news reporter and radio host Trey Radel is buying domain names as an election strategy.
ICANN Blames Attachment Snafu for Domain Application Shutdown – 17-Apr-12
The Internet's governing body said this week that a glitch with the handling of attachments was the culprit behind the takedown of its domain name application system.
Dissecting Deloitte's .deloitte Press Release – 17-Apr-12
Deloitte's benefits from .deloitte seem murky at best.
Deloitte Applies for Top Level Domain Name: .deloitte – 17-Apr-12
Deloitte Touche Tohmatsu Limited (DTTL) announced today that an application was submitted to the Internet Corporation for Assigned Names and Numbers (ICANN) for the Top Level Domain (TLD) of ".deloitte."
Another Delay in Domain Name Expansion – 17-Apr-12
There's another delay in efforts to create hundreds of Internet address suffixes to join ".com" and others in use.
Get Ready for Domain Name Reveal Day As ICANN Prepares to Post Plethora of … – 17-Apr-12
Companies interested in the upcoming change in domain name options should set their sights on May 1st – that's the day the Internet Corporation for Assigned Names and Numbers (ICANN) will post details of the applications.
Another Delay in Domain Name Expansion As Organization Needs Time to Recover – 17-Apr-12
There's another delay in efforts to create hundreds of Internet address suffixes to join ".com" and others in use.
New gTLD Filing Deadline Delayed Again – 16-Apr-12
New gTLD applicants are in for more delays after ICANN announced that it will not reopen its TLD Application System Tuesday, April 17th, as planned.
Biker Website Changes Name Following Trademark Clash With Harley-davidson – 16-Apr-12
A social networking site targeted toward bikers has changed its name following trademark infringement warnings from the Milwaukee-based motorcycle manufacturer.
PIR, Bigrock Join Forces to Unleash Internet Super-brand .ORG in India – 15-Apr-12
Public Interest Registry (PIR) , the international registry and manager of .ORG domain names worldwide, and BigRock, a leading provider of web infrastructure solutions, have announced a strategic marketing alliance to boost adoption of .ORG as the preferred domain name for businesses in India. As a part of this joint initiative, BigRock and PIR have outlined an aggressive campaign that entails television commercials (TVCs), extensive digital outreach, and customized .ORG website packages. The fully-loaded website package will include a .ORG domain name, email hosting, and web hosting integrated with an easy-to-use interactive website builder priced at Rs. 299. .ORG is the Internet's third largest "generic" or non-country specific top-level domain with more than 9.8 million domain names registered worldwide.
Private Equity Firm Spends Over $133,000 On Homeloan.com.au, Homeloancalculator … – 15-Apr-12
A private equity firm has paid over $133,000 for the homeloan.com.au and homeloancalculator.com.au URLs, in yet another sign the market for URLS is continuing to grow even more important and lucrative.
New Net Name System Mired in Controversy – 15-Apr-12
If you want to own your own top-level domain you have until Friday to submit your application (along with the $180,000 fee). Once the deadline passes, that is it for the foreseeable future.
TAS Interruption — Update (14 April 2012 06:50 UTC) – 14-Apr-12
As we have reported, ICANN has learned of a technical issue with the TLD application system software, or TAS, that allowed a limited number of users to view some other users' file names and user names in certain scenarios. We temporarily shut the system down on 12 April 2012 to protect applicant data, and to look into the technical issue and fix it.
iBDUiGAYREBHp – 14-Apr-12
YbhPY4 qadlisyajzmi, [url=http://ubzdyenehdhv.com/]ubzdyenehdhv[/url], [link=http://excigmucoqcw.com/]excigmucoqcw[/link], http://pttplmirzgpf.com/
Godaddy Coupon Codes 2012 Released By TCWH – 13-Apr-12
The web hosting discount site TCWH releases GoDaddy coupon codes for 2012 for all customers for a unique discount saving up to 80%. The leading web hosting discount site Top-Cheap-Web-Hosting.com announces the new GoDaddy coupon codes 2012 for the GoDaddy domain name registration, shared web hosting, virtual dedicated server, and dedicated server, saving up to 80% per order. Godaddy is one of the largest internet companies with 23 dedicated data centers and over 10,000 employees serving for 10 million customers worldwide. Top-Cheap-Web-Hosting.com (TCWH) is a leading web hosting discount site founded by 3 web developers with over 10 year experience, designed to find people find the best web hosting deal at an affordable rate.
Deadline for New Domain Names Extended After Technical Glitch Exposed Some … – 13-Apr-12
A technical glitch forced the abrupt shutdown of a system for letting companies and organizations propose new Internet domain name suffixes. The Internet Corporation for Assigned Names and Numbers, which is in charge of domain names, said some private data may have been exposed.
ICANN's TAS Temporarily Offline – 12-Apr-12
In order to ensure all applicants have sufficient time to complete their applications during the disruption, the application window will remain open until 23:59 UTC on Friday, 20 April 2012.
.xxx Owner Applies for Three More Porn Tlds – 12-Apr-12
First there was .XXX, the red-light district for the Web. Now, ICM Registry has plans to expand Web porn to, well, .PORN.
Italian Court Restores Mediaset's .com Domain – 12-Apr-12
The court agreed with Mediaset that its domain name had been acquired by a US company in bad faith
Deadline Extended for New Internet Domain Seekers – 12-Apr-12
The deadline to apply for a top-level Internet domain has been extended due a technological glitch, according to the organization that oversees the Internet.

If you enjoyed this article, subscribe for updates (it's free)