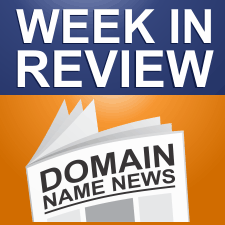 Every Friday, DomainSherpa.com provides you with a hand-selected, editorially-based review of the weekly news. In this summary, you will find the latest articles and videos produced by DomainSherpa staff and contributors. You will also find links to the best news articles in the domain name industry – so you don't have to spend your time searching for news or reading something that was not worth your time.
---
This Week's DomainSherpa Interview
---
VIDEO: What Startups Need To Know About Domain Names – With Steve Jones

More than 500,000 businesses are registered in the United States every year, with magnitudes more being contemplated and planned. As technology advances, more and more businesses are focused entirely online or at least need to be found online.

What do startups and entrepreneurs need to know about domain names? Find out in this interview with domain name veteran Steve Jones, including:
* The trends of premium domain name pricing and desirability
* Options for determining domain name valuation range
* The best way to initiate negotiations with a domain name owner
* Options for buying the "best" domain name for your business, product or service
* Why domain name owners are not motivated, and what to do about it
* Alternatives to premium domain names, including country codes and domain hacks
---
This Week's News in Review
---
ICANN's TAS Temporarily Offline – 12-Apr-12
In order to ensure all applicants have sufficient time to complete their applications during the disruption, the application window will remain open until 23:59 UTC on Friday, 20 April 2012.
Italian Court Restores Mediaset's .com Domain – 12-Apr-12
The court agreed with Mediaset that its domain name had been acquired by a US company in bad faith
Deadline Extended for New Internet Domain Seekers – 12-Apr-12
The deadline to apply for a top-level Internet domain has been extended due a technological glitch, according to the organization that oversees the Internet.
.xxx Operator Applies to ICANN for More Adult Top-level Domains – 11-Apr-12
ICM Registry (icmregistry.com), the registry operator for the .XXX top-level domain (TLD) for online adult entertainment, today announced a significant move to protect .XXX participants by submitting applications for three additional adult entertainment-related TLDs  — .SEX, .PORN and .ADULT. Under new rules finalized in 2011, ICANN, the governing body for Internet names and numbers, began accepting applications for new domain extensions at the beginning of this year.
.xxx Registry in .porn, .adult, .sex Extension Grab Bid – 11-Apr-12
ICM Registry, which runs the controversial .xxx top-level domain, today revealed that it has applied to ICANN for the gTLDs .porn, .sex and .adult.
Instra Corporation Announces .co Accreditation – 11-Apr-12
Instra just keeps getting better and better. Today Instra has announced it is one of the accredited registrar partners for the .CO extension. As one of the world's top domain name providers, this is just another way to extend the global footprint and offer a piece of the web to everyone.
Phi 9 and its new inspirational design. – 11-Apr-12
Phi 9, a California Web Hosting Company, offers shared web and email hosting, marketing and cloud solutions. We are proud to boast our premium hosting and phenomenal support. Join the phenomenon and see what Phi 9 can do to make your business shine!
London Looks to Net Its Own Web Domain – 11-Apr-12
Londoners are to get their own internet autonomy with the help of Top-Level Domain Holdings, an Aim-quoted start-up created specifically to manage some of the hundreds of new internet domain names coming into existence later this year to rival .com.
14 End User Domain Buys From The Past Week – 11-Apr-12
Wyndham Hotels among end users to buy domains last week.
Domain Name Aftermarket Sales Up for Fifth Consecutive Month – 11-Apr-12
From my personal experience and from what I have been hearing from colleagues, the domain name sales aftermarket is on a tear, and it has been performing…
Small-business Owners Get Free Help Improving Web Presence – 11-Apr-12
When Adrienne Brown, founder of the online business Adrienne's Sassy Gourmet in Pittsburgh, turned to Google's 'Pennsylvania Get Your Business Online' event Tuesday, her product already had its own website and could be found in six local stores.
Internet.bs Responds to Knujon – 09-Apr-12
Internet.bs Corp creates special pharmacy policy for domain registrations Recently offshore domain registrar Internet.BS was called out by KnujOn as one of
Bain & Company Takes Fight With BainConsultingGroup.com Owner to Court – 08-Apr-12
Consulting firm sues man for copyright and trademark infringement of Bain name.
The Verisign Owned .tv Registry Takes Back Another Expired .tv Domain Name … – 08-Apr-12
A few months ago we wrote about Verisign, that operates .TV registry had took back a expired .Tv domain placing it back on the registry reserve list rather than letting the domain name drop. In that instance the domain name was G.TV and when we reac …
Domain Name Registrar Internet.bs Corp. Introduces First Transparent Pharmacy … – 08-Apr-12
Conscious of the health risks for consumers, Internet.bs Corp., a domain name registrar, has decided to update its rules and requirements for online pharmacies to register and maintain domain names with Internet.bs Corp.
Megaupload.net Domain Name Sold for $11,099 – 08-Apr-12
While Kim Dotcom and his team are preparing their defense in the criminal cause against the US, the domain name Megaupload.net was just auctioned on SEDO. The auction ended a few days ago and Megaupload.net was sold for $11,099.
Nigeria Government Orders MDAs to Migrate to New Domain Name – 08-Apr-12
The federal government has ordered all Ministries, Departments and Agencies (MDAs) in the country to migrate to the pan Nigerian domain name in their official websites and emailing addresses. Government ministries that disobey the order would be slammed with appropriate sanctions, government said.
No .facebook and .pepsi? – 08-Apr-12
Spokesperson tells AdAge that the company isn't apply for .Facebook TLD.
Google Plots Web Domain-buying Spree – 08-Apr-12
This week marks a major step toward a dramatically expanded internet, but only a few brands — including Google and Deloitte — say they'll take advantage of it.
Brannans.com Giving Away Brand New iPad 3 – 05-Apr-12
Please take a 5 minutes to register for our first domain auction. To thank you for your support, we'll throw your name in the hat for a chance to win a brand new 64Gb, Wi-Fi, 4G iPad 3.
All you need to do is go to Brannans.com/auctions and click Login to Bid / Create Account to participate but you need to Act Now – this offer ends soon! (Our auction ends on Monday, April 9.)
We have slashed reserves prices like crazy on these names — HU.net $0 (No Reserve) — Frail.com $0 (No Reserve) — Rigid.net $1,500 — Rides.org $1,800 —Icy.net $2,000
We also have other very, very good names at good-great reserve prices: BalletShoes.com, MinkCoats.com, BoozeCruise.com, RecipeBooks.com, ForexReport.com,Childrens.co.uk, BusinessAdministration.com, Promotion.com, Connecticut.com, and many more….
We have a great deal on this package: ManSeekingWoman.com, WomanSeekingMan.com, MeetingWomen.com, MeetingMen.com, DatingWebsite.com – reserve under $20,000 for all 5 names in one lot
The full list of 185 domain names at auction is at Brannans.com/auction-list. Please let me know if you have any questions or comments and thanks in advance for your support.
Regards,
David Clements
+1.678.468.9228
Skype: davidclements1
PS. Before I get a bunch of emails, if you have already registered for the auction, yes, we will put your name in the hat to win the iPad 3.
Patent Troll Goes After GoDaddy in Latest Suit – 05-Apr-12
GoDaddy joins the likes of Google and Yahoo as defendants in cloud storage patent troll lawsuits …

If you enjoyed this article, subscribe for updates (it's free)